JOHN ROBINSON JACKSON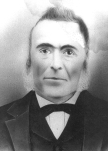 (Click on image to view larger photo)
---
Born: January 13, 1804, Ingleton, Durham County, England
Died: May 23, 1873, Lewis County, Washington Territory
Leaving his home in northern England, John R. Jackson crossed the Atlantic at the age of 19 and acquired a large farm on the Missouri River.
John was a skilled farmer and an educated man. He was six feet tall, taller than most men, and his sights were set far beyond his ancestral home. He arrived in New York in 1823 and immediately headed west. John was content in his new country and soon became a U.S. citizen. By 1844, his Missouri farm was prospering but then tragedy struck.
That spring brought torrential rains. John moved his livestock to higher ground but his land was inundated with flood waters, leaving twenty years of work in ruin. He decided to leave Missouri at once. Gathering his livestock, he joined Col. Nathaniel Ford's wagon train bound for Oregon Territory. The rains continued, the muddy tracks delaying arrival at the Columbia River by nearly two months. Though late in the season, John immediately went up the Cowlitz River and selected 640 acres on a prairie some distance from the river.
The next spring, John started building his one room cabin, he called 'The Highlands'. During the summer Michael Simmons' party stopped at the cabin on their way to settle land further north. One of Matilda's sons later married Charlotte, a daughter of Simmons'.
In 1848 John went to Oregon City for supplies. While there he met Matilda Coontz, a widow with four boys. After a whirlwind courtship, John married Matilda and took his instant family home to his new farm. Three more children were added during the next few years.
The Jackson home became a frequent stopover for travelers as it was located on the main route between Puget Sound and the Columbia River . Matilda became known for her hospitality and tasty food that she prepared on the family hearth.
In 1850 John and his stepsons erected a two story courthouse on his land at the bidding of Federal Judge William Strong. It was used as a courthouse until November 1851 when it was converted as a residence for his growing family. He continued to use the cabin, however, for an office where visitors came to argue politics late into the evening.
John was appointed the first sheriff of Lewis County under Oregon Territory's provisional government and held many public offices including court clerk, Justice of the Peace and census taker. He attended the Monticello Convention in 1852.
During the 4th of July festivities the following year, the first American flag made in Washington Territory was displayed at Cowlitz Landing. The flag was stitched by Matilda and her friends with fabric John ordered from San Francisco.
John later served as a territorial legislator. He also operated a freight line between Tumwater and the Cowlitz River. By age 65 John had acquired 2,200 acres of land where he also bred and trained horses. He lost an eye in an unfortunate accident when he was thrown from a horse.
In 1873 John died at his home, leaving no will. His widow was forced to sell the livestock but retained the land which her sons inherited when she died in 1901. Upon Matilda's death, John's body was exhumed from his resting place and buried next to her at Fern Hill in Chehalis. The courthouse was acquired by the Washington state parks.
---
Short biography condensed from "John R. Jackson, Washington's First American Pioneer", by Trudy R. Hannon, edited by Kathleen Vinzant, Advocate Printing, Chehalis Washington, 1998. Copy and photo courtesy of the Lewis County Historical Museum.
Compiled and contributed by Junel Davidsen on 19 March 2003.
---
Editor's note: Photos of John R. Jackson's home and the first courthouse in Lewis Co. are posted here and here.
---