---
Andrew J. Giesy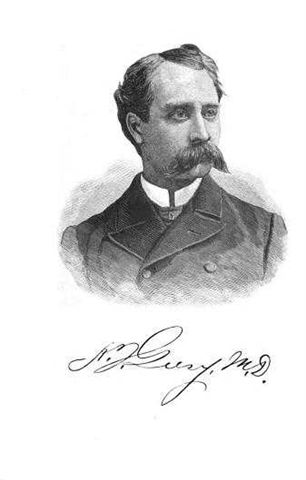 Hawthorne, Julian. "The Story of Oregon." New York: American Historical Publishing Co., 1892. p. 444.
ANDREW J. GIESY, M.D.
the subject of this memoir, was born in the State of Washington, October 19th, 1853. He was left fatherless at the early age of three years, and when but eight years old he left his native State, coming to Aurora, Ore.; here he remained, attending the public schools, until he had attained his sixteenth birthday. After obtaining what information and mental discipline was to be gotten at the public schools in Aurora, as a prelude to the study of medicine he accepted a position in his uncle's drug-store. After gaining a good knowledge of the practical part of medicine, so far as such occupation would permit, when twenty years of age he went to Salem, Ore., for the purpose of taking up a more thorough course of study. He attended a course of lectures in the medical department of the Willamette University. He graduated with honors from the university, and commenced the practice of his profession in Aurora, where he soon met with success. After five years' practice, he went to Philadelphia and entered the Jefferson Medical College, from which he subsequently graduated. He returned to Salem, and was shortly after appointed assistant physician of the Oregon State Insane Asylum. This position he retained until the fall of 1885, when he resigned. In October of that year he removed to Portland, where he at once entered upon the practice of his profession, and from the beginning his success was such as to give him a high place in the medical fraternity. His reputation as a skilful physician has steadily increased, and at the present time he enjoys an extensive practice. He has been President of the Oregon State Medical Society, and in its interest he has always been an active member. He is Professor of Dermatology and Hygiene in the medical department of the University of Oregon. As can be seen all through his career, Dr. Giesy has taken an active interest in all efforts put forward to elevate his profession through medical organizations, and has been one of the most industrious of men. There are few in the great race of life who can boast of being a self-made man, but the subject of this sketch has honorably attained that distinction among his fellow-men. It is needless to follow him during this period of his existence, which finds a counterpart in the lives of many others, who from small beginnings have risen to fame and fortune. He was compelled to earn his support by severe toil while pursuing his studies, and at a period when most boys have only fairly begun to lay the foundation for their after career. We may say that Dr. Giesy scarcely had a boyhood. At the age of sixteen he was at work, and his course from that to the present time has been the work of a painstaking and thoughtful student. His success from the first was marked, and his reputation both in and out of the profession has grown from year to year, until at the present time it is not too much to say he holds a conspicuous place among the successful medical men of Oregon. While he is positive in character, he is not dogmatic in his views, is wedded to no outgrown theories, and has ever been ready to adopt new methods which have been found superior to the old. He is not self-assertive, and few physicians are so free from personal jealousies. He is a man of kindly feeling. Such, in brief, are some of the prominent characteristics of our subject, whose career has been one of constant and unflagging devotion to duty, of many generous deeds, and of active usefulness. Dr. Giesy was married November 10th, 1886, to Miss Ida H. Church, of Salem. Their family consists of one child.
*******************
Submitted to the Oregon Bios. Project in April 2011 by Diana Smith. Submitter has no additional information about the person(s) or family mentioned above.
---
Updated on 2 Apr 2011.