---
Bernard Goldsmith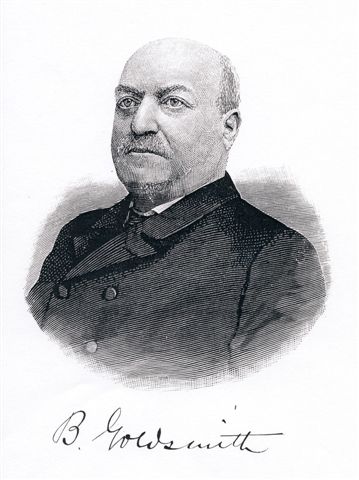 Hawthorne, Julian. "The Story of Oregon." New York: American Historical Publishing Co., 1892. p. 328.
BERNARD GOLDSMITH
was one of that hardy band of industrious Germans who emigrated from the Fatherland twoscore years ago to make a home in America. He was only sixteen when he made the trip, 1848, a momentous period in his hitherto prosaic existence in Bavaria. From the school-room and the associations of boyhood, he made an abrupt plunge for fortune. After weeks of the slow ocean traveling which distinguished that period, the young foreigner found himself set down at Castle Garden. What his feelings were when he set foot for the first time on the soil of the New World, only those who have experienced a like sensation can tell. Parading the streets of New York, he soon found means to employ his energies. Industriously applying himself to work, he remained in the metropolis until 1850. At this stage in his progress the country was thrown into wild excitement by the news which came from the far West that gold lay buried in vast quantities in California, and could be had for only the digging. Young Goldsmith set out at once for the Pacific slope. While the fascinations of mining were most alluring, the shrewd young man saw that there were other golden opportunities offered him in the newly settled region, and when he finally halted in San Francisco he carried out a plan which he had formulated on his way. Leaving his fellow-travelers to pick the shining treasure from the hills and gulches, he engaged in mercantile pursuits. The sure, steady profits of a substantial business satisfied him, and he served many years as a factor in the commercial affairs of early California and Oregon. His headquarters were situated at Crescent City, Klamath County, Cal., and a branch store was established in Jackson County, Ore. His time was divided between these two points, but eventually, 1858, he located permanently in Oregon. After a two years' residence in Jackson County, he moved to Portland, the city which now numbers him among her honored citizens. His career from 1861 became marked by a diversification of industries. From cattle-raising he went to the Willamette and engaged in navigation. This was followed by extensive real estate investments, and in 1890 banking claimed his attention. The marked versatility of the man was not long in being found out. His capabilities were not confined to a narrow field, but embraced a number of qualifications which attracted such attention that in 1872 the citizens of Portland elected him Mayor. His political services did not end here, but found a still larger scope in his election to the Chairmanship of the Democratic State Central Committee in the exciting Blaine-Cleveland campaign of 1884. He was re-elected to the same office six years later. Mr. Goldsmith has won the esteem of the people through his earnest, steadfast advocacy of all that tends to enrich the prosperity of his State. He began at the lowest round of the ladder and has climbed to the top, standing on a solid basis of success. Always imbued with the spirit of enterprise, he was the first to accelerate the transportation of wheat and other cereals in Oregon by running barges on the Columbia River. Some of the first cargoes of grain ever shipped from Portland direct to England were sent by him. He is not a stranger to military duty, passing through untold danger and hardship in his participation in the Indian War of 1855, all of which reveals the prowess of his nature, the intrepidity of his character, and the stanch firmness of his patriotism.
Transcriber's additional notes:
"History of Portland, Oregon With Illustrations and Biographical Sketches of Prominent Citizens and Pioneers"
D. Mason & Co., Publishers; Syracuse, N.Y.; 1890
Edited by: H. W. Scott
Page 196
B. Goldsmith, who was mayor in 1869-70 and 1870-1, is an old resident of the Pacific Coast. He came to California in 1851, thence to Oregon in 1856, and to Portland in 1861. He has been in business at Portland ever since. Throughout his career in this city he has been known as a man of business ability and energetic character. He bore a leading part in bringing about construction of locks at Willamette Falls, and later has been prominently connected with development of mining property in Northern Idaho. During many years he was at the head of a wholesale dry goods house in Portland. Mr. Goldsmith was born in Germany in 1832.
Page 372
The first Society for the Prevention of Cruelty to Animals, in the State of Oregon, was incorporated in 1872, by B. Goldsmith, Henry Failing, W. S. Ladd, J. R. Caldwell, Wm. Wadhams, T. L. Eliot, J. H. Woodward, James Steel, and W. T. Shanahan, of Portland; Mr. B. Goldsmith being elected as the first president of the society. The organization entered upon the work with many obstacles in its path. Such as questioned authority to interfere in behalf of unprotected children and dumb brutes; also, meagerness of statutory provisions, and a prevailing belief among a certain class of persons that children and animals possessed no rights which they were bound to respect.
"Illustrated History of Lane County, Oregon"
Publisher: A. G. Walling
Portland, Oregon; 1884
Page 350
In September, 1874, articles of incorporation of the Oregon Central Pacific railroad company were filed, the incorporators being, B. J. Pengra, B. Goldsmith, W. H. Watkins and Edward Quackenbush. The proposal embraced the construction of a line from a point on the Central Pacific not farther east than Winnemucca to the Columbia river via Goose Lake Valley and Sprague River Valley to the Middle Fork of the Willamette, down the north side of that river to Springfield, Lane county, and thence to Portland and the Columbia river. Capital stock, seven million five hundred thousand dollars, in shares of one hundred dollars each. This too is one of those lines that is in abeyance. The only other line is a narrow gauge track that taps the county at the village of Coburg, some seven miles from Eugene City.
Census
1860, August 22; Jackson Co, OR; Eden Pct, Phoenix PO, p 178
S. Redlick, 24, m, Bavaria, merchant, 8,000 personal estate
B. Goldsmith, 28, m, Bavaria, merchant
Jno. Tabor, 32, m, VT, clerk
1870, June 10; Multnomah Co, OR; Portland, p 179
B. Goldsmith, 38, m, w, Bavaria, Imp. merchant, 80,000 real estate, 100,000
personal estate, parents foreign born (pfb)
Emma, 26, f, w, Bavaria, pfb
James, 6, m, w, OR, att. school
Louis, 4, m, w, OR
Milton, 3, m, w, OR
Alice, 1, f, w, OR
Rika Yubitz, 19, f, w, Prussia, domestic, pfb
Janet Lang, 35, f, w, Hamburg, domestic, pfb
James Goldsmith, 19, m, w, NY, clerk Imp. store, pfb
Max Goldsmith, 25, m, w, Bavaria, merchant (Imp), 10,000 personal estate, pfb
1880, June 7; Multnomah Co, OR; Portland, p 314; 169 10th st.
Bernard Goldsmith, 46, BAV, BAV, BAV, wholesale merchant
Emma, wife, 38, BAV, BAV, BAV
James, son, 16, OR, BAV, BAV, att. school
Louis, son, 14, OR, BAV, BAV, att. school
William, son, 13, OR, BAV, BAV, att. school
Alice, dau, 11, OR, BAV, BAV, att. school
May, dau, 9, OR, BAV, BAV
Alfred, son, 3, OR, BAV, BAV
Rudolph, nephew, 24, BAV, BAV, BAV
August, nephew, 22, BAV, BAV, BAV
Louisa Skipper, servant, 21, Prussia, Prussia, Prussia
Barbara Bower, servant, 22, IL, Prussia, Prussia
1900, June 6; Multnomah Co, OR; Portland Pct 1, p 8; 831 24th st.
Bernard Goldsmith, 67, Nov 1832, GER, GER, GER, Wd, mar 38 yrs, to US 1848, real
estate agent, owns home free
Louis, son, 34, Sept 1865, OR, GER, GER, single, bookkeeper
May B, dau, 29, May 1871, OR, GER, GER, single
Eda, niece, 30, March 1870, CA, GER, GER
Alice Hitchcock, niece, 25, Dec 1874, CT, CT, CT, teacher, single
Margaret Eggers, servant, 27, July 1872, Switz, Switz, Switz, to US 1872, single
Lina Schroeder, servant, 23, March 1877, GER, Switz, GER, to US 1880, single
Oregon State Archives
http://genealogy.state.or.us/
Portland Death Index:
Bernhard Goldsmith, died July 22, 1901; Portland City
*******************
Submitted to the Oregon Bios. Project in March 2007 by Diana Smith. Submitter has no additional information about the person(s) or family mentioned above.
---
Updated on 30 Mar 2007.