---
Bradford Hunsaker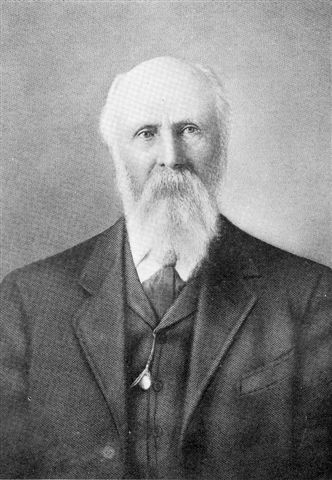 Gaston, Joseph. "The Centennial History of Oregon, 1811 - 1912." Vol. 2. Chicago, S. J. Clarke Publishing Co., 1912. p. 148.
BRADFORD HUNSAKER
is a retired farmer, living in Baker. He was long connected with agricultural interests in eastern Oregon and previously had resided in the western portion of the state, being numbered among the pioneers of 1852. He relates many interesting incidents and tales of the early days and his memory forms a connecting link between the primitive past and progressive present. He was born in Adams county, Illinois, August 15, 1832, and is, therefore, eighty years of age. He comes of German ancestry in the paternal line, his grandfather having been a native of Germany, whence he made his way to the new world. His parents, John and Annie Hunsaker, were farming people, who lived at different times in Illinois and Missouri. There were ten children, four sons and six daughters, in the family but only three are now living, Andrew, Bradford and John, all of whom married and have lived to celebrate their golden weddings - a remarkable record.
Bradford Hunsaker acquired his education in the district schools of his native county and came to Oregon when in his twenty-first year. He first engaged in the sawmill business in this state and later in farming and at different times followed blacksmithing and carpentering. It was on the 11th of April, 1852, that he crossed the Mississippi river at Quincy, en route for the northwest, and drove across the state of Missouri to St. Joseph, crossing the Missouri river at Savannah, about twelve miles above St. Joseph. He traveled in a train consisting of from twelve to fourteen wagons and numbering at least fifty people, the captain of the train being Joseph Hunsaker, a first cousin of Bradford Hunsaker. From the Missouri river they practically followed the old emigrant road to the Platte river and through the South Pass. At the Soda Springs on Bear river they took the Oregon road and proceeded to Fort Hall on the Snake river. They then traveled on the south side of that river until they reached Farwell Bend, after which they crossed the divide and reached Burnt river, where the town of Huntington now stands, on the 15th of August, 1852, the twentieth anniversary of Mr. Hunsaker's birth. On the entire trip they had no trouble with the Indians, but lost three of their number - a child, a young man and a young woman. The young man was supposed to have died of cholera and Mr. Hunsaker and another man of the party were the only ones who would bury him because of the disease. They never had any fear of the red men, never stood guard over the stock or camp at night and when Indians would visit the camp for food it was always given them, peaceful relations being thus maintained. From Huntington the party proceeded up Burnt river and crossed over to Powder river valley, going thence to the Grande Ronde valley where the old town of La Grande stands. They next crossed the Blue mountains to the Umatilla river and on over the old emigrant road, across the John Day and the Des Shutes rivers to The Dalles. At that point wagons, goods and the families were loaded on large scows which proceeded down the Columbia to the Cascades. It was necessary to portage over and then again board the scows which proceeded to Big Sandy. Mr. Hunsaker was one of the number who drove the stock from The Dalles down the trail to the Cascades where the stock was ferried over to the Washington side and then driven down to the Columbia river bottoms across from Big Sandy, at which point they were again ferried over to the Oregon side. From that point the party proceeded to Oregon City where they arrived September 24, 1852. Bradford Hunsaker then went into Washington on the Washougal, where he engaged in the saw milling business. In 1855 he secured a donation land claim of three hundred .and twenty acres in Clarke county, Washington, and resided thereon for about eighteen years, during which time he engaged in raising stock and in farming. After leaving there he removed to eastern Oregon and settled in Baker county where he has since lived, making farming and stock-raising his principal business. While he is practically living retired now he has good holdings from which he derives a substantial annual income.
All of the phases of pioneer life are familiar to Mr. Hunsaker and he has gone through many of the experiences which are features, in the development of any country. He served in the Indian war of 1855-6, becoming a member of Captain Strong's company with which he enlisted at Vancouver. He served for three months, being stationed on guard duty at The Dalles, and he is now drawing a pension of eight dollars per month as a veteran of the Indian wars. The only office that he has ever held is that of road supervisor, serving for a number of years, beginning in 1860 in Clarke county, Washington. He has always given his political allegiance to the democratic party but has never been an office seeker. When eighteen years of age he joined the Dunkards in Adams county, Illinois, and as there was no church of that denomination near his home in the northwest he became identified with the Baptist church here. In Clarke county, Washington, about fifteen miles east of Vancouver, Mr. Hunsaker was married to Maria Stice, the daughter of Peter Stice, who was a chair maker of Vancouver and the first to take up the business in that place. Her brother, Peter J. Stice, served in the Indian war of 1855-6 under Colonel Shaw and ten or twelve years later was drowned in the Willamette river at Portland in an effort to rescue two ladies who had capsized their little boat. All three, however, were drowned. Mrs. Hunsaker had four sisters. Mrs. William Moffet, Mrs. Robert Rocket and Mrs. G. W. Hart, are now deceased. The youngest was the wife of George Parker and her second husband was a show man who fell from a trapeze and was killed. Her third husband's name was Whitlock. Mrs. Whitlock became very fleshy, weighing seven hundred and twenty pounds and was in Barnum's museum for a time. She was also a snake charmer and handled rattlesnakes without any fear. Unto Mr. and Mrs. Hunsaker were born six children, namely: Francis Marion, born September 15, 1855; Hulda Catherine, born February 17, 1857; Malinda Jane, born July 12, 1860; Mary Lucinda, born December 2, 1862; William Sylvester, born May 11, 1865, and Anna Elizabeth, born June 27, 1868. Mr. and Mrs. Hunsaker had twenty grandchildren and seven great-grandchildren. They lived to celebrate their golden wedding and two years later Mrs. Hunsaker passed away, August 16, 1906, after having traveled life's journey together for fifty-two years, seven months and four days. For many years she had been a member of the Universalist church. Mr. Hunsaker is well known as an honored pioneer settler of both eastern and western Oregon. The active and useful life that he has led is now being crowned with a well earned rest. tie has contributed much to the early development and progress of the communities in which he resided and those who have known him hold him in high regard. He can remember a time when the site of Portland was largely covered with a dense growth of pine trees and when only here and there had a family settlement been made in the Willamette valley, while eastern Oregon was an undeveloped wilderness. He has lived to see great changes and can tell most interesting tales of pioneer life on both the eastern and western slope of the Cascades.
****************
Submitted to the Oregon Bios. Project in June 2007 by Diana Smith. Submitter has no additional information about the person(s) or family mentioned above.
---
Updated on 2 Jun 2007.