---
B. L. Steeves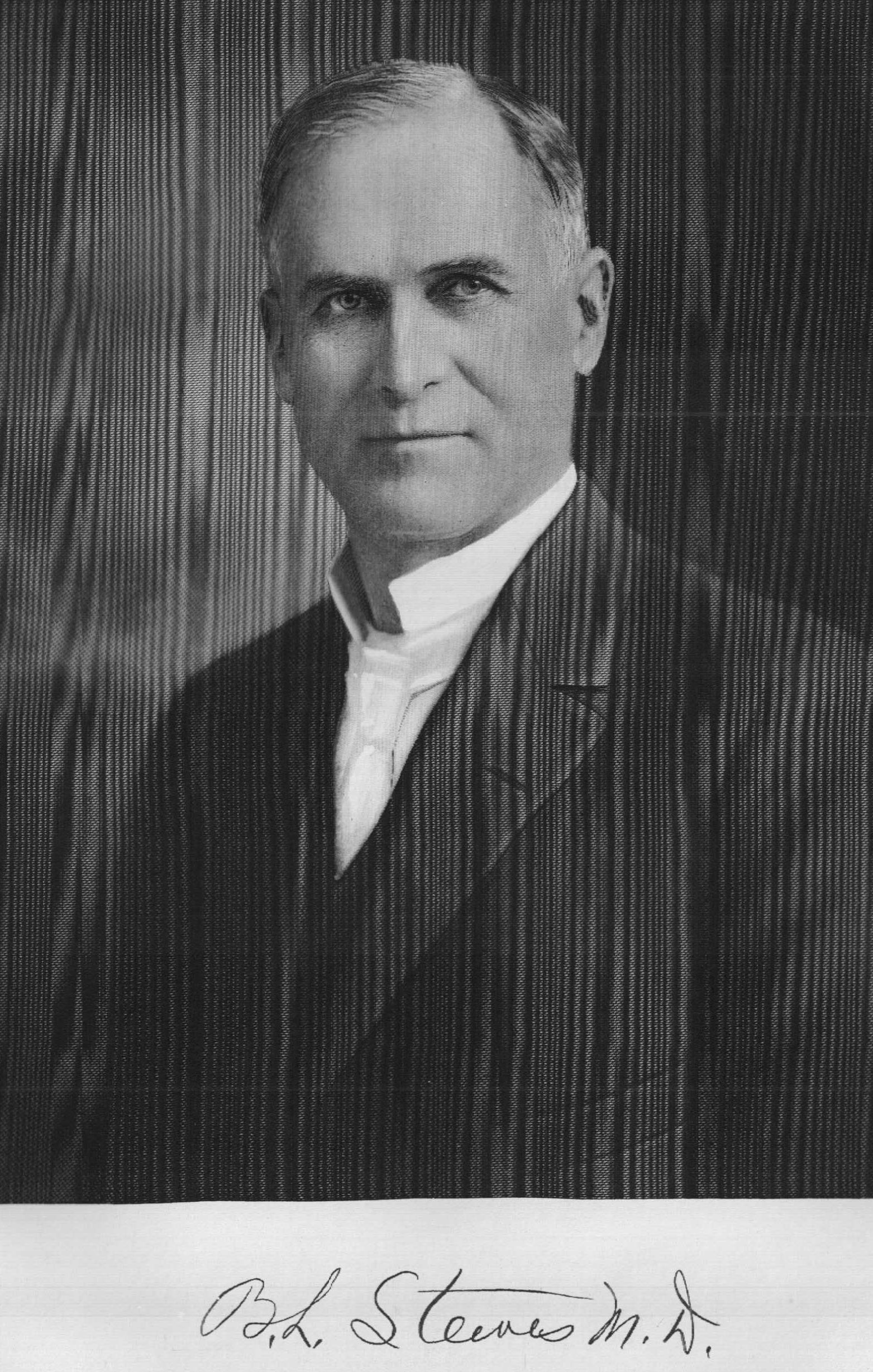 (Click on photo to view enlargement)
Clark, Robert Carlton, Ph.D. "History of the Willamette Valley Oregon." Vol. 2. Chicago: Chapman Publishing Company, 1927. p. 54
B. L. STEEVES, A.M., M.D., F.A.C.S.
No one stands higher in professional circles of the Willamette Valley than Dr. B. L. Steeves, of Salem, who for many years has been recognized as an able and successful practitioner of medicine, specializing in diseases of the eye, ear, nose and throat. A native of the province of New Brunswick. Canada, he was born or the 7th of July, 1868, and is a son of Aaron and Lydia (Steeves) Steeves, who were also natives of that province. In 1886 they came to Oregon, settling in Salem; to which city two of their sons, D. B. and C. W., had preceded them. Here the? spent their remaining years, the father dying in 1893 and the mother about 1903.
Dr. B. L. Steeves secured his elementary education in the public schools of Canada, after which he attended Prince of Wales College, on Prince Edward island. At the age of eighteen years he began teaching school, following that vocation until 1888, when he came to Oregon and entered Willamette University, from which he was graduated, with the degree of Master of Arts, in 1891. Having determined to devote his life to the practice of medicine, he matriculated in the medical school of Willamette University, in Portland, and won the degree of Doctor of Medicine in 1894. He located at Silverton, this state, where he practiced for three years, and in 1897 went to Weiser, Idaho, where he built up a large general practice, remaining there twelve years. In 1909 he sold his practice there and, returning to Salem, became a specialist in the treatment of diseases of the eye, ear, nose and throat. In order to keep abreast of the times in medical science, the Doctor took postgraduate work in New York and Philadelphia and he has always been regarded as an authority in his special field in which he has been eminently successful. He owns a business block, at State and Liberty streets, where he maintains a well equipped and nicely furnished suite of offices, and he commands a large and remunerative practice, coming from a wide radius. He served as a director of the Salem Bank & Trust Company and is now president of the Salem Bank of Commerce, being regarded as a business man of keen discrimination and ripe judgment.
In 1893 Dr. Steeves was united in marriage to Miss Sarah Hunt, a daughter of George W. and Elizabeth (Smith) Hunt, who came to Marion county in 1847. being among the honored early pioneers of the Willamette Valley. Mr. Hunt took a donation claim, which has never been divided and is now owned by his son Jeptha. Dr. and Mrs. Steeves have two children, Laban, who completed a medical course in the University of Oregon, and Muriel, who was graduated in 1921 from Willamette University. Politically Dr. Steeves has been a lifelong supporter of the republican party, in which he has always taken an active interest. In 1905 he was elected lieutenant-governor of Idaho on the ticket with Governor Frank R. Gooding, and in 1915 was elected mayor of Salem, in which position he rendered effective service to his city. He and his family are members of the Methodist Episcopal church, in which he has long taken a helpful part, having served as a member of its official board and in 1916 and 1924 was a delegate from the Oregon conference to the general conference of the church which met at Saratoga Springs, New York, and at Springfield, Massachusetts, respectively. He is president of the board of trustees of Willamette University and is a past president of the Oregon State Medical Association. He lives in a beautiful home at the corner of Church and Seventeenth streets and is very comfortably situated, while throughout his community he commands public confidence and esteem to a marked degree because he has rendered valuable service to his fellowmen along many lines of endeavor, his being always an active, useful and honorable life.
---
Submitted to the Oregon Bios. Project in December 2014 by Diana Smith. Submitter has no additional information about the person(s) or family mentioned above.
---