---
Charles F. Beebe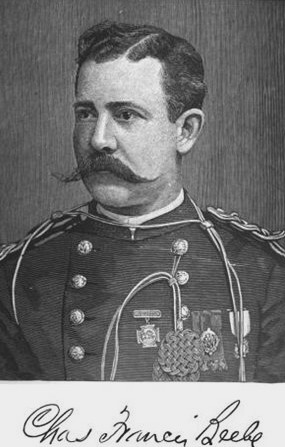 Hawthorne, Julian. "The Story of Oregon." Vol. 2. New York: American Historical Publishing Co., 1892. p. 374.
CHARLES F. BEEBE
commanding officer of the First Regiment Oregon National Guard, is a native of New York, and is in appearance the beau ideal of a soldier and gentleman. His younger days were passed in New York, and his military career dates from his enlistment in the famous Seventh Regiment, from which he was honorably discharged in August, 1878, after nearly eight years' service. On November 28th, 1878, he was appointed Aide-de-Camp, with rank of First Lieutenant, on the staff of Brigadier-General J. M. Varian, Third Brigade N. G. S. N. Y., and was promoted to Commissary of Subsistence, with rank of Captain, October 11th, 1880, and Quartermaster, March 16th, 1881. On January 16th, 1882, he was appointed Aide-de-Camp, with rank of Captain, on the staff of the Second Brigade, and was promoted to Inspector of Rifle Practice, with rank of Major, May 26th, 1882. He resigned in May of 1883, and June 12th, 1883, he was appointed Assistant in Department of Rifle Practice, S. N. Y., with the rank of Major. The following December he resigned and came to Portland to engage in business. When Company K, O. N. G., was organized, April 5th, 1886, Major Beebe enlisted for ninety days, and was elected First Lieutenant. Upon the promotion of Colonel Merrill he was unanimously elected Captain, and during the year he was in command he brought the company to a high state of efficiency as an organization. In July, 1887, the commissioned officers of the regiment elected him Colonel, the first full rank commander the battalion ever had ; this honorable rank he now holds. As a soldier and commanding officer of the regiment Colonel Beebe is a strict disciplinarian, just, considerate, capable, and a favorite with every man in his command. He also holds a high position in the business community, having entire charge of the Portland branch of Sutton & Beebe's extensive shipping and commission business. He is pleasant and affable in manners, is an esteemed citizen of Portland, and well deserves mention among the representative men of Oregon.
*******************
Submitted to the Oregon Bios. Project in July 2011 by Diana Smith. Submitter has no additional information about the person(s) or family mentioned above.
---
Updated on 24 Jul 2011.