---
David Diggins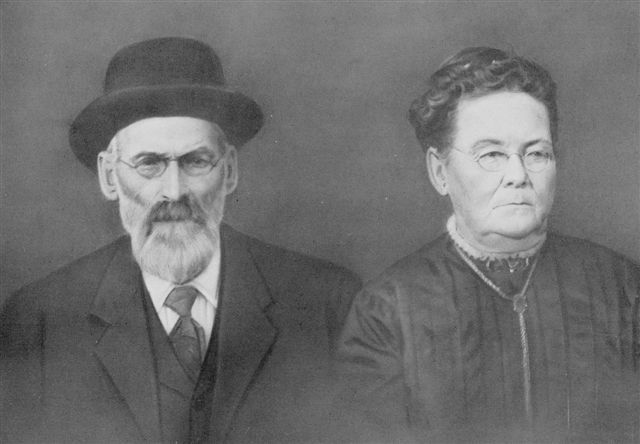 (Mr. and Mrs. David Diggins)
Gaston, Joseph. "The Centennial History of Oregon, 1811 - 1912." Vol. 2. Chicago, S. J. Clarke Publishing Co., 1912. p. 506.
DAVID DIGGINS
a retired agriculturist living in Joseph, Oregon, was born in Huntingdon county, Pennsylvania, on the 1st of January, 1833, a son of Samuel and Catherine (Fisher) Diggins, both of whom were natives of Pennsylvania where they resided throughout their entire lives. David Diggins acquired his education in the pioneer log schoolhouse where the subjects taught were the usual branches of learning presented in the early days, and the knowledge he acquired was little more than that necessary to succeed in the ordinary walks of life. In 1856 he left his home and came west, locating first in Illinois where he worked for an uncle on a farm in Fulton county. In 1859 he crossed the plains in a wagon train, starting with four wagons with ox teams, but upon reaching the plains they were joined by others until their train was one of sixty wagons. They were frequently attacked by the Indians and they encountered some serious trouble on Snake river. Had their number been smaller the Indians would probably have overcome them, but because of their strength they were allowed to proceed and, after a six months' journey, they reached Walla Walla, Washington. Mr. Diggins resided in that vicinity until 1876 when he came to Oregon and located near Milton, in Umatilla county. Here he purchased two hundred and forty acres of land and later added one tract of two hundred and eighty, and three of one hundred and sixty acres each. He lived upon that property until 1884 when he turned his farm over to his son, Thomas L. Diggins. At that time he came to Wallowa county and purchased three hundred and twenty acres of land on Prairie creek upon which he resided until 1898, when he purchased one hundred and sixty acres east of Joseph. He removed to this property and later added three hundred and twenty acres. That was his home until 1901 when he retired from active life and settled in Joseph where he has since resided. He still owns the home farm of one hundred and sixty acres and also one hundred and twenty acres one-half mile east of Joseph which he purchased in 1907. He has always carried on agricultural pursuits on an extensive scale, and the success which has been his has been won because of his hard work and constant application. Early in life he determined to succeed, and this determination, together with his courage, has been responsible for no small part of his success. The comforts and luxuries he enjoys today are the due reward of the privations, hardships and labor which he encountered earlier in life.
Mr. Diggins has been twice married. In 1873 he wedded Miss Anna Warefield, of Clearfield county, Pennsylvania. To this union two children were born: Thomas L., who is a prominent ranchman of Umatilla county; and George, whose death occurred in 1901 when he was twenty-four years of age. Mr. Diggins' second marriage occurred on May 30, 1894, when he was united to Mrs. Melvina Isley, the widow of James M. Isley and daughter of John B. Pennington, who came to Oregon from Missouri early in the '40s. The father took up a donation land claim in Yamhill county. His death occurred when he had reached the advanced age of ninety-eight years, and was the result of a fall from a wagon. He was at that time living in Fresno, California. To Mr. Diggins' second union eleven children were born: Martha, who is the wife of Samuel Eby, of Fraser, Idaho; Eliza J., who is married to Charles Sams of the state of Washington; James P. and Charles E., who are living on the divide in Wallowa county; Lucinda, who is married to James Stockam, of Wallowa; Carrie M., who is the wife of Edwin Thorington, of Walla Walla, Washington; John W., of Joseph, Oregon; William A., a resident of Freewater, Oregon; Myrtle, who is the wife of J. Boyer, of Cornucopia, Oregon; Bertha L., who is married to Robert Jarrett, of Pasco, Washington; and Leroy, who is living on the divide in Wallowa county.
Politically Mr. Diggins is a republican and has served for eight years as a member of the school board. Beginning his struggle with the world at a very early age, and profiting by his experiences, no matter how arduous or unpleasant, he may well be called a self-made man, and the ease which he now enjoys is due to, his industry and ability.
****************
Submitted to the Oregon Bios. Project in June 2008 by Diana Smith. Submitter has no additional information about the person(s) or family mentioned above.
---