---
David P. Thompson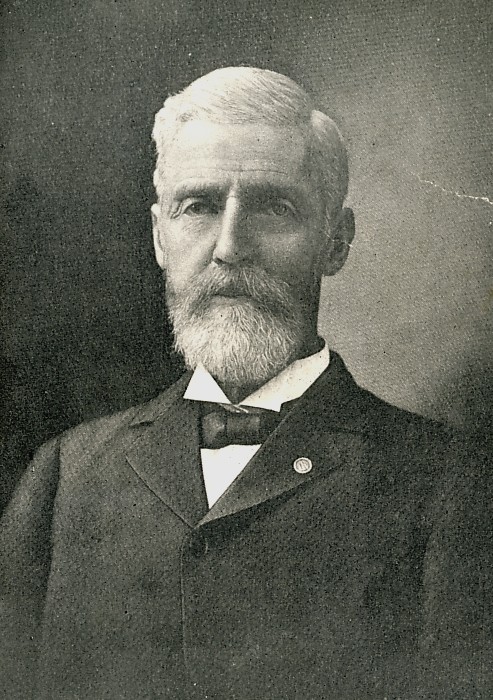 Gaston, Joseph. "The Centennial History of Oregon, 1811-1912." Vol. 2. Chicago, Clarke Publishing Co., 1912. p. 5.
DAVID P. THOMPSON
The estimate of the individual is based upon his improvement of opportunity, his utilization of natural talents and his fulfillment of his obligations. In every phase of his life measuring up to the highest standards in these particulars, David P. Thompson leaves to the state of Oregon as a priceless heritage the memory of a purposeful, resultant and honorable life that through years to come should serve as a source of example, encouragement and inspiration to the citizens of Oregon. He came to the state in 1853, when a youth of nineteen years.
He was born in Cadiz, Ohio, November 8, 1834, and in the paternal line was of Irish extraction, while in the maternal line he was of Scotch descent. The family home stood directly below the Harrison county infirmary beyond which to the west he could see the apex of a hill. He frequently said in later years that when he reached the summit of that hill he almost thought he had reached the confines of the world. But to him as to all others the horizon broadened as he advanced and he came to know that there was a great universe beyond Cadiz. His father owned and operated a mill, around which he played in his boyhood. He was reared in a Christian home and with his parents attended the Associate Reform church of Cadiz. The lessons which were impressed upon his mind in his youth concerning those things which are honorable and of good repute were never forgotten. His knowledge of blacksmithing was obtained at the forge of Elijah Lizure, under whom he served an apprenticeship. He was afterward engaged for some time in railroad surveying with General Blickensdorffer and in the knowledge and practical experience that he was acquiring he laid the foundation for his success and usefulness in later life.
Mr. Thompson came to Oregon in 1853, employed by Colonel R. R. Thompson, who removed to this state in 1849, to drive sheep and thus following the flock, David P. Thompson walked all the way over the arid plains and unsettled prairies and across the mountains to the northwest. He worked at whatever he could find to do. His knowledge of blacksmithing proved of priceless value to him after reaching Oregon. He was prominent in building the first railroad in the state - a line constructed around the falls of the Willamette. He was studious and ambitious, however, and his ability and willingness to work soon won recognition. He was appointed United States deputy surveyor to survey the public lands of the territories of Oregon and Washington and thus served until 1863. This brought him a knowledge of lands and of opportunities, indicating to him the needs of public improvement, and all he could save was placed in investments, the value of which increased with the growth and settlement of the state until his property holdings made him a wealthy man. During the period of the Civil war he enlisted, becoming first lieutenant and afterward captain in the First Oregon Cavalry, with which he was connected for four years. He offered his services, under the call of President Lincoln to the governors of Ohio and Pennsylvania respectively but his offer was declined on account of the expense of sending troops by way of the Isthmus of Panama. He was a loyal and devoted member of the Grand Army of the Republic and could be seen on every Decoration Day marching in the ranks of the veterans.
One of the notable features in the life of Mr. Thompson was the adaptability with which he took up a new work, recognizing the opportunities and bending he energies toward the accomplishment of the result. In 1866 he became manager of the Oregon City Woolen Manufacturing Company, controlling what was at that time the largest enterprise of the kind in the northwest. In time he became largely interested in the construction of railway and the establishment of navigation lines in Oregon and California and his efforts in promoting transportation facilities constituted a valuable factor in the development and upbuilding of the coast country. He was vice president and a director of the Oregon Railway and navigation Company and was closely associated with those who, through the building of railway lines, opened up the northwest. In the late '70s Mr. Thompson, being part owner of the Sterling mine in southern Oregon brought in water for its development, a distance of twenty-three miles, over a mountainous and heavily timbered country. This was one of the first pieces of difficult engineering in that section and was looked upon as a remarkable feat. He had unusual ability for managing large bodies of men and the loyalty of his employees was ever a pride and pleasure to him. Extending his operations to the field of banking, he at one time was president or director in seventeen national banks in this section of the country but in 1891 retired from the banking business. While his business interests mainly centered in Oregon, he had also large interests in the state of Washington.
Business interests, however, never precluded his active participation in public affairs nor his substantial aid in any project which he deemed of value to the city or state. His worth as a citizen and his marked ability led to his selection for many public offices. In 1866 he was chosen to represent the twelfth district in the state senate and occupied a seat in the upper house until 1872. In 1878 he served in the lower house of the Oregon legislature and again in 1882 and 1889, and in 1878 was the republican candidate for speaker. President Grant appointed him governor of the territory of Idaho and he served as its chief executive until 1876, when he removed to Portland. He was twice mayor of this city and his administration was characterized by needed reforms and improvements and by the substantial upbuilding of municipal interests. In 1884 he was made a presidential elector on the republican ticket and was a delegate to the republican national convention which nominated President Hayes and a member of the committee that officially notified him of the nomination. In 1890 he was made the republican nominee for governor of Oregon but was defeated by a coalition of the democratic, populist and prohibition parties. In 1892 President Harrison appointed him minister plenipotentiary and envoy extraordinary to Turkey, which position he resigned in 1893. Throughout the period in which he was recognized as one of the republican leaders of Oregon he stood for high ideals, desiring ever that the Republican party should be essentially a party of principle, that it should not exist primarily to make particular individuals presidents or governors or senators but that it should exist to make vital certain principles essential to national salvation . He believed that it should fulfill the highest definition of a political organization -- that is, a large group of men working unselfishly for a great common cause. His position was never an equivocal one and he never hesitated to sacrifice personal interests and ambitions for the public good. He was long as influential and leading director of the Portland schools and in connection with the furtherance of the cause of education in Oregon has been greatly missed since death claimed him. He made generous donations and gave prizes to help the schools, filled the position of regent of the University of Oregon and took a deep interest in its prosperity. His capacity to control and manage successfully a vast number of widely differing enterprises and attend to the details personally was wonderful. One of his chief characteristics was his love for animals. This was not only evidenced by constant financial aid and moral support of the Oregon Human Society, of which he was president, but in a gift to this city of a handsome drinking fountain situated between two of the most prominent public squares.
In 1861 Mr. Thompson was united in marriage to Miss Mary R. Meldrum, a daughter of John and Susan D. Meldrum, Oregon pioneers of 1845. Mr. and Mrs. Thompson became the parents of a son, Ralph, now living in the state of Washington, and two daughters: Bessie M., who is the wife of Joseph N. Teal, a distinguished and successful lawyer of Portland; and Genevieve, whose home is with her mother in Portland.
Mr. Thompson was a member of the Masonic fraternity, being the first man initiated into Harrison Lodge, No. 218, F. & A. M., at Cadiz, Ohio. He was then but nineteen years of age. He remained loyal to the beneficent principles and fraternal spirit of the order throughout his entire life and was equally faithful to his membership in the Unitarian church.
In May, 1901, Mr. Thompson left home for a trip around the world, but had proceeded eastward only as far as Iowa when he became ill and was obliged to return home. He never fully recovered and passed away on the 14th of December, 1901. The press of the entire country commented upon his death in terms of commendation and of respect. Said one of the journals of Walla Walla, Washington: "The Walla Walla friends of the late D. P. Thompson of Portland are profoundly grieved to learn of his death. Mr. Thompson was for years during his lifetime connected with the financial institutions of Walla Walls and had always taken a lively interest in the progress of the Garden city. He was a man highly respected by everyone who knew him. He acquired wealth and influence in both public and private life by reason of his close application to work and his constant effort to progress in all walks of life. He came to the Pacific coast a pioneer and by his own indomitable will and courage, in the face of obstacles, made his mark among his fellowmen.
Mr. Thompson was a most generous man. His benevolence fostered many good works and his helpful aid tided many an institution and individual over a critical period. The Oregonian said of him: "Occasionally a man carves out a fortune by dint of toil and the exercise of foresight and then proceeds to make his fellowmen the better for his having lived and grown rich. David P. Thompson was of this class. His life is to be cited as an example of the possibilities of human nature untarnished by the corrupting influence of gold. His was a career that spurs on young men to strive for the better part. D. P. Thompson stood for higher education. His influence went for the upbuilding of all institutions that make for mind improvement. He was distinctively a friend of the younger generation who aspire to climb the ladder of intellectual achievement. Oregon owes him a debt of gracious memory for what he did for the schools of the state. And in what other sphere does not the same apply? He stood for the interests of the common man as against the too often oppression of the more powerful. His political career was illustrative of the truth now too frequently scouted, that a man may engage in the performance of civic duties without tarnishing a good name. No breath of suspicion ever attached to him through a long and eventful life. D. P. Thompson stood for industrial development, and he possessed in a remarkable degree the foresight that enables men to see into the future and plan permanently for what will be the coming needs. He was humane. The humanity of his nature impressed anyone meeting him casually, shining out of benevolent eyes and manifesting itself in acts of charity and evidences of good-will for all."
A fitting tribute to his memory was expressed in an editorial of the Oregonian, giving a just estimate of the character of one who had been a resident of Portland and whose life was and open book that all might read. The editorial said: "David P. Thompson was a faithful type of the men whose rugged virtues and indomitable force of character are indispensable in the molding of wildernesses into states. They take no account of hardships, stop at no obstacles, so that the goal which measureless useful ambition has set before them may be achieved. The dauntless purpose that sends them out into the front line of civilization's advancing wave becomes, in the new environment a transmuter of energy into every needed form of expression. The iron will adapts itself to every circumstance and conquers every difficulty. Out of its inexhaustible reservoir of determination it passes at will into versatility in whatever direction need is found. In the tamer days of more settled community life every man must stick to his last. No one thinks of leaving the beaten path of his chosen calling, for thus he would enter upon an unknown sea, dark with vague terrors. But no such timidity or circumspection hedges in the man of Mr. Thompson's character and times. He threw himself into every opening industry offered or civic duty required. It was not for him to take council of capacity or temperament but to apprehend what needed doing and force his powers to its accomplishment. Thus he became successively, as occasion required, woodchopper, blacksmith, surveyor, railroad builder, volunteer soldier, manufacturer, educator, statesman, banker, philanthropist. Most distinctive and necessary in all this was the work of his earlier years in assisting at the establishment and formation of the Oregon country. Any man can make money and most men can save some of it. Any man of generous impulses and broad views can give money away to worthy objects. So, while Mr. Thompson's contributions to charity and diplomacy were real and creditable, his signal service was in the vigor he lent to the pioneer era, in making this region habitable, in bringing its resources to light and in stamping his intensely practical ideas upon the educational system of the state. Such careers are too near us now for their significance to be appraised at its true value, but the future will be able to trace the tremendous effect of their labors upon the society and the institutions of their time. The possibilities of high position afforded in the United States to industry and fidelity were never better illustrated than in Mr. Thompson's case. He crossed the plains as a boy of nineteen, working for his living and dependent on his own hands for what ever the world was to bring him of enjoyment or honors. He died possessed not only of great wealth and political honors but of exalted social position, a man enriched by years of foreign residence and travel, by books and art, by constant mingling with men and women of the highest breeding, education and accomplishments. He started with nothing, he ended with almost everything that man covets as of value. And he won it all by his won unaided exertion. It is well that so successful a life should also have found time for the finer things our self-made men are so prone to overlook -- aid in money and personal attention to schools and churches, collection of rare objects of beauty from all over the world, and the artistic adornment of his city and his home. it seemed almost akin to mockery to commiserate those immediately bereaved upon the completion and end of such a career of usefulness and strength. His work was done and rest comes fittingly at close of day. When a man has done all that has been required of him and seventy years of care and toil lies behind him in satisfying memory, a peaceful taking off as he sits patiently on the western piazza waiting for his sun to set is far preferable to the lot of those who linger on in bitterness and gloom to outlive not only their capacity for enjoyment but also their power to add to the happiness of others. Mr. Thompson filled a large place where his manhood years were passed and it, though he is gone, is secure. In the history of his adopted state and in the institutions he helped to form, his true monument stands, more beneficent than all his gifts to charity, more lasting even than the bronze or granite tokens he left in Portland's streets to perpetuate his name."
As was befitting his sturdy character and life a plain granite slab marks his last resting place in Riverview cemetery. His family has erected in his memory in the City Park, on a high hill overlooking the city he served so well, a magnificent group called "The coming of the White Man" by the American sculptor Herman A. MacNeil. His group typifies, as the title indicates, the approach of the first white men in the Oregon country. Two Indians, of Heroic size, standing on a great uphewn stone, are gazing with intense interest up to the gorge of the Columbia river, down which the pale faced strangers are coming. The younger Indian bears an expression of interest and welcome and in his hand a branch from a tree as a symbol of peace; the older Indian wears a somewhat resentful expression as if his mind were dwelling on the future history of his race and the sculptor has depicted with great skill the old warrior's doubt and possible dread as to the outcome. It is a masterful work of art and is said to be one of the most artistic and beautiful bronze groups in America.
Transcriber's additional notes:
Transcribed from his death certificate issued at Portland, Or.
David P. Thompson, white, male, married.
Date of birth - November 8, 1834.
Date of death - December 14, 1901; 67 years, 1 month, 6 days.
Occupation - retired.
Late residence - Hobart Curtis - Portland, Oregon.
Length of residence at place of death - 25 years
Place of death - Hobart Curtis, Fourteenth street
Place of birth - Cadiz, Harrison Co, OH.
Father - Joseph Thompson, born OH.
Mother - Betsey Thompson, born OH.
Place of burial - crematory
Burial - December 16, 1901
Undertaker - Edward Holman Undertaking Co.
Treated by Dr. - from January 7, 1901 to December 14, 1901
Cause of death - illegible
---
Submitted to the Oregon Bios. Project in October 2005 by Diana Smith. Submitter has no additional information about the person(s) or family mentioned above.
---
Updated on 26 Jan 2007.