---
Erhard Wolfard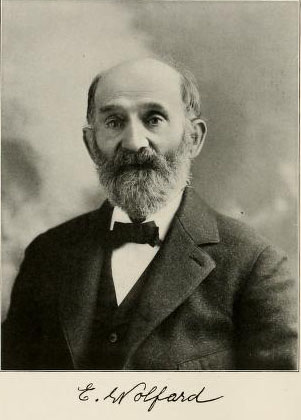 "Portrait & Biographical Record of the Willamette Valley Oregon." Chapman Publishing Company, 1903. p. 1169.
ERHARD WOLFARD
One of the most venerable and honored of the retired citizens of Silverton is E. Wolfard, formerly an extensive agriculturist of Marion county, and actively identified with its most substantial upbuilding. Mr. Wolfard was born in Alsace, December 12, 1818, and was just ten years of age when his parents came to the United States. His father followed the art of weaving for many years in France, but after coming to America engaged exclusively in farming. The family were sixty-four days on the water, the sailing vessel meeting with many storms and delaying calms. They settled in Stark county, Ohio, near Canton, and there lived between the yeas of 1828 and 1833. Their next home was in Scioto county. Ohio, where the mother died in 1835. and the father married a second time. He died at the age of sixty-eight years.
From the public schools E. Wolfard stepped into a carpenter's apprenticeship, and at the same time learned to be a blacksmith. These combined trades he followed for many years in Ohio, in which state, September 14, 1839, he married Aramatha Shope, a native of Ohio, and with whom he continued to live in Scioto county until 1853. He then outfitted and started across the plains with ox-teams, being six months on the way, and having a fairly pleasant journey. The Indians were not particularly troublesome, nor were the ranks of the little party disturbed by cholera or other serious illness. The family settled about five miles south of Silverton, where Mr. Wolfard bought a squatter's right, which he afterward proved up, and upon which he instituted many fine improvements. On his farm he had a little blacksmith and wagon shop, which he conducted for many years with fair success until moving into Silverton in 1887. For a short time in this town, he engaged in a mercantile business with his son, John, and then bought the ten acres of land comprising his present home, just outside the corporation of Silverton. He erected on his land a modern and comfortable dwelling and other buildings, and is pleasantly located and apparently enjoying the evening of a useful and worthy life. He still owns three hundred and sixteen acres of his original claim, which nets him a handsome income each year.
In politics Mr. Wolfard is a Republican, and has served as a school director for many years. Since 1849 he has been identified with the Masons, having been initiated into the order in Western Sun Lodge No. 91, at Wheelersburg, Ohio, and is now a member of Silverton Lodge No. 45, A. F. & A. M. Twelve children have been born to himself and wife, of whom the following are living: John M., who married Kate McCalpin, and is now a resident of Silverton; Mary, living with her parents; Amelia, wife of R. W. Carey, of Salem, the parents of three children; Geneva A., wife of Timothy D. Allen, residing in this vicinity; Charles D., who married Sarah Ann Small, the daughter of Isaac Small, of Turner, a pioneer of 1854, and with his family of nine children is living near Silverton; Eda, wife of John H. Riches, of Marion county. Mrs. Wolfard died July 13, 1866, aged forty-one years, five months and seven days. Mr. Wolfard has realized many of his expectations since coming to this country, and the land of his adoption has benefited by his public-spirit and worthy undertakings.
---
Submitted to the Oregon Bios. Project in July 2016 by Diana Smith. Submitter has no additional information about the person(s) or family mentioned above.
---