---
Frances Eleanor Ross Linfield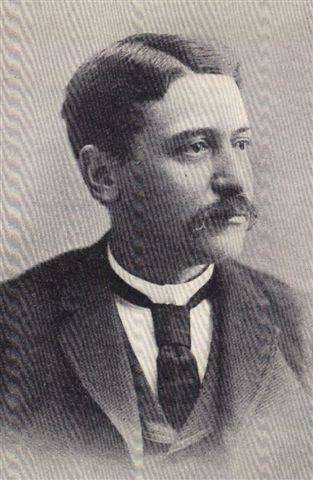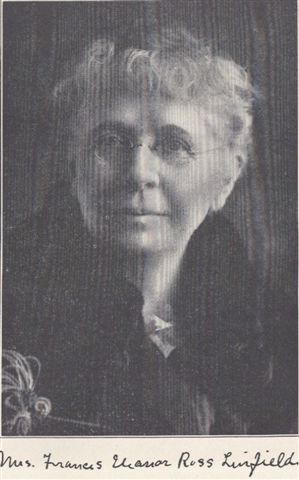 [George F. Linfield and Frances Eleanor (Ross) Linfield]
Clark, Robert Carlton, Ph.D. "History of the Willamette Valley Oregon." Vol. 3. Chicago: Chapman Publishing Company, 1927. p. 564.
FRANCES ELEANOR ROSS LINFIELD
Few have attained a position of such prominence and honor in educational circles of the northwest as has Frances Eleanor Ross Linfield. Not alone has her work been of lasting benefit because of her ability to impart knowledge but also because of the stimulus which she has given to character development along those lines which make her the highest type of manhood and womanhood. Born in Penfield. New York, January 4, 1852, she is a daughter of Oliver Chapin and Betsey (Shearman) Ross, her ancestral line being traced to William Ross, who came from the Barbados to America in 1678, settling at Westerly, Rhode Island. He married Hannah Hungerford and the ancestral line is traced down from them through William and Ann (Lewis) Ross, Peleg and Hannah (Lewis) Ross, Lebbeus and Rhoda (Crandall) Ross, to William Crandall and Betsey (Rundell) Ross, who were the grandparents of Mrs. Linfield. Thus through many generations the family was connected with the development of New England and the east.
Her earliest maternal ancestor was Philip Shearman, who came from Dedham, England, and settled in Roxbury, Massachusetts, in 1634; and his wife was Sarah Oddings. From them the line of descent is traced through their son Pelig Shearman and his wife Elizabeth Lawton, and their son William Shearman and wife Martha Wilbur, and their son Thomas Shearman and his wife Sarah Sisson, and their son Thomas Shearman and his wife Hephzibah Potter and their son Adam Shearman and Eleanor Smith, who were the grandparents of Frances Eleanor Ross Linfield.
It was in 1873 that Frances E. Ross was graduated from Elmira (N. Y.) College with the degree of Bachelor of Arts, and a half century later her alma mater conferred upon her the Master of Arts degree. When her college course was completed she secured a position as high school teacher in Englewood, Illinois, now a part of Chicago, and in 1876 became a teacher of English and Latin in the Pennsylvania State Normal School at Mansfield. During 1877-78 she was preceptress of the Delaware Literary Institute at Franklin, New York, teaching English and French, and in 1884 she became teacher of German, history and literature at Wayland Academy at Beaver Dam, Wisconsin, where she remained for a decade. The succeeding year was devoted to postgraduate studies in the University of Chicago and throughout her entire life she has been a broad reader and earnest and logical thinker, so that she has continually increased her knowledge and made her work of greater effectiveness.
Mrs. Linfield was called to the northwest in 1895 through the illness of her parents, then residents of Spokane, Washington, and while devoting much of her time to their care, she also taught in the Lewis and Clark high school of that city for a period of seventeen years, between 1895 and 1912, being head of the department of modern languages.
It was on the 4th of September, 1878, that Frances E. Ross gave her hand in marriage to George Fisher Linfield, a son of John Porter Linfield and a native of Randolph, Massachusetts. He was for six years principal of Wayland Academy and died at Beaver Dam, Wisconsin, April 30, 1890. It was while Mr. and Mrs. Linfield were working together as instructors in the Wayland Academy that they formulated a plan for a future contribution toward Christian education, and the year 1922 saw this plan reach its fruition in a gift from Mrs. Linfield to McMinnville College in McMinnville, Oregon, of Spokane property valued at two hundred and fifty thousand dollars, on condition that the name of the institution be changed to Linfield College as a memorial to her husband. This educational institution was chosen as the recipient of her gift because of her approval of the school and the determination of its officers and trustees to maintain it as a distinctly Christian institution. It was the fourth institution of higher learning founded west of the Rocky mountains and is still in existence. It became a Baptist school in 1857 and was incorporated the following year. Since 1921 Mrs. Linfield has been dean of women in this college. The story of the gift is an interesting one. The original agreement between Mr. and Mrs. Linfield was that, if the Lord prospered them, they would some day make a generous contribution toward Christian education, further agreeing that in one year Rev. Linfield should pay all expenses and her salary should go toward making an investment, while the succeeding year the plan should be reversed. Under this plan Mr. Linfield invested twenty-three hundred dollars in a lot in Spokane which recently has been sold for one hundred thousand dollars. Mrs. Linfield made other investments which constantly grew in value. Who can measure the influence of this gift or foretell when its influence for good in the lives of others will cease? The institution will long stand as a monument to the honored couple who so many years ago gave evidence of their faith in the Divine power by pledging to share their prosperity of the future in the work of the Master.
During her residence in Washington, Mrs. Linfield was very prominent in Baptist activities, serving as counselor on the state convention board of eastern Washington and northern Idaho and also on the board of the Deaconess Hospital at Spokane. She is likewise a member of the board of Linfield College. For many years she has been prominently identified with the Woman's Foreign Missionary Society and for an extended period served as its vice president. The nature of her interests and activities is further indicated in the fact that she is a member of the American Association of University Women, a member of the Daughters of the American Revolution, a member of the Women's American Baptist Missionary Societies and of the Woman's Christian Temperance Union. Her deep sympathy goes out to every project that tends to uplift and benefit mankind and her cooperation has been a most potent force for progress in this field. Her countenance reflects the kindliness, the tact, the consideration for others and the Christian spirit which have been motive forces in her life. The world is better for her having lived, and though she has now passed the Psalmist's span of three score years and ten, in fact has reached the seventy-fifth milestone on life's journey, her friends throughout the east and west and they are legion, are united in the hope that her life of usefulness will continue for many years to come. Association with her has always been an influence for good in the lives of all with whom she has been brought in contact, many attesting to the inspirational value of her example.
---
Submitted to the Oregon Bios. Project in February 2011 by Diana Smith. Submitter has no additional information about the person(s) or family mentioned above.