---
Gideon C. Millett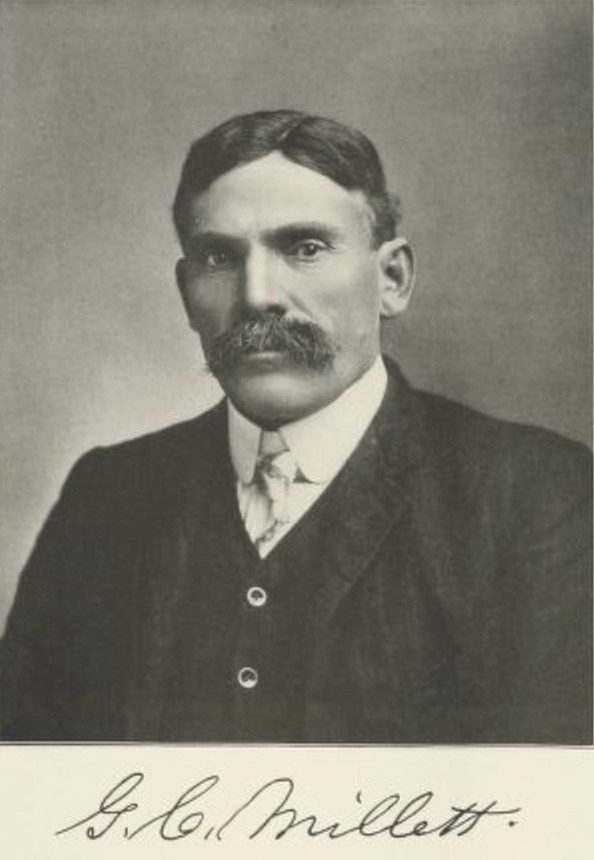 "Portrait & Biographical Record of the Willamette Valley Oregon." Chapman Publishing Company, 1903. p. 1337.
GIDEON C. MILLETT
Were one inclined to doubt the reliability of slaving stock-raising accounts in Lane county, that doubt would be removed by inspection of the large farm of Gideon C. Millett, one of the most extensive and successful stockmen around Junction City. After talking with this energetic and practical stock-raiser one becomes inspired with his enthusiasm, and his faith in the superiority of Poland-China hogs, Shorthorn cattle and Shropshire sheep, having been the largest breeder of thoroughbreds in Lane county. It is to the wise selection of these two standard breeds that he owes his surprising good fortune, many years of experience having convinced him that for all-around purposes they are the most to be desired. Until recently Mr. Millett owned sixteen hundred acres of land, but has lately relieved himself of an enormous responsibility by disposing of some of it. The farm was purchased on the installment plan, and has much more than paid for itself, the owner estimating that he has put at least $65,000 into it. This is an unusually creditable showing, for at the start of his career he was practically without money or influence, and has accomplished it all through the exercise of strong and forceful intelligence. In 1902 he handled sixteen hundred Poland-China hogs and as mane Shorthorn cattle.
In his youth Mr. Millett would have had a precarious existence had not a prosperous farmer in Iowa adopted him after the death of his mother. He was two years old when this catastrophe overcame him, having been born in Waterloo, Iowa, March 9, 1868. When he was five years old Mr. R. Millett, his foster-father, brought his family to Benton county, Ore., remained there until 1875, and then moved to Junction City, where the lad attended the public schools for a couple of years. Mr. Millett (the elder) purchased the farm now owned by the younger man in 1881, and which at the time consisted of five hundred acres. When Gideon C. was twenty-three Nears old he took possession of this farm, made arrangements to pay according to the terms of a contract, and one of the satisfactions of his life is that he has been able to meet this obligation fairly, and with satisfaction to all concerned. He has taken an active part in promoting education, good roads, and general improvements in Lane county, and has always identified himself with Republican politics. Possessed of tact, geniality and other social traits, he is a welcome visitor at the Independent Order of Odd Fellows' lodge, representing the same at the state grand lodge in 1900. Mr. Millett is also a member of the Ancient Order of United Workmen and the Rebekahs. He is now perfecting plans to retire from active participation in business and will probably make his home in Eugene. He is the second largest stockholder in the Junction City Hotel Company, of which he is a director, besides owning other property of considerable value. Mr. Millett lives one mile east of Junction City, and in the community is regarded as a man in whom honor, sound business judgment, and unquestioned success are happily blended.
*******************
Submitted to the Oregon Bios. Project in November 2011 by Diana Smith. Submitter has no additional information about the person(s) or family mentioned above.
---