---
Godfrey Dentel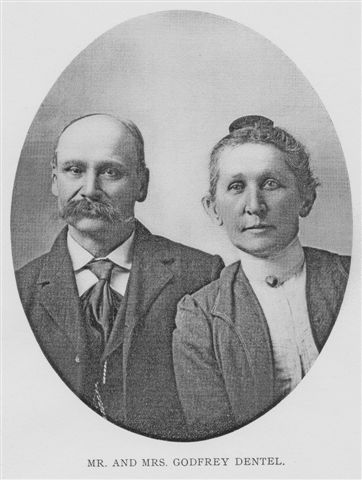 "Portrait & Biographical Record of the Willamette Valley Oregon." Chapman Publishing Company, 1903. p. 929.
GODFREY DENTEL
was born in Saxony, Germany, December 17, 1844. He was brought by his parents to America in 1847, the family making their home in Monroe county, Mich., on a farm eight miles west of Monroe, where Godfrey Dentel grew to manhood. At the age of twenty-two he located in Sangamon county, Ill., and began working on a farm near Springfield, that county. He continued working by the month for three years, and was then married to Miss Elizabeth Buirgy, December 23, 1869. Mrs. Dentel was a native of Clermont county, Ohio, and after her marriage she ably assisted her husband, performing the duties of the household in an exemplary manner. They continued to reside in Sangamon county for about twelve years. In 1877 they removed to Portland, Ore., remaining there for a period of three months. The duration of their stay in Clackamas county covered a period of two years, at the end of which time they settled in Marion county, near Aurora, on their present farm, which comprises one hundred and sixty acres. When Mr. Dentel took up the work of improvement upon this place there had been nothing whatever done in that direction, but with determined zeal he went to work, and placing his standard high, he has reached a degree of excellence in the cultivation and management of his property, which is not excelled by any, and is equaled by few. When he purchased this farm it contained no buildings, but Mr. Dentel has built a comfortable and commodious residence and all necessary outbuildings for the shelter of grain and stock, and the appearance of thrift and neatness is everywhere apparent. Mr. Dentel is an experienced hop-grower, having been engaged in that enterprise for the past eighteen years, and at present he has fourteen acres under hops. His attention has also been given to general agricultural pursuits, and as he is a man who never fails in anything he undertakes, his efforts have resulted in his becoming well-to-do and prosperous in a marked degree. Unto Mr. and Mrs. Dentel have been born eight children, seven of whom are now living: Arbon, of Marion county; Mattie, the wife of A. H. Giesy, a merchant of Aurora; Clara, the wife of Chris F. Siegler, a resident of Marion county; Fred, also of Marion county; Ruth, Lizzie and William, who make their home with their parents.
It will easily be understook that a man who can ably conduct a large farm, thus advancing the agricultural interests of the community in which he lives, must necessarily be broad-minded and public-spirited, and it comes as a matter of course that Mr. Dentel should take a prominent part in promoting the general progress of his county. He has ever favored good schools and good roads, realizing that both are essential to the ultimate success of any section, and has served both as road supervisor and as school director. He favors the platform of the Republican party and votes accordingly, while his fraternal relations connect him with the Ancient Order of United Workmen. His religious views are expressed by his membership in the Presbyterian Church.
The history of Mr. Dentel may be read with interest by those who have their own way to make in the world, and who start out in life wishing to gain, through the experience of others, the key-note to success. Reading between the lines of this record, it would appear that the causes of Mr. Dentel's success have been his untiring energy, his indomitable will, which has overcome all obstacles, and his inherent integrity, which is unquestionable.
*******************
Submitted to the Oregon Bios. Project in October 2007 by Diana Smith. Submitter has no additional information about the person(s) or family mentioned above.
---