---
George Jennings Ainsworth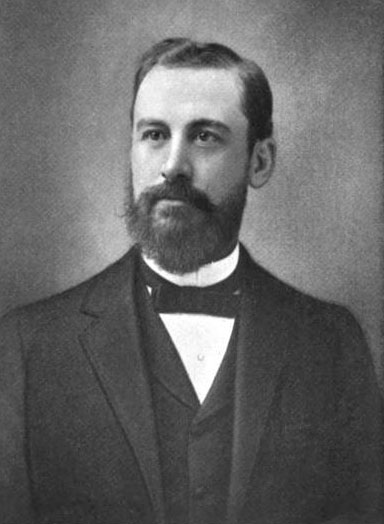 Gaston, Joseph. "Portland, Oregon Its History and Builders." Vol. 3. Chicago and Portland, S. J. Clarke Publishing Co., 1911. p. 194-198. Portrait appears on p. 195
CAPTAIN GEORGE JENNINGS AINSWORTH
Captain George Jennings Ainsworth, known all over the Pacific coast as "Captain George," and loved and honored wherever known, stood as a splendid representative of the highest type of American manhood and chivalry. Resourceful and energetic in business to the extent of winning substantial success, he nevertheless was permeated by a strong spirit of humanitarianism that prompted his recognition of the brotherhood of mankind and caused him to extend a helping hand wherever aid was needed or to speak the necessary word of encouragement. So kindly was his spirit, so generous his acts, and so honorable his purpose, that his name is indelibly inscribed on the pages of the Pacific coast history. He was a western man by birth, training and preference, and possessed the enterprising spirit which has led to the remarkable upbuilding of this section of the country.
He was born in Oregon city on the 13th of April, 1852. His father was Captain J. C. Ainsworth, afterword president of the Oregon Steamboat Navigation Company. His mother was in her maidenhood Miss Jane White, a daughter of Judge S. S. White, a pioneer of this state who at one time resided near Oregon city, but for many years made his home in Portland. The death of Mrs. Ainsworth occurred in 1861.
Reared in Portland, Captain George, by which name he was known to all, persist his early education in private schools in this city and later matriculated in the University of California in September, 1869. He was graduated with the first regular class to complete the course in that institution, winning the degree of Bachelor of Philosophy in July, 1873. He did not leave the university, but continued his studies in civil engineering there in the post-graduate course of one year. His father wished him to enter into the stationery business in Portland, but Captain George did not like it. He had studied hard in college, and was not well, so his father suggested that he spend a month on the boats and decide later as to what business he would enter. Without his father's knowledge, he supplemented his technical training by practical experience, acting as a purser and assisting in every position on the boat, at the same time preparing himself for an examination before the United States inspectors, which he passed, receiving his Master's papers in 1875. He made application to his father, as president of the company, for position as captain and showed his license. His father was greatly pleased and Captain George ran as master of different boats for two years. He never regarded parental authority or ownership as an excuse for neglect of duty, but performs every task devolving upon him with the utmost fidelity and care. In this way he became thoroughly familiar with the practical management of the company's business, and in 1877 was given a position in the principal office of the company at Portland. Within a year he was made the chief executive officer with the title of general superintendent. When but twenty-five years of age he had direct control and management of all the transportation business of the company and of all its affairs excepting only the financial management, the financial interests being under the charge of the president and board of directors. It was at this time that he became known to all as Captain George, that he might be distinguished from his father, Captain J. C. Ainsworth, and throughout his life he was thus called.
In 1879 Henry Villard, having purchased the property of the Oregon Steamboat Navigation Company, organized the Oregon Railroad & Navigation Coompany, and began building the present road owned by that company. He recognized the ability of Captain George and placed him in full charge of all the steamboats on the Columbia and Willamette rivers and on Puget Sound that were the property of the company. In 1882, however, he resigned that position at his father's urgent solicitation that he should take charge of his business.
When the Oregon Steamboat Navigation Company sold out, Captain J. C. Ainsworth purchased a beautiful place near Oakland, California, where he made his home. During October, 1882, Captain George removed to California, where he occupied an attractive home adjoining his father's place, while for five years, he assisted his father in the management of his business and invested interests in Oregon and California. In 1887 R. R. Thompson, formerly of Portland but now of San Francisco, who had been a large stockholder in the Oregon Steamboat Navigation Company, was connected with Captain J. C. Ainsworth in purchasing a large tract of land in Santa Monica bay, about 17 miles from Los Angeles, and there established the city of Redondo. These capitalists organize companies for the improvement of the city, for the building of large and extensive hotel and a railroad line to Los Angeles, investing two million dollars in the enterprise. Captain George was made president of the company and as general manager conducted the undertaking until 1894, when he returned to Portland, continuing his residence in the city until his demise. He and his mother were appointed executors of the estate upon the death of Captain J. C. Ainsworth in December, 1893, and it became necessary that Captain George should be a resident of Oregon in order to act as executor. Accordingly, he removed to Portland and assumed the management of the Oregon estate, which was estimated at nearly a million dollars. The soundness of his business judgment was again and again manifest in his capable management of business interests and his solution of intricate business problems.
While widely recognized as a capitalist and one of the prominent businessman on the Pacific coast, Captain George was widely known, moreover, for his activity in those fields which recognized moral an individual obligation. In his youthful days, he joined the First Presbyterian church of Portland and his life was ever actuated by the highest spirit of Christianity. His belief found expression in his efforts to aid his fellowmen. His philanthropic work was of a wide extent, and his charity was given not from a sense of duty, but as an expression of that love for humanity which recognized the obligation of the individual to his fellows. In August, 1873, he became a member of Portland Lodge, A. F. & A. M.; in April, 1881, he was made a Knight Templar in Oregon Commandery No. 1, K. T., of Portland. He attained the thirty-second degree of the Scottish Rite, and on October 18, 1895, two days before his death, the papers were signed conferring upon him the honor of the thirty-third degree. His father was the first Oregon man to be honored with the thirty-third degree, and in his honor Ainsworth Rose Croix Lodge was named. The efforts of Captain George in behalf of education were of a tangible character. In 1883 Governor Stoneman of California appointed him a regent of the State University as successor to Judge Samuel B. McKee, resigned, and in 1884 he was again appointed regent for the full term of 16 years.
On the 16th of June, 1875, Captain George Ainsworth was married to Miss Margaret Sutton of Portland, a daughter of John Sutton, chief engineer of the George S. Wright, a well known steamboat of the early days, which was lost off the Alaskan coast with all on aboard in 1873. The children of this marriage where Lawrence S. and Mabel. Theirs was largely an ideal household, the most beautiful family relations existing between parents and children. The death of Captain George occurred on the 20th of October, 1895, after an illness of several months. He is remembered as a tall man of graceful bearing, of polished manner and of pleasing address.
The Oregonian, on the day following his demise, said: "It was given to few men to have popularity such as he had--which began in his youth and is not ended by his death. He combined firmness and kindness in a rare manner. He did not court popularity--it came to him." One whose business interests suffered rather than were benefited by the success of the Oregon Steamboat Navigation Company, yet said: "Captain George was one of the noblest men God ever made. He was a Christian and a gentleman." There is perhaps no better test of a man's character than his relations to his employes and subordinates, and therefore as an indication of his personal worth, his high purposes, his justice and his kindliness, it is meet to say that few men were ever loved and honored by employes as was Captain George Ainsworth. In 1882, when it became known that he intended to resign his office with the Oregon Railway & Navigation Company, a few of the employes on the river division started a subscription for the purpose of purchasing a magnificent and valuable solid silver tea service to signify their appreciation of him and his treatment of them. The contributions to the fund were most generous, exceeding the amount required for the tea service, so that a fine gold watch was purchased and presented to Mrs. Ainsworth on the same occasion. This is the only time the employes of that company ever raised a fund to purchase a present for any of its officers.
Another incident of similar character occurred when Captain George left Redondo Beach in 1894. On that occasion, the employes of the company of which he was a president, and the citizens of the town gave him a large and beautiful solid silver loving cup, accompanied by an engrossed address in token of their recognition of his qualities.
It is said that if Captain George had a fault, it was his generosity. His charity was almost limitless. No appeal was ever made to him in vain. He preferred to be imposed upon rather than that the deserving should suffer for the need of a helping hand. He gave quietly and without ostentation, but his beneficence was continuous and effective, and many a one has reason to bless his memory. His life was most beautiful in its expression of all the Christian virtues. It might be said that in him there did abide faith, hope and love, but that the greatest of these was love--that love which transcends all passion, all prejudice, and recognizes at once the brotherhood of man as well as the fatherhood of God. The memory of such a man can never die while there remain living monuments upon which he left the impress of his noble soul.
*******************
Submitted to the Oregon Bios. Project in September 2012 by Cathy Portz. Submitter has no additional information about the person(s) or family mentioned above.