---
Henry Mossie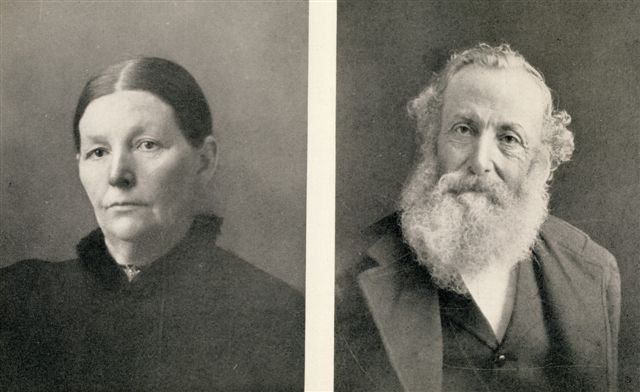 (Mr. and Mrs. Henry Mossie)
Gaston, Joseph. "The Centennial History of Oregon, 1811-1912." Vol. 3. Chicago, Clarke Publishing Co., 1912. p. 336.
HENRY MOSSIE
who together with his sons, owns forty-five hundred acres of land in one tract in Umatilla county, has been engaged in the stock business here for more than twenty-five years. He was born in Monroe county, Michigan, on the 14th of August, 1842, and is a son of Lewis and Euphrozine Mossie. His parents were born in Canada, the father's natal year being 1812 and that of the mother 1813, and there they were reared and married. In 1834 they crossed the border into the United States, being among the early pioneers to the state of Michigan, where they passed the remainder of their lives. They were the parents of fifteen children, all of whom are now deceased with the exception of four.
Reared at home, Henry Mossie was given the advantages of a common-school education and remained a member of the parental household until 1861. His patriotic fervor then compelled him to lay aside every other consideration but his country's need and, enlisting in Company B, Fifteenth Michigan Volunteer Infantry, he started south. He remained in the service until the close of hostilities, participating in all of the notable conflicts in the west and being with Sherman when he made his famous march. He received his discharge at Little Rock, Arkansas, and, returning to his native state, went to work in a sawmill, but he later found employment as a ship carpenter. In 1886 he decided to come to Oregon, and after disposing of his interests in Michigan he removed to the northwest with his wife and family. He came directly to Umatilla county, where he exhausted his claim rights by filing on six hundred and forty acres of land. This formed the nucleus of his holdings, to which be and his sons have since added until they now own forty-five hundred acres of land, all fenced and in one piece. It is well improved and fully equipped with all modern facilities and conveniences essential to the successful agriculturist or stockman. Here they engage in both farming and stock-raising, making a specialty of the latter. They now have a fine herd of five hundred head of cattle of good grade and own ninety head of horses. The prosperity of Mr. Mossie has not been an easy achievement by any means, but is the result of hard work, constant application and intelligent and capable supervision. He has used discretion and foresight in directing his activities, and his efforts have been correspondingly rewarded and he is now one of the substantial citizens of Umatilla county.
Michigan was the scene of Mr. Mossie's marriage in 1864 to Miss Mary C. Loranger, a native of that state and one of the twelve children born to Augustine and Lucy (Brancheau) Loranger, five of whom are still living. Loranger parents were both born in Michigan and there they passed their entire lives. The family of Mr. and Mrs. Mossie numbered nine children, as follows: Mary E., who is deceased : Lewis H., who is at home; Charles A. and Charles A., both of whom are now deceased; James A., a stanch democrat in his politics, who received a common school education and is now engaging in the stock business with his father; Eber D., who is a resident of Portland; Edmond J., deceased; Lucy E., the wife of Charles Morris of Washington; and Rose C., who is living. at Pendleton, Oregon.
The family are all communicants of the Roman Catholic church and in politics Mr. Mossie is loyal to the principles of the republican party. He is one of the well-to-do residents of the county and also one of the largest landholders, his long years of toil having brought him the well merited and highly deserved success that usually rewards honest and capably directed effort.
*******************
Submitted to the Oregon Bios. Project in June 2007 by Diana Smith. Submitter has no additional information about the person(s) or family mentioned above.
---
Updated on 14 Jun 2007.