---
Horace P. Belknap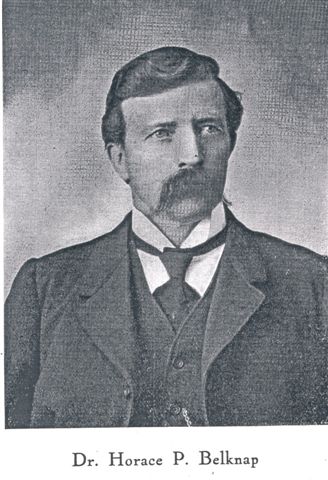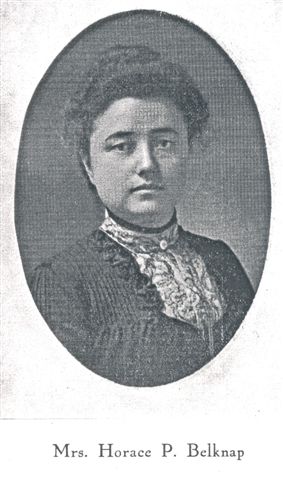 Shaver, F. A., Arthur P. Rose, R. F. Steele, and A. E. Adams, compilers. "An Illustrated History of Central Oregon." ("Embracing Wasco, Sherman, Gilliam, Wheeler, Crook, Lake, & Klamath Counties") Spokane, WA: Western Historical Publishing Co., 1905. p. 792.
HORACE P. BELKNAP, M. D.
has the distinction of having practiced medicine in Prineville longer than any other physician in the county. During these years he has demonstrated satisfactorily to an appreciative and discriminating public his ability as a physician and surgeon, his integrity as a man and his progressiveness and broadmindedness as a citizen. Being a native Oregonian Dr. Belknap has always spent his life beneath the stars of the Occident and became fast wedded to the great Webfoot State. A detailed account of his life will be very interesting to the citizens of this county and we accept with pleasure the privilege of submitting the same.
Horace P. Belknap was born in Monroe, Oregon, on April 5, 1856. Harley Belknap, is father, was born in Ohio in 1832. Eight, years later he moved with his parents to Iowa and ten years after that came with them across the plains by ox teams to the Willamette valley. He took a donation claim and there resided until 1875, when he came to what is now Crook county, where he engaged in the stock business. He also was a carpenter and builder and followed that occupation jointly with stock raising and many of the best contractors in Prineville testify to his skill and ability in this line. He married Thirza Inman, who was born in Tennessee, in 1836, and came with her parents to Missouri when six years of age. In 1853 she accompanied her parents across the plains to Oregon. She and her husband are now living retired in California, having secured a generous competence of this world goods through their industry and thrift.
Our subject was educated in the Willamette University and after graduating from that institution matriculated at Ann Arbor, Michigan, where he remained two years. Then he entered the famous Bellevue Medical College at New York and graduated thence with honors in 1886, having fully earned the title of Doctor of Medicine, which was bestowed upon him. The doctor came to Prineville and since that time has been steadily engaged in the practice of medicine. He is extensively known and has a large practice. For two years Dr. Belknap was superintendent of schools for the county, then he was county treasurer for two years and for three years has been mayor of the city of Prineville. In these public capacities he manifested a thoroughness and faithfulness to the interests of the people that have established him well in their confidence and esteem. Dr. Belknap is a thorough professional man, being well fortified with a classical education and an extensive medical course. He secured a thorough professional training and is also keeping well abreast, of the advancing science of medicine all of which added to a splendid talent make the success which he, has won and Prineville is to be congratulated that a man of his ability and skill is located there. The doctor comes from a family which has showed itself one of ability in various lines as well be noted by the following : Harvey B. is a contractor in California, and skillful in his work ; S. I., is a leading druggist and assayer; V. C. is a skillful physician at Prairie City, Grant county, Oregon and Elbert is a druggist. All of these are brothers of our subject and are prominent business and professional men.
On March 15, 1888, Dr. Belknap married Miss Wilda Ketchum, who was born in New Brunswick and came to Prineville with her parents when a child eight years of age. The children born to this union are Horace P., Wilfred H., Leland and Hobart.
Dr. Belknap is a member of the I. O. 0. F. and the A. F. & A. M. He and his wife are leading people of Crook county and have well earned the confidence and esteem which is generously bestowed upon them.
---
Submitted to the Oregon Bios. Project in October 2007 by Diana Smith. Submitter has no additional information about the person(s) or family mentioned above.