---
Henry W. Corbett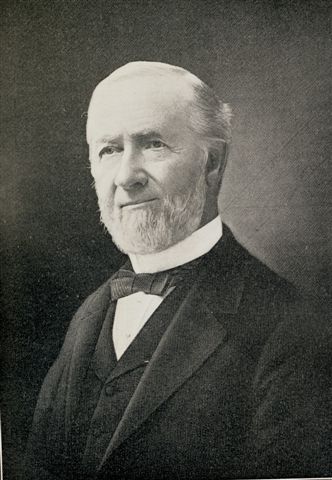 Gaston, Joseph. "The Centennial History of Oregon, 1811-1912." Vol. 2. Chicago, Clarke Publishing Co., 1912. p. 8.
HON. HENRY W. CORBETT
Born on the Atlantic coast, Henry W. Corbett came to the Pacific seaboard in early manhood and from that time aided in shaping and formulating the policy of the great western country, leaving the impress of his individuality upon its material development, its political advancement and less directly, but none the less effectively, upon its intellectual and moral progress. His natal day was February 18, 1827, and the place of his nativity Westboro, Massachusetts. He traced his ancestry back to Roger Corbett, a military chieftain who won fame and name by service under William the Conqueror. Roger Corbett's eldest son, William Corbett, was the owner of a country seat at Wattesborough, England, while the second son, Sir Roger Corbett, had for his inheritance the castle and estate of Caus. He was the father of Robert Corbett, Sr., who participated in the siege of Acre under Richard I. bearing for his arms in the campaign two ravens, which have since been used by the family for a crest. A branch of the family was planted upon New England soil in early colonial days when a settlement was made at Milford, Massachusetts. Elijah Corbett, son of Elijah Corbett, Sr., and a native of Massachusetts, engaged in the manufacture of edged tools in that state and afterward at White Creek, Washington county, New York, where his death occurred. His wife, Melinda Forbush, was also a native of Massachusetts and a representative of one of the pioneer families of that state, whose history is also traced back to England. Her death occurred in New York. There were eight children in the family, of whom three sons and two daughters attained adult age, including Elijah Corbett, who came to Portland in 1864 and remained here until his death. Another son, Hamilton, died in New York in early manhood. The daughters were Mrs. Thomas Robertson, who came to Portland in 1856, and Mrs. Henry Failing, who became a resident of this city in 1858, but both are now deceased.
The youngest member of the family was the Hon. Henry W. Corbett of this review, who was only four years of age when his parents removed with their family to White Creek, New York. Following their removal to Cambridge, New York, he completed a course in the Cambridge Academy when thirteen years of age. Entering business life as a clerk in a village store, after three years he sought the broader opportunities of the city and went to New York, carrying with him his entire cash capital, consisting of but twenty-two dollars. Soon he secured a position in a dry-goods store on Catherine and East Broadway and a year later he accepted a clerkship in the wholesale dry-goods house of Bradford & Birdsell on Cedar street, there remaining for three years. He was afterward with Williams, Bradford & Company, wholesale dry-goods merchants, but with notable prescience determined to seek a home on the Pacific coast and in 1850 arrived at Portland. The tide of emigration was at that time all toward California, attracted by the gold discoveries, and few realized what a source of wealth there was in the northwest, with its splendid forests, its rich agricultural lands and many other natural resources which might be utilized in the attainment of wealth. Mr. Corbett recognized the fact that products raised in Oregon would be sold in California, where almost the entire population were engaged in mining gold, that payments would be made with gold dust and thus Portland would become an excellent trading point. That his reasoning was sound time has proven.
On the 20th of January, 1851, he embarked as a passenger on the Empire City, which sailed from New York to Panama. He crossed the isthmus on a mule and then sailed on the Columbia, a steamer which had been built by Howland Aspinwall of New York for the trade between San Francisco and Portland. After a few years spent in the former city, Mr. Corbett continued northward to Astoria, where he arrived on the 4th of March, and the following day he reached his destination. Large forests of pine and spruce covered nearly the entire site of what is now one of America's most beautiful cities, although a few business houses had been settled on Front street, around which were seen the homes of a few settlers. The territory of Oregon at that time embraced Washington, Idaho and a part of Montana. The goods which he had shipped on the bark Francis and Louisa by way of Cape Horn some months before he started reached Portland in May, 1851, and in a little building on Front and Oak streets he opened a general mercantile store, over which he had personal supervision until June, 1852, when he placed his store in charge of a manager and by way of the Panama route returned to the east. For almost a year he remained in New York, during which time he made shipments to the Portland store. In 1853 he resumed personal charge of the business and after the completion of the Union Pacific Railroad merchandise was shipped in that way to San Francisco and thence by boat to Portland. In 1868 he made his first trip by rail from the east to San Francisco, previous to which time he had crossed the isthmus thirteen times on trips between the east and the west. From the earliest period of his residence in Portland he was recognized as a prominent factor in its commercial circles. He instituted many progressive methods and also reformed measures in the conduct of his business. When he closed his store on Sunday it was regarded as a startling innovation, for previous to that time every business house was open on the first day of the week. With the growth of the city his enterprise expanded, the original house of H. W. Corbett becoming in time the property of the firm of H. W. Corbett & Company, predecessors of Corbett, Failing & Company, who in turn were succeeded by Corbett, Failing & Robertson. The line of general merchandise was discontinued and the trade centered in wholesale hardware, the business in this line exceeding every other similar enterprise in the northwest since 1867.
The labors of Mr. Corbett became an integral part of the history of Portland and this section of the country. Strong in his ability to plan and perform, strong in his honor and name, Mr. Corbett not only promoted many business projects but largely set the standard for commercial and financial integrity and enterprise. In 1868 he purchased a controlling interest in the First National Bank, of which Mr. Failing was made president and so continued until his death in 1898, when Mr. Corbett became the executive head of the institution. This was the first national bank organized on the coast and during his lifetime the capital stock was increased from one to seven hundred thousand dollars, while its deposits aggregated about seven million dollars. It became the largest bank of the northwest and its success was due in no small measure to the conservative policy and progressive methods of Mr. Corbett. He was also prominent in organizing the Security Savings & Trust Company of Portland and became its president and one of its directors and figured prominently in the financial circles. He was, moreover, president of the Willamette Steel & Iron Works and president of the Portland Hotel Company, which erected at Portland one of the finest hotels on the coast. He was a promoter of city and suburban railway building and, serving as a member of the board of directors of the Street Railway Companies, added much to the development of the lines. Long before this, however, he was connected with transportation facilities. In 1865 he was awarded the contract for transporting the mails to California and four years later became owner of the California stage line, which he extended to carry out the contract for running the four-horse stage coach with the mail between Portland and California. On his election to the United States senate in 1866 he relinquished the contract but for many years thereafter was identified with transportation interests as one of the directors of the Oregon Steam Navigation Company and of its successor, the Oregon Railroad & Navigation Company.
He was a cooperant factor in establishing and promoting many manufacturing interests of Portland whereby the industrial activity of the city has been greatly promoted and while in the United States senate he was a stanch champion of the cause of the Northern Pacific Railroad. Portland's upbuilding has been greatly promoted by him, for he was largely instrumental in erecting the First National Bank building; the Worcester block on Third and Oak streets; the Cambridge block on Third and Morrison; the Neustadter building on Stark and Fifth; the Corbett, Hamilton and Marquam buildings, etc. At all times recognizing the signs of the times, he labored to meet existing conditions and to anticipate the needs of a growing community and while he promoted his individual interests he contributed as well to the general prosperity. The activity of today becomes the history of tomorrow and thus Mr. Corbett was closely associated with events which are regarded as important features in the city's annals.
He had close connection with many interests and events which bore no relation to commercial, industrial or financial activity. He stood as the promoter of many municipal projects and his prominence and public spirit made him logically the candidate for the United States senate in 1866, when he was elected over Governor Gibbs and John H. Mitchell, becoming a member of the upper house, of the national legislature on the 4th of March, 1867. His service there was attended with tangible and beneficial results. He secured the appropriation for the Portland postoffice, also the custom house at Astoria and succeeded in having Portland made the port of entry for the Willamette customs district. He introduced a bill providing for the return of the government to specie payment, which, though not passed at the time, was eventually adopted. In the senate he was especially effective in securing much needed financial legislation. After his retirement on the 4th of March, 1873, he spent seven months in travel abroad. He again became an active factor in politics when, in 1896, the St. Louis platform declared for the gold standard. He was among those that held the party to this standard in Oregon, when many of its advocates became supporters of the free silver platform. The labors of Mr. Corbett and his associates, however, won a republican victory in Oregon when all of the other western states gave their support to the democracy. In 1900 he was again the candidate of his party for the United States senate and had the majority of republican legislators but was defeated by John H. Mitchell through a combination of democrats and some of the republicans. When the Oregon legislature failed to elect a United States senator in 1899 Governor Geer appointed him to the office but he was not seated on account of the senate ruling that an appointed senator was not entitled to a seat caused by the failure of a state legislature to elect when they had the opportunity. He was several times chosen as a delegate to the republican national conventions and was recognized as one of the Oregon leaders.
Among Mr. Corbett's more recent public work was his splendid service in connection with the Lewis and Clark Exposition. He served as president of the board of directors and bent every energy toward making the exposition the success which history records. Ideally situated on the bank of an inland lake, the exposition grounds were laid out in most attractive form and the exhibits were of a most interesting character. Mr. Corbett gave much time and thought to plans and in substantial measure to its success up to the day prior to his death, when, realizing that his strength was failing, he resigned the presidency.
Pleasantly situated in his home life, Mr. Corbett was married in Albany, New York, to Miss Caroline E. Jagger, who was born in that city and there passed away in 1865, leaving two sons, Henry J. and Hamilton F., both of whom died in Portland in early manhood. It was in Worcester, Massachusetts, that Mr. Corbett wedded Miss Emma L. Ruggles, a native of that state.
Few men have more fully realized the obligations of wealth or met their responsibilities in a more creditable manner. He was deeply interested in and a generous supporter of the Boys and Girls Aid Society, which endeavored to secure arrangements whereby children guilty of a first crime should not be thrown among hardened criminals. The home was built especially for such first offenders and its influence has been most beneficial. Mr. Corbett's private benevolences were many and, in fact, no good work done in the name of charity or religion sought his aid in vain. He never allowed the acquirement of wealth to warp his kindly nature, but remained throughout life a genial, courteous gentleman, appreciative of social amenities and generously bestowing warm regard in recognition of true personal worth. Many enterprises of Portland today stand as monuments to his life work but a more fitting and even more lasting tribute to him is the cherished memory which his friends entertain for him.
Transcriber's additional notes
This same biography also appears in the following book:
"Portland, Oregon, Its History and Builders."
Author: Joseph Gaston
S. J. Clarke Publishing Co., Chicago-Portland, 1911
Vol. 2, page 22
---
Updated on 25 Jan 2007.