---
Henry Walton Goode, Jr.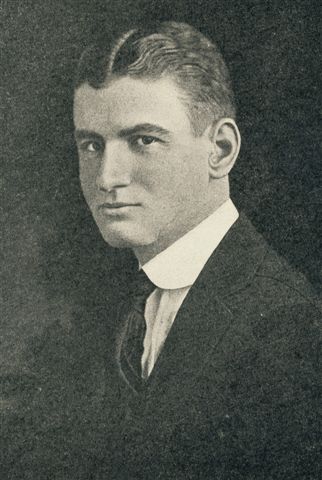 Lockley, Fred. "History of the Columbia River Valley, From The Dalles to the Sea." Vol. 2. Chicago, S. J. Clarke Publishing Co., 1928. p. 11.
HENRY WALTON GOODE, JR.
The untimely death of Henry Walton Goode, Jr., a young man of exceptional ability who was destined to follow in the business footsteps of his honored father, brought a sense of deep sorrow to his many friends in Portland and elsewhere, it broke his mother's heart. He had become intensely interested in aeronautics while in the service of his country during the World war and on the 12th of June, 1926, when in his thirty-first year, he was the victim of a fatal aeroplane crash at Vancouver, Washington. The accident being due to a defective and rotten plane. He was born September 8, 1895, the son of Henry W. and Edith (Fairclough) Goode, to whom extended reference is made in the foregoing biography. Henry Goode, Jr., acquired his early education in Portland and subsequently spent five years as a student in the Lawrenceville school at Lawrenceville, New Jersey, one of the finest preparatory schools in the United States, after which he finished his intellectual training in Yale University. Thus splendidly qualified for the practical and responsible duties of life, he returned to Portland and became manager of the Hoyt Hotel, owned by his mother, Mrs. H. W. Goode, he engaged in the insurance business at the same time and was becoming very successful in this line.
When the United States became involved in the World war H. W. Goode, Jr., enlisted for service in the infantry and was made a second lieutenant at the Presidio in California. Subsequently he was one of three out of ten young men who passed the examination for aviation service, and upon the completion of his ground schooling he passed another examination in which he received the highest rank of any in the class. It seemed to all who knew him that a brilliant future reckoned him.
In August, 1919, Mr. Goode was united in marriage to Miss Elizabeth Harmon, of Tacoma, and to them were born two children, Elizabeth and Edith. He was a popular member of the University Club, the Waverly Club and the Multnomah Club and his passing was mourned by a large circle of sincere friends, for he had indeed proven worthy of the high respect and esteem of his associates in the varied relations of life. In fact he was beloved by all Portland and all who knew him elsewhere.
---
Updated on 25 Jan 2007.