---
Isaac Gratton
Lockley, Fred. "History of the Columbia River Valley, From The Dalles to the Sea." Vol. 3. S. J. Clarke Publishing Co., 1928. p. 574.
ISAAC GRATTON
The story of successful achievement in the face of obstacles and difficulties is one which always awakens the intense interest of the reader who thrills to the tale of victory and who is ofttimes inspired by the successes of the man who has come off conquering in the strife with disadvantages and lack of opportunities in youth. Such is the record of Isaac Gratton, who at the age of twelve years left home and, unable to speak a word of English, came to the United States, here to carve out a creditable name and place for himself.
He was born in Montreal, Canada, March 30, 1850, and his parents were natives of that country. His opportunities in youth were extremely limited. The family spoke French and he had no opportunity to attend school, so that he was practically without education save that which he acquired in the hard school of experience.
He was large for his age and when a lad of twelve summers left home, making his way to Denver, Colorado, where through the succeeding five years he worked in the mines. From there he went to Tennessee, where he secured employment on a plantation. The first night spent in that state, as he had no money, he slept on the porch of the Peabody Hotel in Memphis. For a year he worked on a plantation, but the food was so poor that he left unceremoniously and therefore has received no pay for his year's labor. Starting with nothing, he quit with nothing but he was not discouraged and made his way to Florida, where he worked on a farm. While thus employed he saved a little money and returned to Denver where he remained until he came to Portland, then, largely a Frontier City, this being the year before the first bridge was built across the Willamette River.
Soon after his arrival in Portland, he interested himself in business with the late W. S. Ladd, a partnership that lasted a number of years. Mr. Ladd was one of the foremost of the pioneer businessmen of Portland and they prospered as the years passed.
Withdrawing in time from that connection, Mr. Gratton became the owner of a large livery stable that occupied the ground where the Kirby building now stands and while thus engaged in business, he built a large residence and barn at 946 Milwaukie street where his widow still makes her home.
Mr. Gratton ever promptly utilized his opportunities for advancement and for business expansion and in February 1896, organized the Standard box and lumber company, of which he became President and for years he remained the active head of the business. He made this a notably successful enterprise, developing a large plant and enjoying an extensive patronage. Fire at times threatened disaster to the undertaking, but with characteristic courage and determination, new mills were built and the business continued to grow and prosper.
Mr. Gratton possessed sound judgment, keen enterprise and unfaltering determination and he remained the active head of the Standard box and lumber company until his death. Years ago, he bought three blocks of undeveloped property on the riverfront at Milwaukie, which he improved, and the property became of great value. The site is now occupied by a large hotel, the waiting room of the Southern Pacific Railroad, a store block and a modern garage has become an excellent income paying property.
Mr. Gratton was married twice. He first wedded Mrs. Mary Weber. About eighteen years ago, he married Mrs. Arilla Welliver Wertman, who survives him, and they reared an adopted son, Paul J., now of Portland. Mrs. Gratton is a lady of liberal culture, widely known and occupying an enviable place in social circles.
Mr. Gratton, accompanied by his wife and two friends, started on a motor trip for the Yellowstone (park) and it is thought that he suffered blindness on a turn, which resulted in an automobile accident in which he lost his life.
He was a member of the Benevolent and Protective Order of Elks and in the politics; he was a Republican but never sought or desired office. His interest in the community welfare, however, was manifest in his public spirited support of all measures for the general good.
He was a picturesque character, known up and down the coast. He had thousands of friends and all who knew him prized his acquaintance and cherishes his memory. The news of his demise was a great shock to the entire community and the most sincere regret was felt as his passing. From an early period, he had been closely identified with Portland's business development and had played an important part in the upbuilding of the city. He was social and genial and these qualities had gained for him warm friendships. All who knew him entertained for him the most kindly feeling and at his passing Portland mourned the loss of one of her representative citizens and honored early pioneers.
---
Submitted to the Oregon Bios. Project in May 2009 by . If you would like more information on this Gratton family, please contact Doneva.
Doneva also sent the following photos: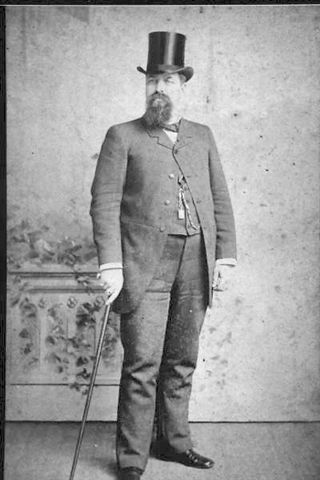 (Isaac Gratton)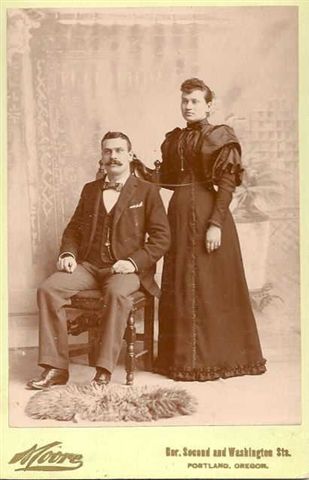 (Isaac "Frenchy" Gratton and 1st wife, Mary Jane (Fuhr) Weber)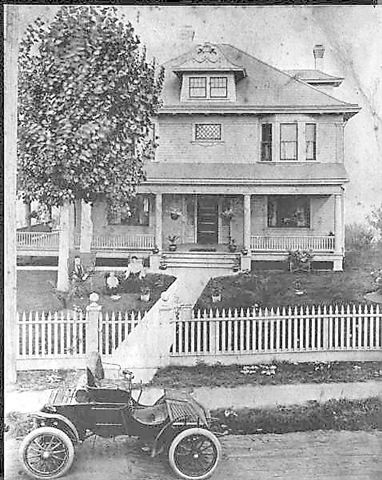 (Home of Isaac Gratton in Milwaukie, Or.)
---
Updated on 18 May 2009.