---
John A. Laycock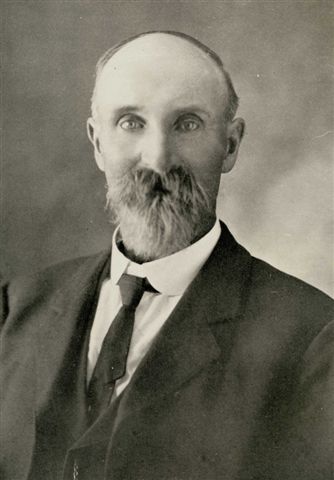 Gaston, Joseph. "The Centennial History of Oregon, 1811 - 1912." Vol. 3. Chicago, S. J. Clarke Publishing Co., 1912. p. 284.
JUDGE JOHN A. LAYCOCK
has been prominent in political circles of Grant county, Oregon, for a number of years and owes his title to four years of able and efficient service as county judge. He is now engaged in general farming and stock-raising near the town of John Day, Oregon, and is also a stockholder and vice president of the Grant County Bank, one of the strong financial institutions of the county, and has contributed his full share to the agricultural progress of this region. He was born in Hancock county, Illinois, August 27, 1846, and is a son of Peter and Susannah (Pilling) Laycock, both natives of Preston, England. The paternal grandfather of our subject was Charles Laycock of England, who lived and died in his native land. Judge Laycock's maternal grandfather, John Pilling, came to America at an early date and was one of the pioneers in the settlement of the state of Iowa. Peter Laycock, the father of our subject, married in England and came to America shortly afterward. He located in Illinois, where he remained until 1848, when he removed to St. Louis, Missouri. In 1852 he started for California, having purchased teams and a traveling outfit. He sent his outfit and teams ahead overland to Council Bluffs, Iowa, and he with his family took a boat to Council Bluffs, expecting to be there in time to meet the teams. On the journey up the river the steamer containing his goods and outfit struck a snag and sank. The family was rescued but the entire outfit of traveling utensils and supplies was lost. The family continued their journey by teams to Council Bluffs, where Peter Laycock arranged for their comfort the best he could under such circumstances, renting a small house for them to live in, while he returned to St. Joseph, Missouri, in order to purchase a new outfit so they could continue their journey. After purchasing another outfit he again started for Council Bluffs by steamboat, but before reaching, Council Bluffs he was seized with cholera and died, leaving a widow with five small children. The outfit which he purchased was never received by his family, and they were obliged to remain in Council Bluffs until 1856. In that year the family resumed their journey by teams and crossed the plains to Napa county, California, where they made their home until the time of Mrs. Laycock's death, in the fifty-sixth year of her age.
Judge Laycock's educational resources were limited. His opportunities in this direction were meager and were obtained largely by his own efforts. He attended the public schools of Napa county, California, at intervals. Being the eldest son, there were many duties commanding his time and attention which compelled him to lose much time from school. In order to better his condition in this respect he went to Nevada in 1862 and there engaged in mining for two years. Following his return to Napa he arranged with the president and principal of Napa college to take up extra lessons after regular hours, and by so, doing he caught up in his studies with the class he had left two years before and passed a very creditable examination. In 1865 he came to Canyon City during the gold excitement and engaged in mining for five years. He was one of a company who erected the first quartz mill in Grant county and was the general superintendent of mill and mine for two years. The property paid very well during that time. He then engaged in farming and stock-raising, having purchased a squatter's claim to a piece of land seven miles from Canyon City on the John Day river, where he now has a most beautiful home situated in the midst of two hundred and forty acres of bottom land. He has put most of this under cultivation and irrigation, raises an abundance of timothy, red-top clover and alfalfa hay, and is making this portion of his enterprise an important department. By patient industry and strict economy he has constantly added to his holdings and now has besides his grain and meadow land, twelve hundred acres of pasture land adjoining his home and is also proprietor of a large stock ranch in Bear valley. His agriculture is carried on along the most scientific and progressive principles and his home is among the model properties of Grant county. Judge Laycock has been prominent in political affairs of his district. He gives his allegiance to the republican party and served as county judge from 1898 to 1902. He made a record for efficiency and careful conservation of the people's interests and was well known as an honorable and incorruptible public official. He also served as joint senator from Grant, Crook, Klamath and Lake counties during the legislative sessions of 1905 and 1907 and carried on his activities in this line with his usual energy and resource.
On December 21, 1871, Judge Laycock was united in marriage to Miss Josephine Officer, a daughter of Casey Officer, who came from his native state, Missouri, to Oregon in 1849. He was one of the pioneers in the settlement of the state and was a member of a party of settlers who organized and developed Grant county. To Judge Laycock and his wife have been born four children: William C., now in business in Vancouver, British Columbia; John A., a resident of Alberta, Canada; Mary, who is deceased; and Guy H., now active in the mercantile business in the town of Timber, Oregon. Judge Laycock has given his three sons the advantage of a good education and himself supervised their start in life. All have justified their father's confidence in them. William C. Laycock is quite prominent in business circles in Vancouver, British Columbia, where he is heavily interested in real estate. The two younger sons have followed in their elder brother's footsteps and are active and discriminating business men. Judge Laycock in the various relations of his life has always been distinguished by marked ability and keen and well directed ambition. He has served his county with credit and honor and has been active in the agricultural development of Grant county, where his name is a synonym for high-minded effort and an upright and honorable life. Judge Laycock was initiated into the Masonic order soon after arriving at the age of twenty-one years. He has advanced in Masonry by receiving the degrees in Blue Mountain Chapter, No. 7, R. A. M., and is a charter member of Blue Mountain Council, No. 10, and a member of the Order of High Priesthood. He has been honored by his brethren and companions, has served in various stations of his lodge and chapter, was worshipful master of his lodge for five years and high priest of his chapter eight years. He has been an active and zealous Mason for many years and discharged his Masonic duties with zeal and fidelity.
****************
Submitted to the Oregon Bios. Project in July 2007 by Diana Smith. Submitter has no additional information about the person(s) or family mentioned above.
---