---
John Hoyt Barbour
Gaston, Joseph. "Portland, Oregon Its History and Builders." Vol. 2. Chicago and Portland, S. J. Clarke Publishing Co., 1911. p. 41.
JOHN HOYT BARBOUR
John Hoyt Barbour, immigration officer at Portland, was born in Chicago, Illinois, April 22, 1874. His father, William Thomas Barbour, was born in Canada, of Scotch parentage, and is a journalist of Chicago, being now editorial writer for The Economist, a financial paper. He married Emily Carolina, a daughter of Daniel Hoyt and a native of Ohio. At the usual age John H. Barbour began his education as a pupil in the Chicago public schools and he is now pursuing the study of law in the law department of the University of Oregon, not, however, with any intention of practicing but because he wishes to inform himself upon certain legal questions which have important bearing upon business affairs and the official duties that claim his attention. At nineteen years of age he entered the Chicago National Bank, with which he was connected until 1898. In that year he entered the government service as private secretary to the chief of the bureau of statistics at Washington and in November of that year was transferred to San Francisco in the immigration service, continuing in that city until 1903, when he was sent here to organize the immigration service in the state of Oregon. He established headquarters in Portland and has since been in charge at this point. He has been a close student of the subject of immigration in its far reaching aspects as effecting the welfare and progress of the country and has written and spoken upon the subject, delivering a number of public addresses relative thereto.
In his political views Mr. Barbour is an earnest republican. He belongs to the Portland Commercial Club and to the Multnomah Club and social qualities render him popular in both organizations. He was married at River Forest, Illinois, on the 8th of June, 1899, to Miss Edith Cornelia Yalding, a daughter of Herman Wentworth Yalding, of Chicago, who for forty years was connected with the American Express Company there. Their children are as follows: Kenneth Hoyt, a lad of nine years; Robert Yalding and John Alan, who are eight and five years of age respectively; and Jean Cornelia, who is one year old. The family residence is at No. 726 Wasco street.
Transcriber's additional notes:
Census Indexing (by Head of household)
1880 - BARBOUR WILLIAM T. 34 W CANA IL COOK CHICAGO - John, age 6
1900 - BARBOUR JOHN H 26 M W IL CA SAN FRANCISCO SAN FRANCISCO 42-DIST
1910 - BARBARA JOHN H 36 M W IL OR MULTNOMAH 9-WD PORTLAND
1920 - BARBOUR JOHN H 46 M W IL NY WESTCHESTER NORTH TARRYTOWN
1930; Westchester Co, NY. - John, Edith, Kenneth, Robert, John & Jean Barbour
*******************
Submitted to the Oregon Bios. Project in November 2007 by Diana Smith. Submitter has no additional information about the person(s) or family mentioned above.
---
Further Information:
These photos are courtesy of Edie Barbour Lauver, granddaughter to John Hoyt Barbour.
The photo of Mr. Barbour was taken in March, 1908. He died due to lung cancer on Sept. 25, 1946.
The group photo, taken Sept. 1, 1911, is believed to be that of members of the Portland Commercial Club, or the Multnomah Club.
Note: A correction to the biography of John Hoyt Barbour, Mr. Yalding's first name was actually spelled "Hermon."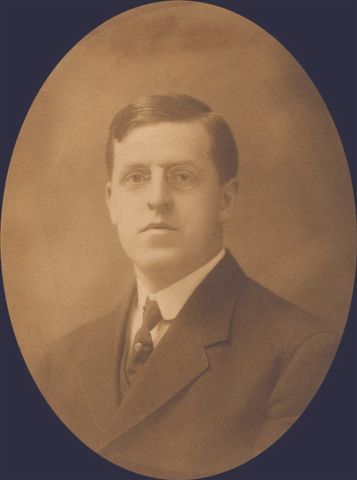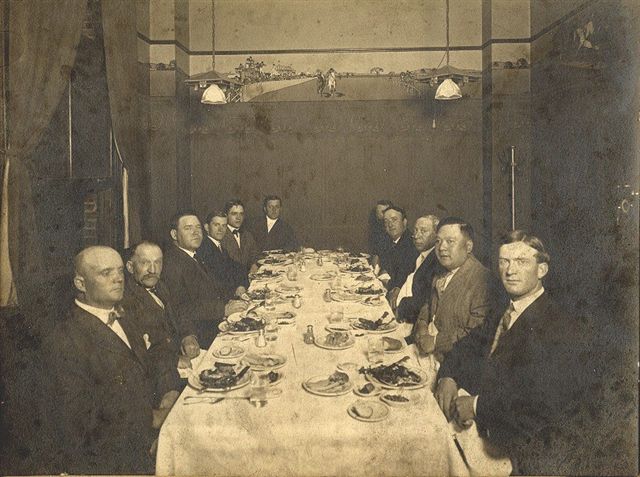 ---