---
James McKay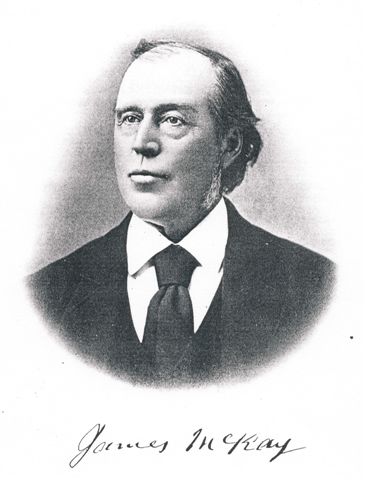 "Portrait & Biographical Record of the Willamette Valley Oregon." Chapman Publishing Company, 1903. p. 611.
JAMES McKAY
Though the old pioneers are surely passing away from the scenes of their early labors in Oregon, their memory is one that will outlast the passage of time. Deeds, not words, was the heritage which they left to the present generation, the evidence of their earnest, self-sacrificing lives scattered throughout the length and breadth of the state and insuring them a place in the hearts of those who live and profit by the success of their efforts. James McKay, a man to be named among the first pioneers of the state, is remembered as one who came to the west with earnest purpose and realized his object of making a personal success and as well gave his best efforts toward the up-building of a commonwealth. Morally strong, honest, energetic and persevering, his was an influence which made a deep impression in all communities where he made his home, and to him and others of like calibre is owed a debt incalculable, since it affects the moral worth as well as financial and commercial interest of the country.
James McKay was of Irish extraction, having been born near Belfast, April 15, 1818, the youngest of three children born to his parents, John Niel and Catherine (McKusker) McKay, both of whom were also natives of Ireland. The death of each occurred in the old home there. Of the children, John, Elizabeth and James, the last named was the only one who sought a home in America. He was educated in the national schools of Glasgow, Scotland, whence his parents removed shortly after his birth, and on attaining sufficient age he learned the trades of carpenter and miller. While in Dundee, working at his trade of ship carpenter, he was married in 1840 to Cecelia Lawson, a native of that place, born November 9, 1822. She was a daughter of William Lawson, a prominent manufacturer of Dundee, and the representative of one of the old families of the country. Shortly after their marriage Mr. McKay brought his wife to America, locating first in Albany, N. Y., where he continued to work at his trade of ship carpenter. Becoming interested in the pioneer possibilities of the middle west he became a resident of Illinois, and locating in Joliet was soon employed on the canal. While in their Illinois home two sons, William and James, were born to Mr. and Mrs. McKay. Early in 1847 Mr. McKay decided to cast in his lot with the vanguard of civilization in the northwest, and accordingly outfitted with ox-teams and various necessities for the long journey across the plains. While coming down the Columbia river from The Dalles the two children were taken ill with measles and died.
On reaching Portland Mr. McKay and his wife remained a few days, when he went up the valley to St. Paul and purchased mill property known as the Old Mission Mill, agreeing to pay $8,000, a sum of money he had yet to make in his new home. He also became the owner of a section of land, a timbered tract, which furnished him with material for his saw-mill, which he conducted in conjunction with a flour-mill. The same year he went to California at the height of the gold excitement, and conducted a tavern at Sacramento until December, when he returned to the northwest and paid for his Oregon property with the result of his successful summer's work. He then entered upon an industrious prosecution of his milling interests, in which occupation he remained for many years. While so occupied he also became interested in other lines, investing his surplus means principally in real estate, in Portland erecting the McKay Building, one of the modern, structures of the city. He also owned residence properties, and at one time had in his possession the southwest corner of Yamhill and Fourth streets. That Mr. McKay was successful in the accomplishment of his personal object is shown in the quantity and quality of the property which he accumulated. He owned at the time of his death three farms, business and residence property in Portland, and business property at The Dalles, the whole being the result of his own earnest application and persevering efforts.
After becoming residents of Oregon eight children were born to Mr. and Mrs. McKay, of whom two, twins in birth, died in early infancy, unnamed. Those remaining are, as follows : William R., now living near St. Paul ; Mary, who resides in Portland; John N., who owns the old home at St. Paul; Kate, wife of John McCormick, living near Woodburn ; James, who died in early childhood; and Cecelia, wife of John Kirk, of St. Paul, Ore. The wife of Mr. McKay died upon the old home place, June 13, 1870. As a Christian mother, wife and friend she possessed in a remarkable degree those attributes which endeared her to all who knew her and made her an honor and an ornament to society. Mr. McKay remained there until 1886, when he gave up his lifework in St. Paul and removed to Portland, where his death occurred August 29, 1898.
With the passing away of Mr. McKay was lost to Oregon a man of unusual worth. Though of a retiring disposition and always inclined to spend his leisure at home, he was still a broadminded citizen, interested in the welfare of city and state. He gave his vote and support to the Democratic party, though he was never active in political affairs. In religion he was a member of the Roman Catholic Church, and was always a liberal contributor to church and all charitable enterprises, as well as giving a hearty support to the schools of the country. Upright and honorable, with a clean record, it is just that his memory should live to those for whom he helped to form the commonwealth of Oregon.
*******************
Submitted to the Oregon Bios. Project in March 2007 by Diana Smith. Submitter has no additional information about the person(s) or family mentioned above.
---
Updated on 30 Mar 2007.