---
Jesse Moore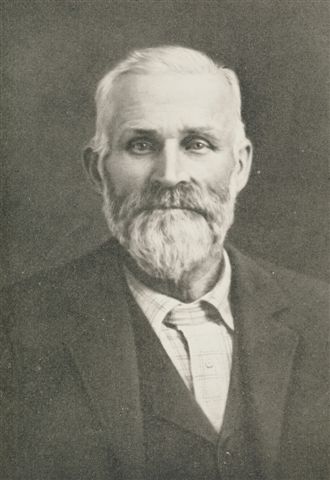 Gaston, Joseph. "The Centennial History of Oregon, 1811-1912." Vol. 3. Chicago, Clarke Publishing Co., 1912. p. 400.
JESSE MOORE
deceased, long occupied a prominent place among the honored residents of Umatilla county. For nearly sixty years he lived in this county, coming from Missouri when but eleven years of age. He is remembered as an upright and sincere man who knew no higher motive than duty and who did not hesitate to cast his lot on the side of right and justice. He was born near Jamestown, Missouri, February 16, 1840, and was left an orphan at an early age. He came to Oregon in 1851 with two uncles, crossing the plains to the Willamette valley with ox teams. They located near Sheridan but shortly afterward one uncle returned to Missouri and a few months later the other one died, thus leaving Mr. Moore a stranger in a strange country. He worked for his board until after he was sixteen years of age. Amid the environment of pioneer life he, when still a youth, became acquainted with the hard labor which the early settler endured. The opportunities for education were limited and in his case consisted principally of attendance at the country school for a few months under a teacher whose accomplishments were limited to reading and writing. After he was sixteen years of age he began to work and received as his first wage a horse and saddle. The following year he began freighting from The Dalles to Baker City and was thus engaged for two years. By careful saving and the exercise of much restraint in providing himself with the comforts of life he succeeded in accumulating sufficient capital at the end of that time to purchase a half interest in a pack train consisting of sixteen ox teams and a trail wagon. After making one trip he purchased the entire outfit and conducted it until he was twenty-two years of age. At that time, in 1862, he located on the present home ranch of one hundred and sixty acres at Butter creek. He secured this property in exchange for ten tons of hay, a saddle, a horse and one hundred dollars cash. At that time the nearest neighbor was over sixteen miles distant. Mr. Moore added to the tract until at the present time it comprises two hundred and forty acres. As he brought this property under a good state of cultivation he took up a homestead claim of one hundred and sixty acres and purchased sufficient adjacent territory to bring the property up to a tract of four hundred and eighty acres. He owned another ranch two and one-half miles further up the river. This property is well improved and adapted for both agricultural pursuits and horse raising. He kept only a very high grade of race horses and received for his running horse Leanington, the sum of three thousand dollars. He also raised cattle and draft horses but not so extensively. His was one of the first pieces of property to be irrigated, a fact which showed his belief in adapting his agricultural methods to the progress of the times. The first irrigated land there being one hundred and sixty-seven acres was put under to alfalfa. Mr. Moore's death occurred October 29, 1910. At that time few agriculturists of Umatilla county had met with a success equal to his, and the appearance of his property and the extent of its yields proved the wisdom of his judgment in adopting all practical and modern methods in his pursuits.
Mr. Moore was married on the 25th of October, 1882, to Miss Avarilla Mitchell, whose birth occurred near Gaston, Oregon, May 2, 1859, and who died on the 17th of October, 1895. She was a daughter of John A. Mitchell, a pioneer of Missouri. To their union five children were born: Jesse Franklin, whose birth occurred in September, 1883, and who died August 14, 1901; Celia I., who was born February 10, 1886; Kate Irene, born September 4, 1887; Mabel I., who was born July 20, 1890, and who is now the wife of T. W. Harris; and Hiestand Mitchell, whose birth occurred December 25, 1892.
In politics Mr. Moore gave his support to the republican party and in religious faith he was a member of the Methodist Episcopal church. He also held membership in the Ancient Order of United Workmen. Mr. and Mrs. Moore were willing and active supporters of all methods, social or otherwise, tending to promote the moral and intellectual interests of the community, and as their lives were thoroughly upright and honorable they were recognized as worthy and useful representatives of the best class of citizenship in this region.
****************
Submitted to the Oregon Bios. Project in April 2007 by Diana Smith. Submitter has no additional information about the person(s) or family mentioned above.
---
Updated on 20 Apr 2007.