---
James Nelson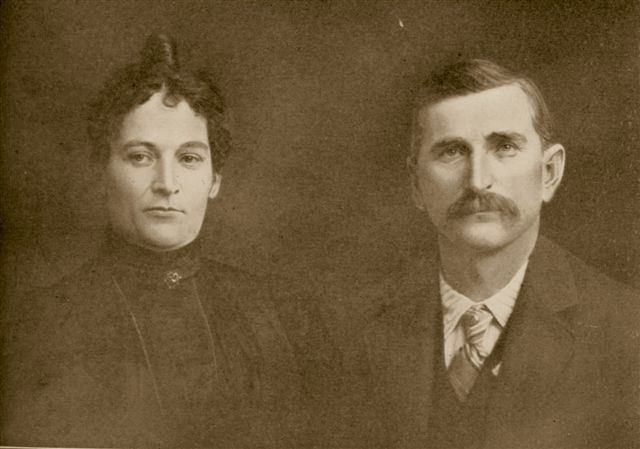 (Mr. and Mrs. James Nelson)
Gaston, Joseph. "The Centennial History of Oregon, 1811 - 1912." Vol. 2. Chicago, S. J. Clarke Publishing Co., 1912. p. 470.
JAMES NELSON
who is a well known stock dealer in Umatilla county, residing at Pendleton, was born in Yreka, California, May 26, 1860. He was the son of Mr. and Mrs. Ebnar B. Nelson, the father a native of Torekov, Sweden, born in 1828, and the mother of County Donegal, Ireland. Ebnar Nelson, coming of a sea-faring people early developed a desire for ocean life. Accordingly when he was but a child he went to sea, at the age of fourteen years, his time being spent mostly in the merchant marine service, although for one year he was employed on a war ship. During his long life on the sea he visited every known port of any significance in the commercial world, and passed through many thrilling experiences and severe hardships. He came to America in 1848, and was one of the many sailors who abandoned their ships to go to the early gold fields of California. In that state he worked at Eagle Gulch, Nelson Hill, which was named for him, at Yreka, and several other places. In 1863 he came to Oregon, locating at Canon City in Grant county, where he worked in the mines for three years. He then removed to Umatilla county, locating on the farm that is now owned by the subject of this interview. He engaged extensively in the raising of cattle until the time of his death, being killed on July 6, 1878, at the age of fifty years, by the Bannock tribe of Indians. Trouble with these Indians broke out in 1878, and they committed many depredations from this section of Oregon all the way back to Nevada, and also in that time killed over twenty persons in Umatilla county. Mr. Nelson having sent his family to Pendleton for safety, remained on his ranch the night the attack was made upon his home, and was killed there, together with two friends, Luke Skelly and State Senator C. L. Jewell. The mother, Mrs. James Nelson, came to America about 1844, crossing the Atlantic on a sailing vessel, being three months on the water. She landed at St. Johns, New Brunswick, and from there went to Boston, where she was met by an uncle who had been engaged in mining in California. With him she proceeded to California, going by way of the Isthmus of Panama. She located in San Francisco, where a short time afterward her uncle was killed by an accident in the mines, and she was left without relatives in America. Here she met Mr. Nelson whom she married in 1858. She died in Portland in 1901.
James Nelson was only six years of age when he was brought by his parents to Oregon, making the way by stage coach to the Columbia river, then by boat, landing in Umatilla county, and from there proceeding by pack train to the Granite creek mines in Grant county. He resided in that county until he was nine years of age, when he came with his parents to Umatilla county, where they located on Butter creek, on the ranch which he now owns. He has always been engaged in stock-raising, for several years making a specialty of sheep and horses. Since 1888 he has devoted his attention principally to the raising of cattle and horses. He is considered one of the most progressive men of this country, and is widely known for his success as a stockman. He now has eighteen hundred acres of grazing land on Butter creek, where he keeps his stock in winter, and a summer ranch in the Blue mountains, of eight hundred acres of meadow land near Lehman Springs. He has been extremely successful financially, and owns a beautiful home at 1204 East Webb street in Pendleton, where he spends his winters.
In 1881 Mr. Nelson wedded Miss Laura Eliza Lightfoot, who was born near Salem, in 1861. She is the daughter of Samuel G. Lightfoot, who was a pioneer of this county, and was one of the owners of the old California and Oregon stage line. To Mr. and Mrs. Nelson have been born seven children, four of whom are now living. They. are: Samuel I., who is twenty-five years of age, and is married to Miss Mary Brosman; Charles, twenty-two years of age; Laura Catherine, seventeen years of age; and Mary Madeline, aged twelve. The other three died in early childhood. Fraternally Mr. Nelson is identified with the Woodmen of the World, belonging to Camp No. 44, of Pendleton. He has always been an active and energetic man, greatly interested in all that pertains to the advancement and progress of the community, and by his upright life has won the high regard of all his associates. He has been very successful in the business world, and is now numbered among the substantial and highly honored residents of Pendleton.
****************
Submitted to the Oregon Bios. Project in February 2007 by Diana Smith. Submitter has no additional information about the person(s) or family mentioned above.
---
Updated on 18 Feb 2007.