---
Joseph R. Wiley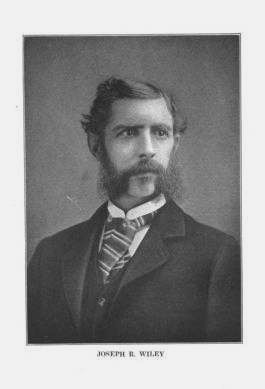 Gaston, Joseph. "Portland, Oregon Its History and Builders." Vol. 2. Chicago and Portland, S. J. Clarke Publishing Co., 1911. p. 728.
CAPTAIN JOSEPH R. WILEY
With many of those interests which mark the beginning of things in Portland and which are an impetus to its later growth and progress, Captain Joseph R. Wiley was closely connected. He was born in Wisconsin, December 30, 1844, and his life record covered the intervening years to the 8th of February, 1894. His parents were Elias and Catherine (Haney) Wiley, who removed from the Empire state to Wisconsin. The father made the trip to California during the gold excitement in 1849, after which he returned to the Badger state and in 1852 started for Oregon, being captain of the wagon train which he owned. He brought a lot of fine blooded horses and cattle and had several thousand dollars in gold. While en route for the northwest death claimed him and his grave was made on the plains. The mother and family came to Portland, reaching this city in the fall of 1852. There were three children, Joseph R., Clarissa and Edward, who are now deceased. Mrs. Wiley later married W. P. Burke and remained a resident of Oregon until called to her final home January 3, 1902, at the age of eighty-two years. She was still very active for one of her years.
Joseph R. Wiley was a lad of seven years when his parents started for the Pacific coast and his youthful days were spent in Portland, then a small town of little industrial or commercial importance, unconnected by railroads with the far east. Overland travel by team or by steamers, which at times reached this port, were the only means of bringing the settlers to the northwest. Mr. Wiley pursued his education in the Portland Academy and later was graduated from Santa Clara College of California.
Following the attainment of his majority Mr. Wiley took an active part in politics and was one of the influential men in democratic circles. In 1868 he was elected school superintendent of Multnomah county and served for two years. A few years later he was made captain of the police force of Portland and filled that position for a number of years, during which time he carefully organized the police system and faithfully and zealously safeguarded the interests of law and order here. He was likewise captain of the Emmet Guards for several years and for a number of terms served as a member of the city council, exercising his official prerogatives in support of measures of reform, progress and improvement. At one time journalistic interests claimed his attention, he becoming proprietor of a paper called the Catholic Sentinel, in which connection he built up a good patronage for the paper.
All means that were deemed beneficial to the community received his endorsement and he cooperated in many projects for the public good. He was at one time a member of volunteer fire department No. 2 and to the time of his death belonged to the Veteran Volunteer Fireman's Association. He was also captain of the volunteer baseball team in Portland in early days. He held membership in the Catholic church and Catholic societies.
On the 8th of February, 1874; Captain Wiley was united in marriage to Miss Margaret Hickey, a daughter of James Hickey and a native of Boston, Massachusetts. She came to Portland in 1893 and was married the following February. Unto them were born six children: Clarissa, at home; Burke, deceased; Marguerite, the wife of John F. Daly, of Portland, by whom she has one child, John E.; Josephine, who has also passed away; Joseph E.; and Eunice Lucille, at home.
The death of Captain Wiley occurred February 8, 1894, and his remains were interred in St. Mary's cemetery. From the time of his early residence here he had figured prominently in the public life of the city and few men were more widely known, while none were held in higher esteem. His social qualities, unfailing courtesy and genial disposition won him many friends, and he at all rimes enjoyed the confidence and good-will of those with whom he was brought in contact. He was an active worker in the Pioneer Association, was indeed a prominent figure on the stage of action in Portland and well deserves mention in this volume.
Transcriber's additional notes:
This same biography also appears in the following book:
"Portland The Rose City, Pictorial and Biographical"
S. J. Clarke Publishing Co.; Various compilers; 1911
Vol. 1, Page 405
---
Submitted to the Oregon Bios. Project in November 2009 by Diana Smith. Submitter has no additional information about the person(s) or family mentioned above.