---
J. T. Costelloe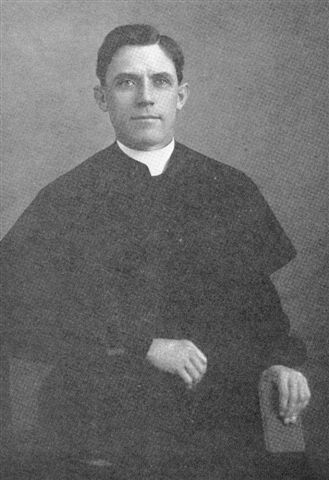 Lockley, Fred. "History of the Columbia River Valley, From The Dalles to the Sea." Vol. 2. Chicago, S. J. Clarke Publishing Co., 1928. p. 750.
REV. J. T. COSTELLOE
Rev. J. T. Costelloe, pastor of St. Matthew's Roman Catholic church at Hillsboro, is numbered among the able, devoted and esteemed clergymen of Washington county, and because of his tireless and well directed efforts the church is enjoying splendid prosperity. This is one of the live and important churches of this section of the valley. During the '80s and '90s the Catholics living in the vicinity of Hillsboro traveled by wagon, horseback or on foot as far as twelve, sixteen and even twenty miles to Verboort, Cedar Mills, Tigard and South Cornelius to assist at holy mass. Father Donnelly traveled by horseback, visiting the distant families and caring for their spiritual needs. The first holy mass in Hillsboro was celebrated in the home of W. Meier, and later the home of Mr. Undernar, the jeweler, was used for that purpose. As the little band increased, the Hillsboro opera house was used instead of a church and it was here that a number of the members of St. Matthews congregation received the regenerating waters of baptism. As the community grew and new members came within its limits, a movement was set on foot for the erection of a church. Father J. H. Black, who later became the chancellor of the archdiocese, was placed in charge of the undertaking. The pioneer families upon whom this responsibility rested were Meiers, Hillicks, Pautmeier, Thiele, Brock, Reilly, Schneider, Killeman and Bower. The lumber for this edifice was hauled by team from Holbrook, a distance of eighteen miles. Although this community was not overburdened by wealth, it managed to pay for what it built, and in 1901 the church was erected and was dedicated in January, 1902. The following is the account of the dedication as given in the Hillsboro Argus of January 16, 1902: "Catholics from all over Washington county were present in the city last Sunday, January 12, to witness the dedication of the new church building on Third street. This handsome structure is built on a lot donated by Banker J. W. Shute and is situated across the street from the Baptist church. Archbishop Christie was present and delivered the dedication sermon, assisted by Rev. Father Black. It is estimated that the building will seat over a thousand, and it was crowded to its capacity. Many of other faiths were present and to many the ceremonies of the Catholic ritual in dedication were new. Father Black is to be congratulated on his work in connection with the new structure, and he has had much assistance from F. H. Bower. It will not be long until Hillsboro will be placed in one of the parishes of Washington county and it is said that a school will soon be started in this city. Father Moore, St. Mary's Home; Father LeMiller, Cedar Mills; Father Black, St. Francis' church, Portland, and Father Reithart, Columbia University, were visiting priests and assisted the Archbishop."
For the two succeeding years St. Matthew's was a mission, attended once a month from Verboort, and in 1904 the late Father J. L, Bucholzer was appointed as resident pastor. In 1905 the bells were blessed and installed and as their strains reechoed over the city for the first time, Editor A. Long, filled with inspiration, wrote a poem which appeared in many publications, even as far away as distant Calcutta. The first baptism in St. Matthew's was that of the young son of Frank Bower. The first wedding was that of C. W. Stinger, of Portland, and Miss Winnifred Ruane, in July, 1903, Father Black, of St. Francis, officiating. The first funeral from the church was that of Mary Miller, aged nine years, on January 17, 1906, Father Bucholzer remained as pastor as long as his health would permit and resigned in 1911, but a short time prior to his death. Father Mark Lappin was appointed to fill the vacancy. During his pastorate, in 1914, the schoolhouse was erected, Mr. Engledinger, a member of the congregation, being the contractor, and the enrollment at its opening was approximately forty-five pupils. Father Lappin was succeeded by Father O'Neil on March 19, 1915, and on the appointment of Father O'Neil to Beaverton, January 18, 1919, the present pastor, Father J. T. Costelloe, was appointed to Hillsboro.
Father Costelloe was born at Alexandria, Thayer county, Nebraska, in 1883, and was reared on his father's farm until he had attained his majority. He is a son of John and Mary (King) Costelloe, the former of whom still lives in Nebraska, while the latter passed away in September, 1926. Both parents were natives of Ireland, from which country the father came to the United States, without money or friends, when eighteen years old, while the mother was brought to this country by her parents when two years old. Mr. Costelloe bought a homestead right in Nebraska, to which state he had come in 1876 as a pioneer, and later he took up a tract of government land, which he developed into a good farm. He cast his first presidential vote for Horace Greeley, but later became a republican in his political views. To him and his wife were born eleven children, of whom six are living, as follows: Mary, who is the wife of George Helget, of Hebron, Nebraska; Winnifred, the wife of Rosecrans D. Roode, of Fairbury, Nebraska, whose father fought under General W. S. Rosecrans during the Civil war; J. T., of this review; Rose, who Is the wife of Frank Rau, of Kolan, Montana; Nora, who is a graduate of Nebraska State University and is now caring for her father; and Sabina, who is the wife of William Courtney and lives on the home place.
J. T. Costelloe received his early education in the country schools, and on May 31, 1908, came to La Grande, Oregon. He had taught school for a number of terms in Nebraska in order to earn money for his education and completed his education in St. Benedict's College, at Atchison, Kansas. On coming to La Grande he went to work as a brakeman on the railroad, and saved enough money to carry on his further studies at Mount Angel College, from which he was graduated in 1912, receiving the A. B. degree at this institution. He spent two years at St. Mary's Seminary in Baltimore, Maryland, the first Catholic seminary established in this country, but was compelled to desist from study because of the poor condition of his health and returned to Mount Angel College, and on April C, 1915, was ordained to the priesthood by Archbishop Christie. He served as assistant to Father Black at St. Francis church until January 18, 1919, when he was appointed to the pastorate of St. Matthew's church at Hillsboro, where he has served continuously to the present time. Here he has done effective and appreciated work and is now dean of the Hillsboro deanery, comprising Washington, Yamhill and Tillamook counties. He is a good sermonizer and a strong and forceful preacher, has proved particularly efficient in his pastoral work, and his executive ability and tact have enabled him to direct the affairs of the parish in a manner that has been rewarded with very beneficial results. Father Costelloe has shown a commendable interest in everything relating to the welfare of his community along material, civic and spiritual lines and is a member of the Hillsboro Chamber of Commerce. Because of his fine work as pastor of St. Matthew's, his public spirit and his sterling personal qualities, he commands the sincere respect of all who know him regardless of creed or profession.
---
Submitted to the Oregon Bios. Project in January 2011 by Diana Smith. Submitter has no additional information about the person(s) or family mentioned above.