---
Jedediah Wheeler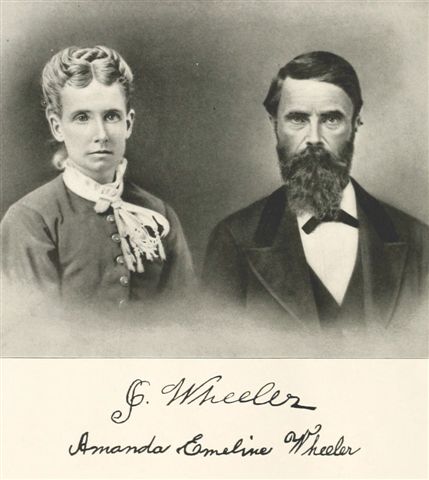 "Portrait & Biographical Record of the Willamette Valley Oregon." Chapman Publishing Company, 1903. p. 1041.
JEDEDIAH WHEELER
When his day's work is over and he sits down to enjoy the peace and happiness of his home, the reflections of Jedediah Wheeler must be tinged with satisfaction. The prominence which is his in Lane county is of the solid and well founded kind, painstakingly and laboriously acquired, as is also the competence which placed him among the financial successes of his neighborhood. The boy wrestling with limitations might well draw encouragement from the upward path of this honored pioneer, for his life-story is that of the poor boy who had to look within rather than without for his help in time of need. His father dying when he was two years old. His mother joined the great majority when he was twenty, and the home in Illinois, where lie was born January 30, 1832, was thus sadly uprooted, the five children being thrown upon their own resources, the subject of this review being the youngest.
Beginning with his tenth year, Mr. Wheeler found employment in a house as a servant in Illinois, and when he was fifteen he made his way to within fifty miles east of St. Louis, where he worked in a sawmilling and logging camp and a grist mill. This occupation opened up a possibility in a tavern, to the management of which he finally succeeded, and in 1850 he started in to serve an apprenticeship to a carpenter and cabinetmaker. To his youthful mind, to master a trade was the personification of independence, and with this feeling of certainty regarding the future, he crossed the plains in 1853 as a driver of an ox-team, spending about six months on the way. In the Sacramento valley he made his living at teaming for a few months during the winter, and in the spring of 1854 went to the mines, where he labored for a time with alternate success and failure. Having heard of the possibilities of Oregon, and not having made a success of his mining venture, and desiring to reach that state, he walked the entire distance of three hundred and fifty mile. In Eugene he worked at his trade as carpenter for about five years. In 1859 he was united in marriage with Amanda E. Walker, a native daughter of Oregon, with whom he established a home, purchased with his earnings as a carpenter. In 1864 he disposed of his city property for a farm of three hundred and twenty acres, twelve miles east of Eugene, which comprised the whole of the Pingree donation claim, where he lived a couple of years and then sold it. Again in Eugene, he started and conducted a tinshop for a year, and then bought a farm of three hundred and twenty acres on the Coast Fork, where he lived until 1889. Following his farming experience, Mr. Wheeler settled in Pleasant Hill and engaged in a general merchandise business for ten years, identifying himself with political and other means of advancement and becoming an important factor in business circles. The old appreciation of farming and the quiet and peace of country life re-asserting itself, he disposed of his store in 1899 and bought the one hundred and fourteen acres of land on Pleasant Hill which is now his home, and where he is engaged in general farming.
Since young manhood a Whig, and later a supporter of the Republican party, Mr. Wheeler has been variously honored by his fellow-townsmen at different stages of his career, having served with equal satisfaction as postmaster, deputy sheriff, constable of Eugene, and for many years school director. His first wife dying in 1880, he married the following year Elizabeth Davis, a native of Indiana. By the first marriage there were eight children, of whom five survive, Allie E., Halvor C. and William L., living in the vicinity of Pleasant Hill, while Lester A. is a resident of California, and Walter B. lives in Coburg. Emma J. married Edgar C. Baxter, both now deceased. During his lifetime Mr. Wheeler has laid up a store of useful and interesting information, has cultivated the graces of honesty and fair dealing, and has made many true and tried friends in the places which he has called home. Mr. Wheeler and his family are members of the Christian Church at Pleasant Hill.
---
Submitted to the Oregon Bios. Project in July 2010 by Diana Smith. Submitter has no additional information about the person(s) or family mentioned above.