---
Lawrence Thomas Harris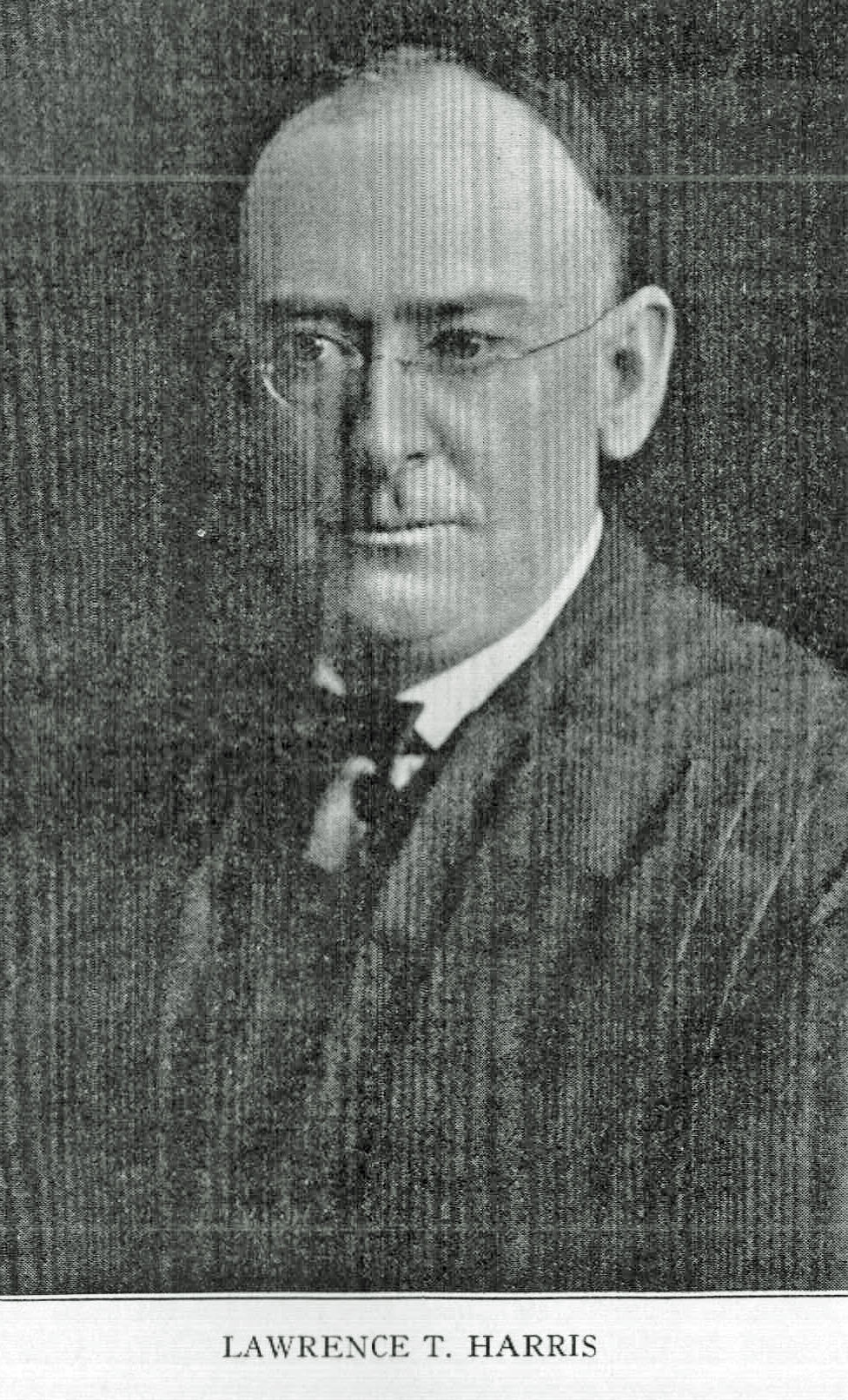 (Click on photo to view enlargement)
Clark, Robert Carlton, Ph.D. "History of the Willamette Valley Oregon." Vol. 2. Chicago: Chapman Publishing Company, 1927. p. 46.
LAWRENCE THOMAS HARRIS
Lawrence Thomas Harris is a native son of Oregon, having been born in Albany, Linn county, on the 13th of September, 1873, and is a son of Dr. Thomas W. Harris and Laura Cattron Harris. Dr. Harris was born in Putnam county, Indiana, December 27, 1849, and was a son of Rev. John M. and Jane (Wilson) Harris.
Lawrence Thomas Harris received his elementary education in the public schools of Eugene and then entered the University of Oregon, where he was graduated in 1893, after which he attended the law school of the University of Michigan, where he was graduated in 1896. He was admitted to practice in the courts of Oregon in 1896 and since that time has been continuously engaged in the practice of law, or has been rendering service on the bench. He was elected to the house of representatives of the Oregon legislative assembly in 1901 and again in 1903, and served as speaker of the house in 1903. In 1905 he was appointed circuit judge for the second judicial district comprising the counties of Coos, Curry, Douglas, Lane, Benton and Lincoln. In 1906 he was elected without opposition to succeed himself, having been nominated by both the republican and democratic parties, and in 1912 was reelected without opposition, having again been nominated by both the republican and democratic parties. In 1914 he was elected associate justice of the supreme court of Oregon and filled that position from January 4, 1915, until January 15, 1924, at which latter date he resigned to resume the practice of the law.
On April 28, 1904, he was married to Jennie B. Beatie, Oregon City, Oregon. He is now a member of the law firm of Harris, Smith & Bryson with offices in Eugene, Oregon.
In November, 1906, Mr. Brown was married in Lane county, Oregon, to Miss Ethel P. Lemmon, a native of Marion county and a daughter of Lemuel and Mary J. (Jones) Lemmon. Her mother came to Oregon in 1860 and Mr. Lemmon made the journey to this state in 1845, when a boy of twelve in company with his father, John Lemmon, who settled in Marion county, securing a donation claim near Brooks. Mr. and Mrs. Brown have a family of three children, Lowell E., Delmar L. and Virginia, and the eldest is a senior in the local high school.
Mr. Brown belongs to the lodge and encampment of the Independent Order of Odd Fellows and his wife is connected with the Daughters of Rebekah. He is a charter member and one of the directors of the Country Club, also serving on the directorate of the Chamber of Commerce. In politics he is nonpartisan, regarding the qualifications of a candidate as a matter of prime importance, and was mayor of Silverton during 1911-12. He has worked at all times for its best interests and belongs to that class of men who constitute the strength and motive power of every community in which they are found.
---
Submitted to the Oregon Bios. Project in December 2014 by Diana Smith. Submitter has no additional information about the person(s) or family mentioned above.
---