---
Leland V. Belknap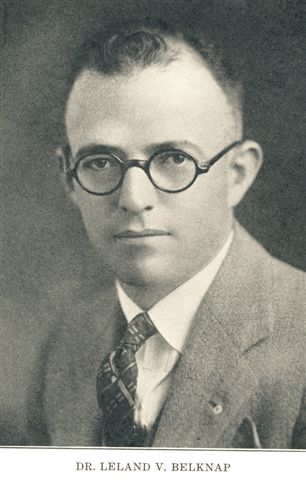 Lockley, Fred. "History of the Columbia River Valley, From The Dalles to the Sea." Vol. 3. Chicago, S. J. Clarke Publishing Co., 1928. p. 614.
LELAND V, BELKNAP, M. D.
Dr. Leland V. Belknap is successfully following in the professional footsteps of his father and has become firmly established in public regard as one of Portland's able surgeons. He was born October 2, 1894, in Prineville, Crook county, and represents the fourth generation of the family in Oregon. Its progenitors in this country were three brothers, Abraham, Samuel and Ebenezer, who settled in Massachusetts in 1636, and two of their descendants, Samuel Belknap and his son Jonas, were soldiers in the Revolutionary war, wearing the buff and blue uniform. Jesse Belknap, the great-grandfather of Dr. Leland V. Belknap, was a native of New York state and in 1846 made the long and perilous overland journey to Oregon, locating on a donation land claim near Star Point, now known as Monroe, in Benton county. His son, Harley Belknap, was born in Ohio and when a child came with the family to Oregon. In later life he resided in what is now Crook county and engaged in ranching. He married Miss Thirza Inmon, a descendant of one of the colonial families of the south, and they became the parents of Dr. Horace Preston Belknap, the father of Dr. Leland V. Belknap.
Dr. Horace P. Belknap was born in Monroe, Oregon, and attended Willamette Academy. He was a medical student at the University of Michigan and in 1886 received the M. D. degree from the Bellevue Medical College in New York city. He has since practiced in Prineville and is classed with the leading physicians of that part of the state. For four years he was a member of the Oregon legislature and at one time was mayor of his town, also serving as county treasurer and superintendent of schools of Crook county. In 1888 he married Miss Wilda Ketchum and they became the parents of four sons, Horace P., Wilford H., Leland V. and Hobart D., all of whom took up the study of medicine. They were all in the service of their country during the World war and since 16S5 members of this patriotic family have been valiant fighters in every war in which America has participated.
Dr. Leland V. Belknap attended the public schools of Prineville and afterward matriculated in the University of Oregon, which he left during the progress of the World war, and saw service in the United States Navy, After his honorable discharge he returned to the State University and was graduated with the class of 1919, receiving the M. D. degree. He was an interne of the Good Samaritan and Multnomah County Hospitals of Portland and in 1919 began his professional career in Prineville. In 1920 he located in Portland and has since been engaged in the practice of surgery. He is devoted to his profession and his work is marked by sureness, precision and skill.
Doctor Belknap was married December 3, 1921, to Miss Grace Hamilton, a daughter of Jay S. and Milla (Ritan) Hamilton, of Portland. Mr. Hamilton was the first secretary of the Willamette Lumber Manufacturers Association, which he aided in organizing, and in 1919 was appointed supervisor and sales manager for the United States shipping board, having charge of the western district. Dr. and Mrs. Belknap have one child, Hamilton R., aged five years. For recreation Dr. Belknap turns to golf. He is a member of the local post of the American Legion, is physician for Portland Aerie of the Fraternal Order of Eagles and also belongs to the Loyal Order of Moose, the Benevolent Protective Order of Elks and the Masonic order. By nature he is studious and energetic and keeps in close touch with the progress of his profession by broad reading and also through his affiliation with the Multnomah County and Oregon State Medical Societies and the American Medical Association. Dr. Belknap is a young man of substantial worth and enjoys the esteem of all with whom he has been associated.
---
Submitted to the Oregon Bios. Project in October 2007 by Diana Smith. Submitter has no additional information about the person(s) or family mentioned above.