---
Milton W. Smith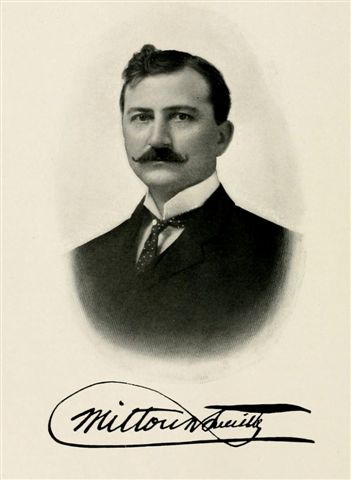 "Portrait & Biographical Record of the Willamette Valley Oregon." Chapman Publishing Company, 1903. p. 173.
MILTON W. SMITH
The success which has encouraged the efforts of Mr. Smith in the practice of law is another indication of the ability possessed by the native sons of Oregon. Born at Aurora, this state, July 15, 1855, he owes his education to our schools, where his keen natural gifts were broadened by contact with teachers of intelligence and superior ability as educators. In 1878 he received the degree of A. B. from Pacific University, one of the oldest institutions of the west, and three years later the degree of A. M. was conferred upon him by his alma mater. Immediately after graduating he took up the study of law in the office of Judge Deady, of the United States district court, at Portland, and continued his readings until he was admitted to the bar in March of 1881. During August of the same year he established himself in practice and has since won his way to an eminent rank among the attorneys of his home city.
In addition to professional practice, Mr. Smith has officiated as treasurer and a director of the Portland Library Association since 1890, and at this writing is chairman of the book committee managing the library. Since 1894 he has acted as a director of the Multnomah Law Library and during all but three years of this time has been its president. Ever since his graduation he has maintained his interest in his alma mater and is keenly alive to the advantages offered to the young by this pioneer college. In his desire to promote its welfare, he accepted the position of secretary of its finance committee and a director of the university, which offices he now fills. At one time he held office as president of the Alumni Association. However, it is not higher education alone that commands his interest and enthusiastic allegiance. In the education of the little children, in seeing that their feet are planted in the right direction when they ascend the hill of learning, his interest is keen and constant. Indicative of this fact is his efficient service as vice-president of the Portland Free Kindergarten.
As a director Mr. Smith is connected with the Columbia & Northwestern Railroad, running from Lyle, Wash., to Klickitat, same state. The Arlington and University Clubs number him among their members, and he is also actively associated with the State Bar Association. His marriage, which was solemnized in Portland, united him with Alice Sweek, who was born in Oregon, her parents, John and Maria Sweek, having come from Missouri in 1852 and settled in the vicinity of Portland. Since the death of Mr. Sweek his widow has continued to make her home in the same locality. The children of Mr. and Mrs. Smith are Ruth, Josephine and Marion. As yet Mr. Smith has not identified himself closely with politics, though he is a firm believer in Republican principles. His inclinations are toward his profession rather than public life or political service. Keenly alive to the opportunities offered by the law, it has been his ambition to keep in touch with its progress and important decisions rendered bearing upon the people or the lands of Oregon. One of his leading characteristics has been conservatism, as opposed to the recklessness sometimes evinced by the enthusiastic and daring. This conservative spirit, however, is not a bar to progress, but leads him to the exercise of great caution in pronouncing opinions, so that a decision, when once given, is seldom changed, thus lending added weight to his counsel and advice on subjects pertaining to the law.
This same biography appears in
"Portrait and Biographical Record of Portland and Vicinity, Oregon"
Authors: "a compilation of this work....by a number of writers"
Chapman Publishing Co; Chicago; 1903; Page 173
*******************
Submitted to the Oregon Bios. Project in February 2009 by Diana Smith. Submitter has no additional information about the person(s) or family mentioned above.
---