---
Oliver Perry Coshow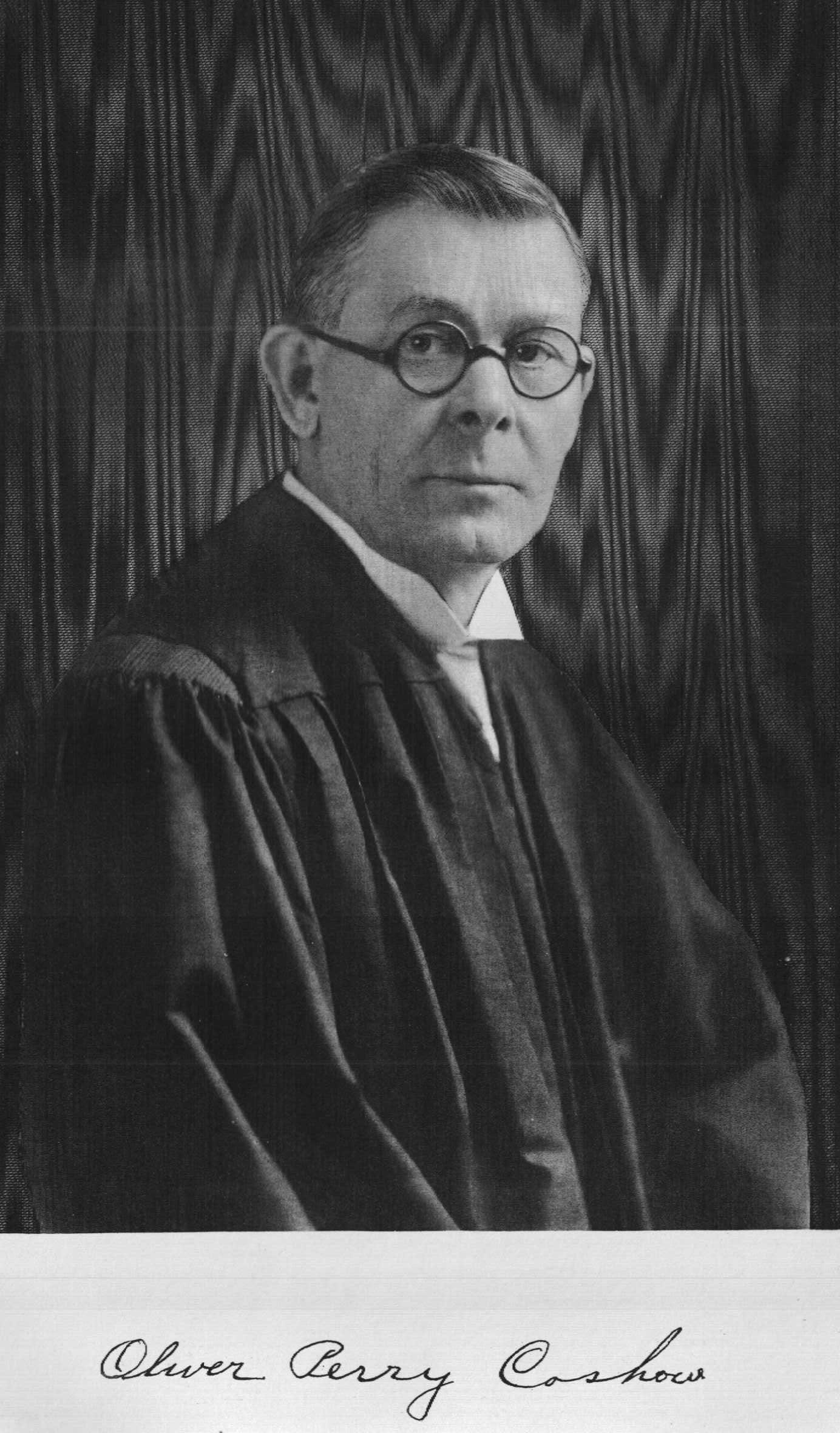 (Click on photo to view enlargement)
Clark, Robert Carlton, Ph.D. "History of the Willamette Valley Oregon." Vol. 2. Chicago: Chapman Publishing Company, 1927. p. 18
OLIVER PERRY COSHOW
One of the outstanding figures in the judiciary of Oregon is the Hon. Oliver Perry Coshow, associate justice of the supreme court, whose record as a practitioner placed him in the very front rank of his profession in the state. He was born at Brownsville, Linn county, Oregon, on the 14th of August, 1863. and is a son of Oliver Perry, Sr., and Sarah E. (Cochran) Coshow. The mother was born in Missouri and crossed the plains in 1847 with her parents, who located on a donation claim near Brownsville, Oregon, and she spent the remainder of her life in this state, her death occurring on March 6, 1903, when she had reached the age of sixty-six years. Oliver P. Coshow, Sr., was born in Connersville, Indiana, and in 1851 came across the plains with ox teams in company with R. B. Cochran. who later became prominent in, public affairs, serving, as president of the state senate. Mr. Coshow located near Brownsville, where he took up a claim, which he sold a few years later and bought a farm near Harrisburg, Linn county. Subsequently he engaged in a mercantile business in Brownsville, and in 1875 helped to organize the Brownsville Woolen Mills Company. Later he exchanged his stock in this enterprise for the store which he had managed for the company and continued in that business until his retirement. His death occurred January 26, 1914. He was a member of the Masonic order and a man of prominence and influence in his community.
Oliver Perry Coshow, Jr. attended the public schools and the University of Oregon, his studies in the latter institution being interrupted by the illness of his father, which compelled his presence at home. He was later made secretary of the Brownsville Woolen Mills Company, which position he held for three years, and during that period lie devoted himself closely to the study of law. In August, 1889, he went to Albany and studied law in the office of J. K. Weatherford, being admitted to the bar in 1890. He remained with Mr. Weatherford a year longer and in March, 1892, located in McMinnville, where he formed a partnership with O. H. Irvine, an association which was maintained for five years, when Mr. Coshow was appointed deputy district attorney, in which capacity he served for ten months. On April 1, 1897, he moved to Roseburg. Oregon, where he was successfully engaged in the practice of his profession until January 15, 1924, when he was appointed an associate justice of the supreme court, to which position he was elected in the following November. Judge Coshow's record as lawyer and jurist has stamped him as one of the most capable members of the legal profession of his state, his divisions being marked by a logic and lucidity that has added to his already well deserved prestige as a master of the law.
On December 25, 1886, Judge Coshow was united in marriage to Miss Elizabeth Kay, who was a sister of State Treasurer Thomas B. Kay and a daughter of Thomas and Ann (Slingsbey) Kay, both of whom were natives of England. Her parents came to Salem, Oregon, in the early '60s, and the father here established the first woolen mill in the state. He also established the Brownsville Woolen Mills, and later the Thomas Kay Woolen Mills at Salem, to the operation of which he devoted himself up to the time of his death, which occurred in 1900. His wife died in 1915. To Judge and Mrs. Coshow were born five children, namely: Elizabeth K., who was the wife of Dr. Earle B. Stewart, of Roseburg, Oregon, and died July 14, 1913; Hazel, the wife of K. H. Pickens, of Salem; Lenore Dale, the wife of Charles F. Thompson, of Portland; Bertha Leone, the wife of T. L. McClintock, of St. Helens, Oregon; and Oliver Perryn, who died in infancy. The mother of these children passed away in June, 1925.
Politically Judge Coshow has been a lifelong democrat and in early years took a very active part in political affairs, being a member of the state senate in 1904. while during his law student days he served as a justice of the peace at Albany. He is a member of Laurel Lodge, No. 13, A. F. & A. M., of which he is a past master, and has served as grand master of the Grand Lodge of Oregon; Laurel chapter, No. 31, R. A. M. of which he is a past high priest; Eugene Council, R. & S. M., at Eugene; Ascalon Commandery, No. 14, K. T., of Roseburg, of which he is past eminent commander; Portland Consistory, A. A. S. R.; Al Kader Temple, A. A. O. N. M. S., at Portland; Roseburg Chapter, No. 8, O. E. S., of which he is a past worthy patron; grand patron of the Grand Chapter, O. E. S., of Oregon; Rising Star Lodge, I. O. O. F., at Roseburg; the Woodmen of the World, of which he is a past council commander; and the United Artisans. He has long been a member of the Baptist church, served as Sunday school superintendent for many years and was president of the Baptist state convention. He is a member of the Oregon State Bar Association and the American Bar Association, and is a director of the Thomas Kay Woolen Mills at Salem. A man of sound erudition and strong individuality, tirelessly devoted to the law, and unbiased in his judgments and opinions, he stands as one of the leading lawyers and jurists of his state, and is well worthy of the confidence and respect which are accorded him by his fellowmen.
---
Submitted to the Oregon Bios. Project in December 2014 by Diana Smith. Submitter has no additional information about the person(s) or family mentioned above.
---