---
Peter H. D'Arcy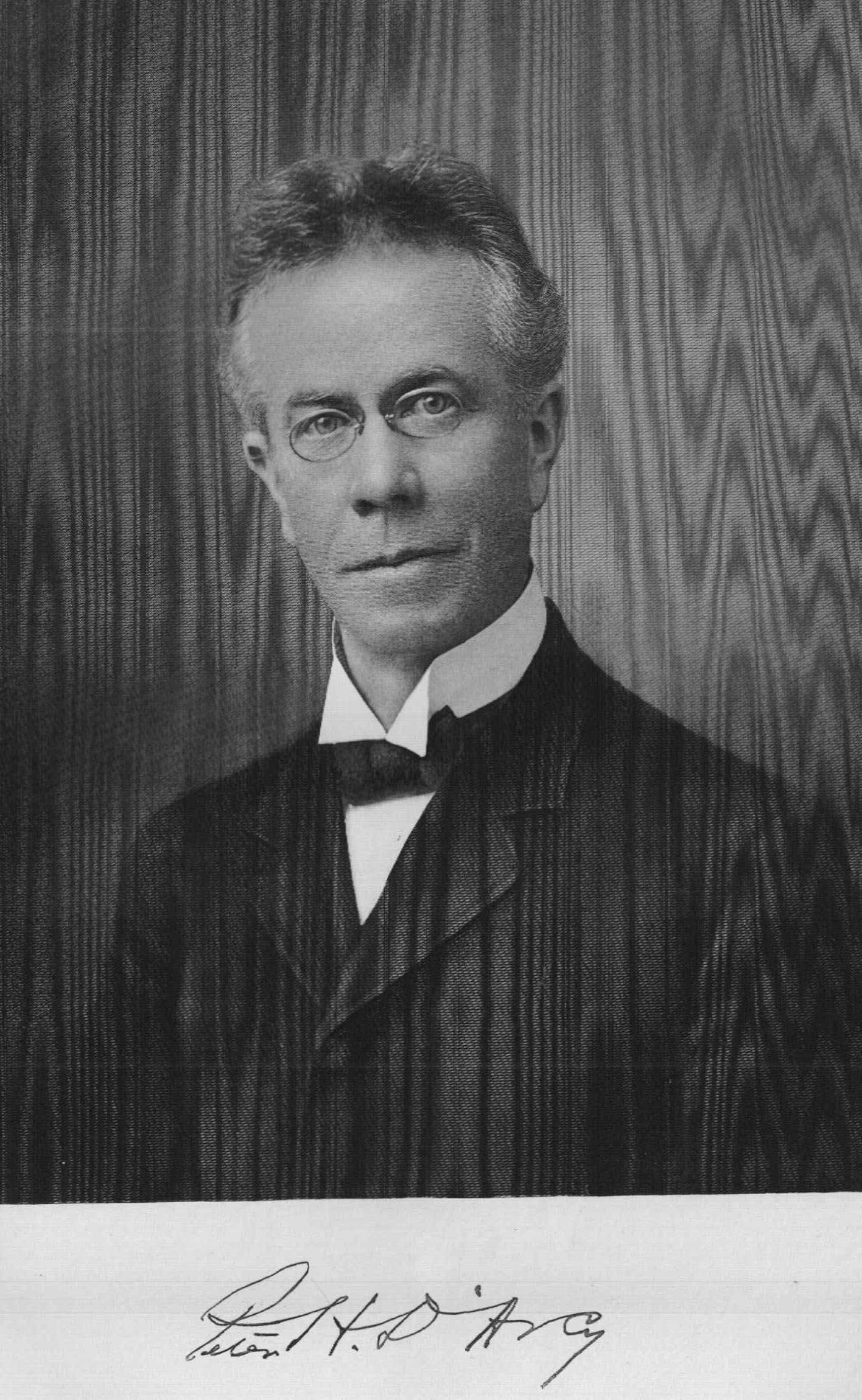 (Click on photo to view enlargement)
Clark, Robert Carlton, Ph.D. "History of the Willamette Valley Oregon." Vol. 2. Chicago: Chapman Publishing Company, 1927. p. 36
JUDGE PETER H. D'ARCY
Among the solid men of brain and substance who have honored Salem by their lives and activities, contributing in a very definite measure to its progress and development, while in their respective special fields of effort they have attained a place in the front ranks, stands Judge Peter H. D'Arcy, a pioneer resident of Oregon, who has had a long and honorable record at the bar, of which he has been a member for over fifty years, being now the clean of trial lawyers in Salem.
Judge D'Arcy was born in Brooklyn, New York, on the 4th of March, 1854, and is a son of Peter and Barbara (O'Neil) D'Arcy, both of Ireland, the former horn in Gorey, County Wexford, and the latter in Cahersiveen, County Kerry. They became residents of New York city in early life, the lather locating there in 1830, and it was there they became acquainted. In 1855 they came to the Pacific coast by way of the Isthmus of Panama, and for a couple of years Peter D'Arcy engaged in contracting and building in California. In 1857 he removed to Portland, Oregon, where he remained until 1859, when he came to Salem, being one of the first contractors to locate here, and erecting many of the early residences of this city, for which he frequently had to take goods in payment, as there was at that time but little money in circulation here. After a long and busy life, he died in 1895, honored and respected by all who knew him. Mrs. D'Arcy was one of the superior women of early days, possessing all of the characteristics of the sturdy pioneers.
Peter H. D'Arcy secured his early education in the public schools and was graduated from Willamette University with the degree of Bachelor of Arts in June, 1876. His first employment here was in a printing office, which he entered April 1, 1867, and in which he worked steadily for five years. He was the first newspaper carrier in Salem, delivering the American Unionist to subscribers in 1867-68. He worked at the printer's trade during his college course and thus paid his way, also serving a short time as editor of the Salem Statesman. Among the interesting incidents of his early boyhood was the noted address of Colonel E. E Baker, at Salem, which he was fortunate enough to hear. Judge D'Arcy read law under P. L. Willis and Judge J. A. Stratton and on December 14, 1876, was admitted to the bar. He at once engaged in the practice of law and gained quick recognition as an able and industrious lawyer, building up a large and remunerative practice. For sixty-five years Judge D'Arcy has lived on lot 1, block 1, ward 1, precinct 1, and has the record of having lived longer in one place in Salem than any one else. He has been honored by several positions of responsibility, having served as clerk of the supreme court in 1878-80; as judge of the municipal court of Salem in 1884-85 and as mayor of the city in 1891-92. Judge D'Arcy has prospered in his material affairs and wisely invested in real estate, owning a number of valuable business properties in the city, including the block which bears his name.
In his political views Judge D'Arcy is independent, supporting the men and policies which in his judgment are most conducive to the public welfare. He has been actively interested in matters of great importance and has been effective and influential in advancing the general interests of his community and state. He was president of the Oregon Pioneer Association in 1910 and for the past twenty years has been president of the Champoeg Memorial Association, while during the past fifteen years he has been responsible for the erection of the memorial building at Champoeg, for which he secured state appropriations. He and eleven other gentlemen bought twelve acres of land, after which they secured reimbursement from the state and an appropriation for the erection of the building, an act which has met with the approval and commendation of the people generally. The Judge is a life member and a director of the Oregon Historical Society and is one of the noted orators of the state. He delivered a pioneer address before the Oregon Pioneer Association in 1909, and also the address at the Champoeg celebration in 1907, besides many other addresses. He was one of the original charter members of the Chamber of Commerce of Salem and served as its president in 1914. He is an honorary member of Capital Typographical Union No. 210 at Salem.
In the practice of law Judge D'Arcy has long held a foremost place, being an effective and earnest pleader; a safe and dependable counselor and loyal always to the interests of his clients. As a private citizen his support has been given in behalf of the best things in the life of the community, while in his social relations he has been kindly and tolerant, winning the respect and good will of all who have come in contact with him.
---
Submitted to the Oregon Bios. Project in December 2014 by Diana Smith. Submitter has no additional information about the person(s) or family mentioned above.
---