---
Robert Jarvis Upton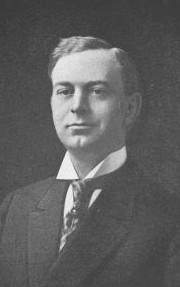 Gaston, Joseph. "Portland, Oregon Its History and Builders." Vol. 2. Chicago and Portland, S. J. Clarke Publishing Co., 1911. p. 502.
ROBERT JARVIS UPTON
Robert Jarvis Upton entered upon his professional career in Portland in 1906, immediately following his admission to the bar, and has since engaged in the practice of law here. He was born May 19, 1882, in Camden county, North Carolina, a son of John and Caroline (Jarvis) Upton. The father, who followed the occupation of farming as a life work, died in 1892.
When twelve years of age Robert J. Upton accompanied his parents on their removal to Norfolk, Virginia, where he made his home for eleven years, during which period he pursued his education in the grammar and high schools of that city and in the University of Virginia, from which, on the completion of a course in preparation for the practice of law, he was graduated with the degree of Bachelor of Law in the class of 1905.
In July of the same year Mr. Upton came to Portland and the following June entered upon the active practice of his profession, in which he has since continued as a partner of E. S. J. McAllister, under the firm style of McAllister & Upton. Although one of the younger representatives of the legal fraternity, his years seem no bar to his progress, and already he has attained a clientage and reputation which many an older practitioner might well envy. He has given close attention to his professional duties and his energy and laudable ambition prompt that careful preparation of cases which is so essential to successful practice before the courts. He is interested in various firms and corporations as an officer and director. He is a member of the Multnomah County Bar Association, the University Club and the Knights of Pythias.
Transcriber's additional notes:
This same biography also appears in the following book:
"Portland The Rose City, Pictorial and Biographical"
S. J. Clarke Publishing Co.; Various compilers; 1911
Vol. 2, Page 283
---
Submitted to the Oregon Bios. Project in November 2010 by Diana Smith. Submitter has no additional information about the person(s) or family mentioned above.