---
Rev. Robert Robe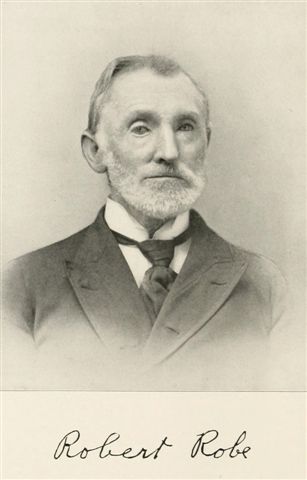 "Portrait & Biographical Record of the Willamette Valley Oregon." Chapman Publishing Company, 1903. p. 1041.
REV. ROBERT ROBE
To the missionary of the early days Oregon owes a debt of gratitude which can never be repaid. Diametrically opposed to the hundreds who staked all on the possibility of acquiring a fortune, his object in life has been the saving of souls and the building up of moral character in the rising generations. Like a benediction, his face and voice have recalled the miner, the tiller of the soil and the merchant to the teachings of his youth, and caused him to pause in the midst of his mad struggle for the smile of mammon. Thus a few honored names are associated with peace and tranquility, rather than the strife of pioneer days, and among these that of Rev. Robert Robe is one of the best known and most worthy.
That Mr. Robe should associate his ministerial labors with the Presbyterian Church was a foregone conclusion, for oil both sides of his family there were stanch adherents to the ecclesiastical rule of presbyters. His grandfather, William, was a strict churchman of Scotch ancestry, and became a very early settler at Morgantown, Va. His father, Josiah, was born in Virginia, and established his fancily in Guernsey county, Ohio, in 1809. He became a large land owner, and took ail active part in the church, was all elder therein, and reared his children to follow his worthy example. At the time of his death, oil his farm in 1845, he was seventy-five years old, and left behind him a record as a business mail and upright, influential citizen. In his youth he married Jane Frame, who was born in Pennsylvania and died in Ohio, and who was a daughter of David Frame, one of the early settlers of Ohio. Mr. Frame was an elder in the Presbyterian Church. Robert was the youngest of the three sons and five daughters born to his parents, and he was educated primarily in the public schools. In 1845, shortly after the death of his father, he entered Muskingum College at New Concord. He had previously received some training at a college in Antrim, Ohio, and in 1846 entered Washington College, at Washington, Pa., from which he was duly graduated in 1847. Returning to his home he commenced studying for the ministry, and, in the fall of 1848, entered the Western Theological Seminary at Pittsburg, the following two years being devoted to ministerial labors in the state of Ohio.
As a missionary Mr. Robe came to Oregon in 1851, crossing the plains in an ox-train, and being on the road from the first of April until the latter part of August. For three months he taught a pioneer school in the wilderness, and then, finding that Lane county had no spiritual advisor, he removed to Eugene, making that his headquarters for the whole count. He organized the first Presbyterian Church in Eugene, and was one of three to organize the Presbytery of the Willamette in 1851. This was the first presbytery north of California and west of the Rocky Mountains, and its importance in the history of the church in the state cannot be over-estimated. Rev. Robe assisted in the organization of the first synod in San Francisco, out of which grew the presbytery in the north. He has been a member ever since. During his ten years of residence in Lane county Mr. Robe accomplished a world of good, stimulating right living and gentle judging, and in a strong, forceful manner promoting the cause of education. For some time he was county superintendent of schools, and assisted in laying out the school districts of that county.
After his recall to Brownsville Mr. Robe had charge of the Brownsville Church until he was superannuated in 1895. He has since lived a practically retired life, although his interest in moral and educational promotion continues unabated. Since coming to Brownsville he has organized the church at Crawfordsville, and his voice has been heard in exhortation in many pulpits throughout the county. He is a stanch Prohibitionist, and his own life best illustrates his uncompromising belief in temperate living. At present he is a resident of Brownsville, but during certain portions of his life he has lived on a farm, and engaged in stock and grain-raising. At times his remuneration for services rendered has been small, and would have seemed entirely, inadequate to one less devoted to the cause of humanity. During the Civil war, especially, his salary was cut very low, and the prevailing high prices augmented the financial discomfort of this worker for the betterment of the world. His courageous spirit has been the wonder of all who have labored with him, and his life of self-sacrifice undoubtedly has inspired many a weary toiler in other fields.
July 18, 1854, Mr. Robe was united in marriage with Eliza A. Walker, who was born in Murray county, Ga., February 4, 1835, a daughter of William Walker, a carpenter by trade.Mr. Walker removed to Tennessee in 1841, and, in 1843, located on a farm in Missouri, his emigration to Oregon taking place by way of the plains, in 1853. After locating in Eugene he worked at his trade for many years, his death occurring in Springfield, Ore., at the age of eighty years. Eleven children have been born to Mr. and Mrs. Robe, the order of their birth being as follows: William W., residing Brownsville ; Maria J., the wife of Mr. Marsters, of this place ; Mary Bell ; Emma Annella, Ida Augusta and Robert, deceased ; Herman L.; Charles, deceased; Stella, who died in infancy, and Elbert S., a bookkeeper in the mill at Albany.
---
Submitted to the Oregon Bios. Project in July 2010 by Diana Smith. Submitter has no additional information about the person(s) or family mentioned above.