---
Thomas A. Brasfield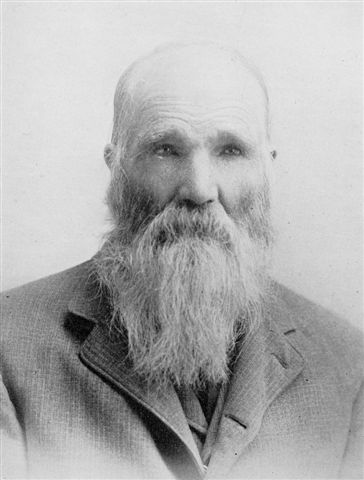 Gaston, Joseph. "The Centennial History of Oregon, 1811 - 1912." Vol. 3. Chicago, S. J. Clarke Publishing Co., 1912. p. 536.
THOMAS A. BRASFIELD
who has been closely identified with the development and improvement of eastern Oregon for more than a half century, devoted his attention to the pursuits of farming and sheep-raising throughout his active business career with great success and is now living practically retired at Baker. He owns six hundred and forty acres of improved land in Gilliam county and a tract of one hundred and sixty acres about six miles from Durkee. His birth occurred in Randolph county, Missouri, on the 3d of April, 1831, his parents being Dennis M. T. and Clarica (Williams) Brasfield, who were born in Tennessee and came of German and Welsh ancestors. Dennis M. T. Brasfield followed the pursuits of farming and stock raising throughout his active business career. Mr. Brasfield of this review has one surviving sister who is eighty-six years of age and she makes her home in California.
Thomas A. Brasfield acquired a district-school education and remained with his parents in Missouri until nineteen years of age. In the spring of 1850 he traveled overland across the plains, spending about one month in Salt Lake City, Utah, and then journeying on to Eldorado county, California, where he arrived on the 14th of October, 1850. He took up his abode at what was then commonly known as Kelsey's dry diggings, and engaged in placer mining during the following winter. In the spring he made his way to Sacramento, California, and there spent seven months. In the spring of 1852 he began farming and gardening, following those pursuits with excellent success. On the 3d of March, 1853, he began his homeward journey, returning to Missouri by water via the Nicaragua route and the Mississippi river. On his trip to California and back he had been accompanied by his brother Alexander. His brother John became ill with typhoid fever the day following his return and died nineteen days later. His mother also fell victim to that dread disease. In the spring of 1861 he again crossed the plains and, settling in Oregon, located on the present site of Echo, which was known in earlier days as old Fort Henrietta. There he engaged in farming and stock-raising. The winter of 1861-62 was a very severe one and from sixty-five to seventy-five per cent of the cattle perished during its course. Mr. Brasfield also conducted a roadhouse or station for the accommodation of the traveling public at what was called The Crossing, en route from Echo to Walla Walla. He took up his abode there in July, 1867, but a year later removed to Scio, Linn county, where he remained for five years. On the expiration of that period he went to Weston and was there engaged in sheep-raising for eighteen years. During the following fourteen years he made his home in Gilliam county, devoting his time and energies to the sheep business with excellent results. In the spring of 1900 he came to Baker county, where he has since been engaged in farming and sheep raising to some extent, though now living practically retired at Baker. During his forty years' experience as a sheep raiser be has enjoyed gratifying success and has found it most profitable to run about fifteen hundred head of ewes in one band, often having as many as seven thousand head of sheep at one time, while at present he runs about six thousand head. He has learned that a good sheep for mutton of coarse grade is the most profitable and has raised all kinds of coarse-grade sheep, making a specialty of Southdown, Shropshire and Lincoln. These grades of sheep are all excellent for mutton and also good wool producers. Mr. Brasfield has found the fine-wool sheep more delicate and more difficult to raise than mutton sheep. It is his conviction that when a sheep's mouth begins to break the animal should be disposed of, as it can no longer be kept with profit. He has always endeavored to winter his sheep with about three months' feed, preferably good alfalfa, for which he pays from five to six dollars a ton in the stack. He has generally purchased enough hay to supply the need of a long winter and has thus always had plenty of feed even when the cold season was unusually lengthy. He owns six hundred and forty acres of wheat land in Gilliam county and also has a tract of one hundred and sixty acres of good farming land about six miles from Durkee, in Baker county. Mr. Brasfield likewise owns his residence in Baker and has practically retired from active work, spending the evening of life in well earned rest, in the congenial companionship of his wife and younger grandchildren. His sons also reside in the same locality.
On the 16th of March, 1860, Mr. Brasfield was united in marriage to Miss Matilda C. Williams, her father being Aaron Williams of Schuyler county, Missouri, who was engaged in the hotel business at Kirksville, that state. Their wedding was celebrated in Schuyler county, Missouri, and seven children were born unto them. John Silas, who is now fifty-seven years of age, married Miss Sivila Hale, of Rye Valley, Oregon, by whom he has three children. Anna Isabel, fifty-four years of age, has been twice married, her first husband being Albert O'Hara. Following his demise she gave her hand in marriage to A. M. Tegarden, of Spokane, Washington. James McClellan, who is now fifty-one years old, is engaged in the sheep business in Baker county, Oregon. Aaron Brasfield and his wife are both deceased. Their three children have been reared by our subject and his wife, Mary, now forty-six years of age, is the wife of William A. Baker and resides in Baker, Oregon. William, who is living in Eugene at the age of forty-four years, married Miss Gussie Drake. George W., forty-one years of age, wedded Miss Frankie A. Puffer, who passed away leaving two small children who are also being reared by Mr. and Mrs. Thomas Brasfield. The three children of Aaron Brasfield, deceased, are as follows: Robert A., born in January, 1893, who attended school in Baker for about five years and is now in Idaho; Raymond, who was born in February, 1894, attended school for about six years and is now a resident of Idaho; and Edith M., who was born on the 23d of October, 1898, and is still attending school. The children of George W. Brasfield are as follows: George Wilbur, who was born on the 31st of March, 1905, and has attended school for one term; and Raymond Langdon, whose birth occurred on the 26th of March, 1907.
Thomas A. Brasfield gives his political allegiance to the socialist party. He served as sheriff of Wasco county, Oregon, for one term, during the years 1863 and 1864, at which time that county embraced all of eastern Oregon. Since 1856, or for a period of fifty-six years, he has been a member of the Methodist Episcopal church and has exemplified its teachings in his daily life. He has now passed the eighty-first milestone on life's journey and may well look back with satisfaction upon an active, useful and honorable career.
****************
Submitted to the Oregon Bios. Project in November 2007 by Diana Smith. Submitter has no additional information about the person(s) or family mentioned above.
---