---
Thomas A. McBride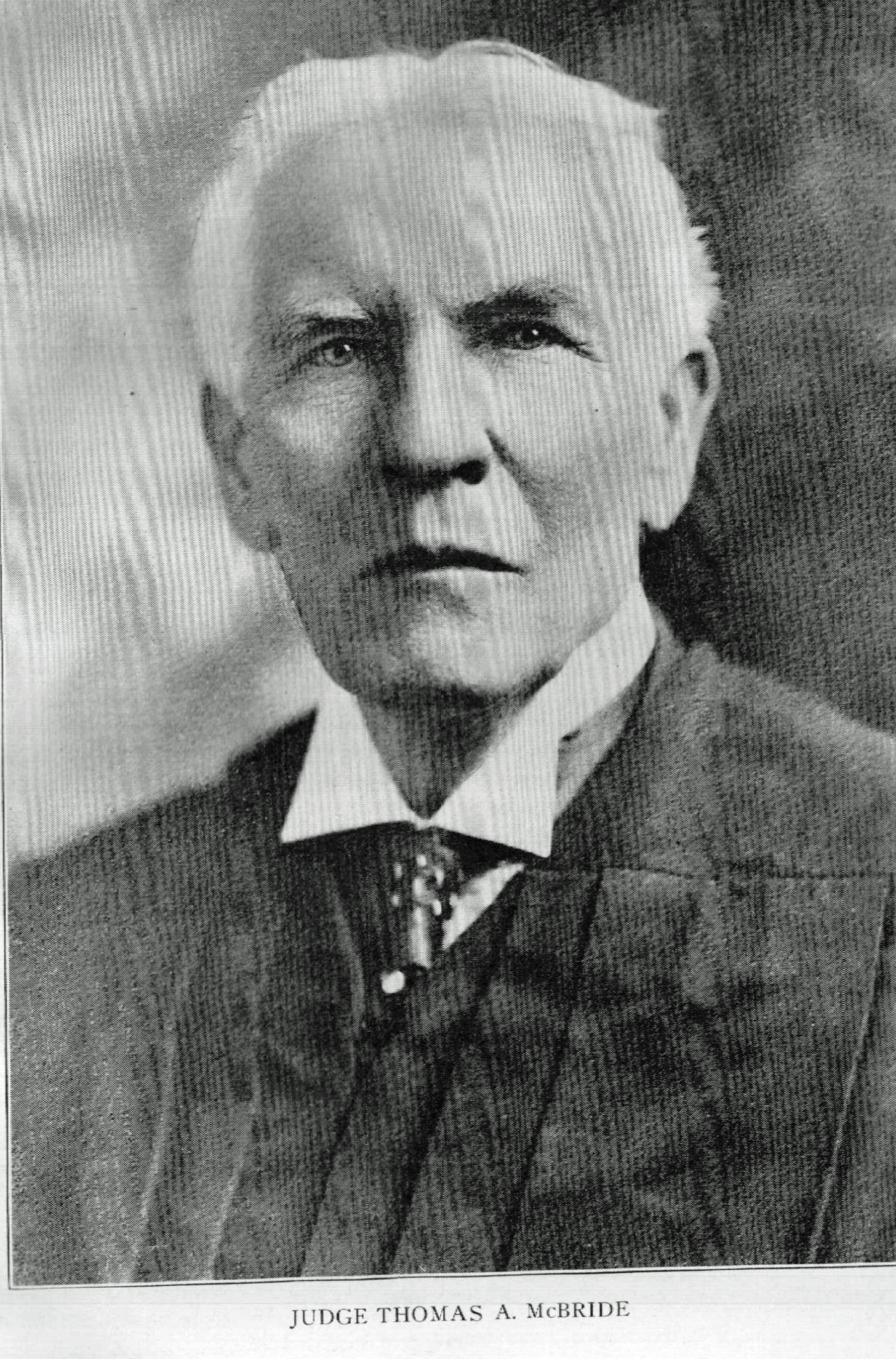 (Click on photo to view enlargement)
Clark, Robert Carlton, Ph.D. "History of the Willamette Valley Oregon." Vol. 2. Chicago: Chapman Publishing Company, 1927. p. 10
JUDGE THOMAS A. MCBRIDE
Thomas A. McBride, who for eighteen years has rendered distinctive public service on the bench of the state supreme court, is a member of one of the old pioneer families of Oregon, established here more than eighty years, and its members have been conspicuous in public affairs. To Judge McBride also belongs the distinction of being the oldest lawyer in point of years of continuous service in Oregon, and he has honored his state and dignified his profession by his life and achievements. Born in Yamhill county, Oregon, on the 15th day of November, 1847, he is a son of James and Mahala (Miller) McBride, the former born in Tennessee in 1801, while the latter was a native of St. Charles, Missouri. His paternal ancestors were from the north of Ireland and came to this country about 1760, and James McBride, great-grandfather of the Judge, was a soldier in the war of the Revolution, being a lieutenant in the Virginia Regulars. His wife was a sister of the mother of President Andrew Jackson. Their son was born in Tennessee and became one of the early ministers of the Christian church, assisting in the organization of that denomination in conjunction with Alexander Campbell and Barton W. Stone. The maternal grandfather of Judge McBride was Philip Miller, a native of Pennsylvania, from which state he went in an early day to Missouri.
James McBride crossed the plains in 1846 and took up a donation claim in Yamhill county, Oregon, where he engaged in farming until late in life, when he retired and moved to St. Helens, Columbia county, where he spent his remaining years, his death occurring in 1875. He was a physician by profession, being the third physician to locate in Oregon and the first in Yamhill county. His practice necessarily covered a wide radius and it was not uncommon for him to ride horseback one hundred miles to see a patient. He was also an elder and minister of the Christian church, was the first superintendent of public instruction of the state of Oregon and was appointed by President Lincoln minister to the Hawaiian islands, but resigned that position after a short service and returned to St. Helens.
Thomas A. McBride attended the public schools and read law in Vancouver, Washington, after which he entered McMinnville College, in Yamhill county, which institution conferred upon him the honorary degree of Doctor of Laws in 1916. While still attending college he taught school, and on October 6, 1870, at Salem, was admitted to the bar. He engaged in the practice of his profession at Lafayette, Oregon, later at St. Helens and then at Oregon City, where he remained until 1878, when he went to Salt Lake City, Utah, where he practiced two years. On his return he located in Oregon City and entered into a law partnership with Edward L. East ham, with whom he was associated six years, subsequently becoming a law partner of A. S. Dresser, with whom he continued until 1892. In 1882 Governor Moody appointed him district attorney of the fifth judicial district, in which office he was retained by successive reelections until 1892, when he became judge of the circuit court of the fifth district, remaining on that bench for seventeen years, or until May 1, 1909, when Governor Benson appointed him an associate justice of the state supreme court, where he has served continuously to the present time, and during which period he has five times been chief justice. Judge McBride possesses to an eminent degree the essential requirements of the successful jurist, namely, integrity of character, the acumen of the judicial temperament, the ability to divest himself entirely of prejudice, and an untiring determination always to completely understand every phase of the questions submitted to the court, many of the most important decisions of the supreme court bearing the impress of his patient investigation and his logical deductions.
On February 7, 1875, in Columbia county, Judge McBride was united in marriage to Miss Mary E. Merrill, who was born in Deer Island, this state, and was a daughter of George and Ann Merrill, who came to Oregon in 1845 and located in Columbia county, where Mr. Merrill served many years as county clerk. Mrs. McBride died in August, 1925, leaving two children, George M., who is chief clerk in the internal revenue department at Portland, was married to Miss Ethlene Mason, and they have a daughter, Mildred, who is the wife of W. H. Herndon, of Long View, Washington, to which union has been born a son, Allen K. The daughter, May, is the widow of F. A. Newton. On April 8, 1927, in Portland, fudge McBride was married to Mrs. Lottie May Chappelle, who for twenty years had been a clerk in the registry division of the Portland post office. She is a native of Wisconsin and prior to coming to Portland had taught in the public schools of Goldendale and Vancouver, Washington.
Judge McBride has always been aligned with the republican party and in 1876 was elected a member of the state legislature. His religious faith is that of tin-Christian church and he is a member of the Ancient Free and Accepted Masons, in which he is a past master; the Ancient Accepted Scottish Rite, the Ancient Arabic Order of Nobles of the Mystic Shrine and the Benevolent Protective Order of Elks. He maintains professional affiliation with the Oregon State Bar Association and the American Bar Association. Kindly and courteous in manner and cordial in his friendships, he has a wide acquaintance throughout the state and commands the sincere respect and admiration of his fellowmen.
---
Submitted to the Oregon Bios. Project in December 2014 by Diana Smith. Submitter has no additional information about the person(s) or family mentioned above.
---