---
Thomas Devereux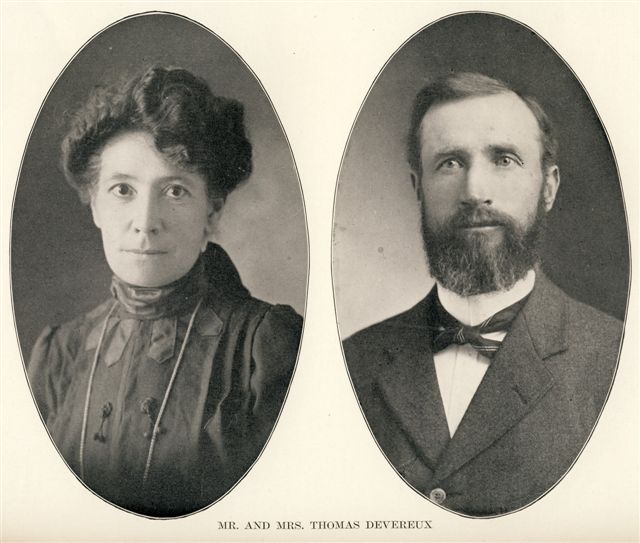 Gaston, Joseph. "The Centennial History of Oregon, 1811-1912." Vol. 4. Chicago, Clarke Publishing Co., 1912. p. 280.
THOMAS DEVEREUX
is one of the most important general farmers, dairymen and stock-raisers in Coos county. He is wealthy and successful, and prosperity has come to him by his own efforts as a natural result of energy well directed, and continuous labor. He was born in Ireland on September 14, 1851, and is a son of Michael and Ellen (Hickey) Devereux, natives of the Emerald isle. He is one of a family of eleven children born to his parents: Peter, who died in 1912 in Ireland; Paul, a twin of the former, of Ireland; Michael, who has also passed away; Maria, who is residing in her native country; John, Phillip and John, the second of the name, all of whom are deceased; Thomas, the subject of this sketch; Bridget, the wife of Michael Tobin of Ireland; Margaret, who married Edward Morrisey, and who also resides in Ireland; and Phillip, the second of this name, who has passed away.
Thomas Devereux was educated in his native country and was reared upon his father's farm. Before he was eighteen years of age he left home and came immediately to America settling in Humboldt county, California, where he worked as a farm hand for five years during which time he had two employers. He saved his money and was soon able to purchase ninety acres of land which be developed and improved for two years. At the end of that time he became identified with lumber work in the redwood camps and for thirteen years he was successful in this line of occupation. He came to Oregon immediately after his marriage and settled in Coos county where he purchased one hundred and eighty acres of land four miles from Coquille. The property was then in a raw condition and Mr. Devereux was obliged to clear the timber. He is responsible for all the improvements which were made upon the land and which finally resulted in making it one of the attractive and important farms in the section. Here he lived until 1900 in which year he disposed of his holdings and purchased two hundred acres near Parkersburg. This place was also unimproved and Mr. Devereux with the help of his sons began the work of development. He cleared the timber, erected fine barns and outbuildings and has it now in an excellent condition. He engages in general farming but specializes in dairying and stock-raising, both of which enterprises form an important source of income to him, as his cattle and dairy products find a ready sale in the Oregon markets.
Aside from the farm upon which he resides Mr. Devereux owns also one hundred and sixty-eight acres of timber land near Myrtle Point, Oregon, and is interested in town property in Bandon. He owns the postoffice building and also a large amount of residence property. Moreover, he was one of the organizers of the First National Bank of Bandon and has been one of its directors ever since it was incorporated.
In 1886 Mr. Devereux married Miss Mary Larkin, a native of Ireland who came to Humboldt county, California, with her parents when she was two years of age. She is one of a family of two children, her brother, Michael, being a resident of Eureka, California. Her father is living and makes his home in San Francisco. To Mr. and Mrs., Devereux have been born eleven children: Mary Ella, who resides in Portland; John, a resident of Bandon; Thomas, who resides with his parents; Margaret, also a resident of Portland; Henry, who makes his home with his parents; and James, Teresa, Lena, Phillip, David and Loretta, all of whom are attending school.
In his political affiliations Mr. Devereux is a consistent democrat and is always ready to do his duty in a public way. He is interested in education and has been school director for a number of years and is now serving as school clerk. For some time he did able and constructive work as road superintendent. While he recognizes his obligations as a citizen Mr. Devereux has never sought public office and prefers to concentrate his attention upon his agricultural pursuits. He is a member of the Roman Catholic church and affiliates with the Woodmen of the World. He is a self-made man and perhaps because of this has a thorough knowledge of values. Citizenship means something to him and success while important and valuable is kept entirely secondary to the qualities, standards and methods which promote it.
Transcriber's additional notes
Census Indexing:
DEVERAUX THOMAS 21 M W IREL CA HUMBOLDT TABLE BLUFF TWP 1870 (with Peter)
DEVERAUX THOMAS 28 W IREL CA HUMBOLDT EUREKA 1880 (June 8)
DEVERAUX THOMAS 29 W IREL CA HUMBOLDT TABLE BLUFF 1880 (June 25)
DEVEREUX THOMAS 49 M W IREL OR COOS NORWAY PCT 1900
DEVEREUX THOMAS 58 M W IREL OR COOS PARKERSBURG 1910
DEVEREUX THOMAS 68 M W IREL OR COOS PARKERSBURG PCT 1920
OR Death Index:
Thomas Devereux; March 2, 1922; Coos Co. cert. # 53
Thomas Austin Devereux; March 15, 1919; Coos Co. cert #53
---
Submitted to the Oregon Bios. Project in October 2007 by Diana Smith. Submitter has no additional information about the person(s) or family mentioned above.