---
William H. Byrd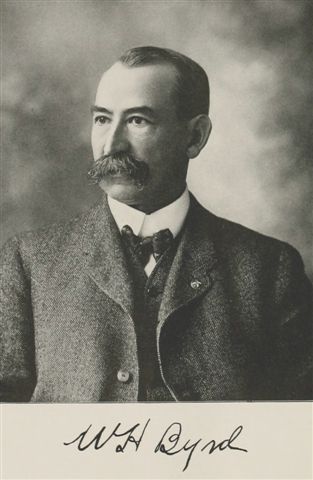 "Portrait & Biographical Record of the Willamette Valley Oregon." Chapman Publishing Company, 1903. p. 297.
WILLIAM H. BYRD
The family of which William H. Byrd, M. D., of Salem, is a distinguished representative is one of the oldest and most favorably known throughout the Willamette valley. His father, Lorenzo A. Byrd, who is still living in Salem at the advanced age of eighty-one years, is a striking type of the best class of sturdy pioneers who braved the dangers and hardships of the plains more than half a century ago in order to assist in the foundation of a new commonwealth in a region whose natural wealth was, in those early days, little more than conjectural. The family was founded by him in the northwest in 1847, and since that year the unusual versatility and adaptability of its members to environment have been demonstrated in various ways. With descendants who have taken a high position in professional, educational, mercantile and agricultural circles, this honored pioneer must view with a great degree of satisfaction the happy augury which led his ambitious young steps toward the greater possibilities of the northwest, and inspired little to earnest and upright endeavor.
William H. Byrd, the eldest son in the family of Lorenzo A. and Martha (Savage) Byrd, was born near Fairfield, Marion county, Ore., October 31, 1854, was reared on his father's farm, and received his classical education in the public schools of Fairfield and Salem. Upon reaching young manhood he engaged in teaching school, at the same time beginning the study, of medicine under the direction of Dr. J. C. Shelton of Salem. In 1880 he matriculated in Cooper Medical College, in San Francisco, but the following year entered the medical department of Willamette University, from which he was graduated with the class of 1881. Opening an office in that year, he has since been engaged in the practice of his profession uninterruptedly, with the exception of the winter of 1890-91, when he took a course in surgery in the New York Post-Graduate Medical College. His practice has assumed large proportions and has been attended by exceptional success.
For several years Dr. Byrd has been local surgeon for the Southern Pacific Company. When Willamette University established its medical department in Salem, in 1896, he was chosen professor of surgery, and one rear later was made dean of the faculty, a post which he has continued to fill to the present time. Since 1896 he has also served on the staff of the Salem Hospital, which was established in that Year. In the line of his profession he is identified with the Marion County Medical Society, the Oregon State Medical Society, the American Medical Association, and the International Association of Railway Surgeons.
In Salem, in 1882, Dr. Byrd was united in marriage with Teresa Holderness, a native of Oregon. She died in Salem in 1886, leaving a daughter, Winifred M., now a student in the Boston Conservatory of Music. In 1890 he married Margaret J. Macrum, a native of Pennsylvania, and a daughter of I. A. Macrum, deceased, of Forest Grove. Mrs. Byrd is a graduate of the Pacific University, and a lady of many graces of mind and character. Dr. and Mrs. Byrd are the parents of two children, Clarence M. and Donald W.
In politics Dr. Byrd is a Democrat. For several terms he has been a member of the Salem Board of Education, and has also served in the city council. Fraternally he is identified with the Masons, being a member of Pacific Lodge No. 50, A F. & A. M., Multnomah Chapter No. 1. R. A. M., DeMolay Commandery, Al Kader Temple, N. M. S., of Portland; and has taken all the Scottish Rite degrees up to and including the thirty-second. He is also connected with the Independent Order of Odd Fellows, in which he is past noble grand: and the Benevolent Protective Order of Elks of Salem, in which he has been exalted ruler.
Genial in disposition, optimistic in temperament, and an erudite scholar, Dr. Byrd commands the attention and good will of the community in which he dwells. By his contemporaries he is regarded as the peer of the most noted physicians and surgeons of Oregon. A well-trained and inquiring mind has resulted in the accumulation of a vast store of the knowledge disseminated by the greatest masters of medical and surgical science; and to this he has added through his own personal investigations, directed along special lines which have appealed to him as worthy of profound study. By the laity he is highly regarded for the many splendid traits in his character which have become so conspicuous during his professional career in Salem.
*******************
Submitted to the Oregon Bios. Project in September 2010 by Diana Smith. Submitter has no additional information about the person(s) or family mentioned above.
---