Andrew Laidlaw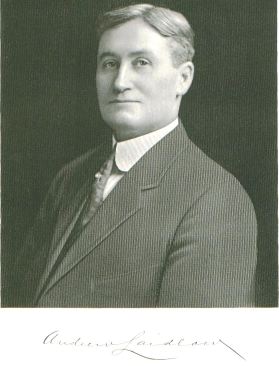 (Click on picture to view larger image)
"Spokane and The Spokane Country - Pictorial and Biographical - Deluxe Supplement." Vol. II. The S.J. Clarke Publishing Company, 1912. (No author listed.) pgs. 30-32.
Various corporate interests claim the attention and profit by the cooperation of Andrew Laidlaw, who is operating extensively in the coal lands of the northwest, being financially interested in many of the leading mines of this section. In developing the natural resources of the district, he is also contributing to the permanent upbuilding of the country which always has its root in business activity.
He was born upon a farm near Drumbo, Ontario, Canada, March 2, 1864, and following his father's death, which occurred ten years later, accompanied the family on their removal to Wookstock, Oxford county, Ontario, where he acquired a common and high school education. When his text-books were put aside, he turned his attention to the printing business, learning the trade, and at the age of twenty-one, he was business manager and part owner of the leading newspaper of Woodstock. He thus early showed forth the elemental strength of his character and called into activity the salient energies and possibilities of his nature. He remained in Woodstock until 1892, when he disposed of his interest in the printing business to his partner and removed to Galt, Ontario, where he purchased the leading newspaper of that town, and soon afterward began the publication of the first daily paper in the city of Galt. All this time he was becoming more and more widely acquainted with the country and its possibilities, and after six years, decided to try his fortune in the west. Since 1898 he has resided continuously in Spokane. Prior to his arrival he had conducted a brokerage business in Rossland stocks, and upon coming to this city, he again entered the brokerage field. Mr. Laidlaw, while thus operating, went east and raised capital to the amount of about two hundred and fifty thousand dollars in order to acquire a number of copper properties in the Boundary country near Greenwood and Phoenix, British Columbia, and he erected the standard prytic smelter at Boundary Falls, British Columbia, now owned by the Dominion Copper Company. While promoting this enterprise, Mr. Laidlaw was in Greenwood for the greater part of a year or more. He became interested in coal lands in the Crow's Nest district in British Columbia in 1902, and has been actively interested in coal lands and coal stocks since that time, his holdings in British Columbia and Alberta coal properties now being very large. Among the different companies with which he is connected, are the following: Jasper Park Collieries, Limited; Coal Securities, Limited; Royal Collieries, Limited; Oyster Harbor Collieries, Limited; Galbraith Coal Company, Limited; Durham Collieries, Limited; Colfax Coal & Coke Company; People's Coal Company, Limited; The Alberta Coal & Coke Company; and Princeton Collieries, Limited. Mr. Laidlaw is the secretary and treasurer of the Imperial Investment Company of Spokane, the ownership of which he shares with Mrs. Laidlaw, and is the principal owner of the Clay Products Company of Spokane.
In 1889 Andrew Laidlaw was married at Hamilton, Ontario, to Miss Clara Laird, and they have two daughters, Ellenore and Phyllis. Theirs is a home of culture, furnished with everything that wealth can secure, and refined taste suggests. It is said that every man has a hobby, and if this is so, Mr. Laidlaw's is horses, for he has a great admiration for horses and in his stables he has some of the finest heavy harness and saddle horses in America. Such a record as Mr. Laidlaw has made, needs little comment. Without special family or pecuniary advantages at the outset of his career, he has made continuous progress, his success being attributable largely to the fact that he has thoroughly mastered everything that he has undertaken and has thus been equipped for further progress. He has never studied any question from but one standpoint, and has thus been enabled to base his opinions upon clear understanding, taking into consideration possibilities as well as existing conditions. Sound judgment has been the basis of his profitable investments, making his name a conspicuous one in mining circles in the northwest.
Submitted by: Nancy Pratt Melton
* * * * Notice: These biographies were transcribed for the Washington Biographies Project. Unless otherwise stated, no further information is available on the individuals featured in the biographies.
---