Christopher C. Dempsey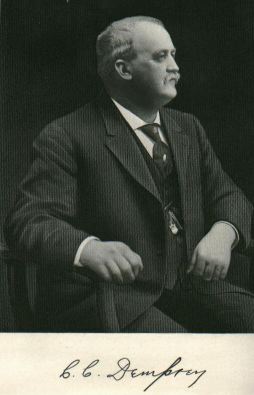 (Click on picture to view larger image)
"Spokane and The Spokane Country - Pictorial and Biographical - Deluxe Supplement." Vol. II. The S.J. Clarke Publishing Company, 1912. (No author listed.) pgs. 194-196.
CHRISTOPHER C. DEMPSEY, who is the owner and proprietor of Hotel Dempsey, located at 407 Front street is well known in the business circles of the city as a man whose business judgment is demonstrated in the success which has attended his efforts. He is a western man by inclination and training and is imbued with the progressive spirit which has been a prominent factor in the building up of the northwest. His birth occurred in Dodge county, Wisconsin, on the 28th of December, 1858, his parents being Connor and Mary (Duffy) Dempsey, the former of whom passed away in 1868, while the latter died in Spokane, July 5, 1911, at the venerable age of eighty-two years. The father was a prominent agriculturist of Wisconsin and for fifteen years was chairman of the town board. During the gold excitement in the far west he made a trip to California, leaving in 1852, but two years later he returned to Wisconsin and again devoted his time to the development of the farm which he owned.
Christopher C. Dempsey was educated in the public schools of Wisconsin, but during the summer months he was actively engaged in assisting his mother in the cultivation of the home farm. When he was twenty-four years of age he desired to make his own way in the world, but before entering definitely upon any career wished to see something of the world. He spent a short time in Chicago before going to Louisiana, where he remained before going to the Pan-handle of Texas, where for two years he worked at surveying. Subsequently he went to Denver where he conducted a restaurant for one year, but in the fall of 1888 he came to Spokane and has since been one of the active promoters of various business undertakings in this city. His first enterprise in this city was engaging in the restaurant business on Post street near the Pacific Hotel. Fortune favored him, however, and just before the fire of 1889 he disposed of this prop-erty, which otherwise would have been destroyed and been a serious loss to him financially. After the fire he started another restaurant on Bernard street which he conducted for a year, when he removed to Howard and Main streets, and there staved in business until he was elected sheriff in 1896. At the completion of his term of office in 1898, he engaged in the livery business for one year until January, 1900, at which time he disposed of his business and assumed the management of Hotel Dempsey, which was situated at the corner of Main and Stevens streets. He occupied that location until 1905, when he erected the building which is now known as the Hotel Demp-sey. It is a substantial three-story and basement brick building, cov-ering a ground plan of sixty by one hundred and forty-two feet. It contains ample accommodations for many guests, having one hun-dred and twenty sleeping rooms. Mr. Dempsey has many of the salient characteristics necessary for the successful hotel manager- geniality, courtesy and consideration for the rights of others.
On the 26th of September, 1889, Mr. Dempsey was married at Union, Oregon, to Miss Mary Ellen Lincoln, a daughter of Mr. and Mrs. David Lincoln of Missouri. To their union five children have been born: Mary Ellen, whose birth occurred on the 19th of December, 1890, and who is a graduate of the Holy Name Academy, graduating in the department of vocal music; Josephine, who was born on the 18th of October, 1892, and who, since her graduation from Holy Name Academy has been teaching school in Montana; James P., whose birth occurred on the 2d of June, 1895, and who is a student in Gonzaga College; Robert J., born February 2, 1898; and Lucille K., whose birth occurred on the 23d of December, 1903.
Mr. Dempsey is among the faithful and more prominent attendants at St. Aloysius Roman Catholic church. He is a life member of Spokane Lodge, No. 228, Benevolent Protective Order of Elks, and of the Chamber of Commerce, in whose objects for promotion he takes a deep interest. Although he gives his hotel the advantages of his personal management and careful supervision he nevertheless takes great pleasure in the society of his family and in the home life for which his modern residence at East 928 Sinto avenue is admirably adapted.
Submitted by: Nancy Pratt Melton
* * * * Notice: These biographies were transcribed for the Washington Biographies Project. Unless otherwise stated, no further information is available on the individuals featured in the biographies.
---