CALVIN HENRY HALE
Born: 1818 in Norridgewock, Maine

Died: 1887 in Olympia, Washington Territory

A master seaman and boat builder in Maine, Calvin Henry Hale chose a nautical route to Oregon Territory.

In 1851, Calvin, his wife and their three young children boarded a ship that took them around Cape Horn to Olympia, where he acquired a 320-acre donation land claim on the northeast side of present-day Olympia.

Calvin had been a legislator in Maine and he quickly assumed civic duties in his new home. He attended the Monticello Convention in 1852 and served in the first territorial legislature. Later he was in the House and Senate.

As superintendent of Indian affairs for Washington and Idaho territories under President Abraham Lincoln, Calvin negotiated the Treaty of 1863 that significantly reduced the size of the Nez Perce Indian Reservation.

Calvin was sent to Lapwai, near present-day Lewiston, Idaho, to amend the Treaty of 1855, which gave seven million acres in Idaho, Washington and Oregon to the Nez Perce.

When Calvin arrived for the talks on May 11, 1863, six companies of U.S. Army soldiers were at a nearby fort to strengthen his hand. His mission was prompted by the discovery of gold on Nez Perce land in 1860. Thousands of miners, merchants and settlers overran large parts of the reservation, disregarding the 1855 Treaty.

The governmentıs solution was to reduce the reservation and Calvin accomplished that even though Old Chief Joseph of the Nez Perce and other Indian leaders left the talks in anger. Some chiefs did sign the 1863 Treaty, which Congress ratified in 1867. It cut the Nez Perce reservation to 700,000 acres. Calvin had other public roles over the years. He was a local school board member, county coroner and city councilman. He believed in education and helped create the Puget Sound Wesleyan Institute and served on the first Board of Regents for the University of Washington.

As a businessman, Calvin formed a franchise called the Washington Water Pipe Manufacturing Company, which laid wooden pipes for the first water system in Olympia; some were still carrying water in the 1980s. He also was also a partner in a downtown Olympia mercantile.

At home, Calvin cared for his wife, Waitstill, who was bedridden during the last six years of her life after injuring her spine in a fall. A few years after Waitstill died, Calvin married Pamela Case, who was a school teacher and Thurston County superintendent of public schools.

They built a house on the northeast side of Tullis Street in Olympia. Their home, now known as the "Hale Residence", is listed on the National Registry of Historic Places.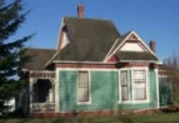 In 1880, Calvin hiked from Fort Hope on the Frazier River down the Skagit River, seeking gold and wrote about his exploits for the local newspaper.
The author is Arvilla Corey of Deming, Washington. Her husband, Lonnie Wayne Corey, is descendant of Calvin H. Hale.
Contributed by Junel Davidsen on 5 May 2003.
---
[Monticello Convention Commemoration] [WABios Project]