Charles Jasper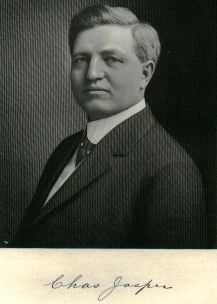 (Click on picture to view larger image)
"Spokane and The Spokane Country - Pictorial and Biographical - Deluxe Supplement." Vol. II. The S.J. Clarke Publishing Company, 1912. (No author listed.) pgs. 224-226.
DENMARK has furnished a valuable class of citizens to the new world. They have brought with them from the old country the unremitting energy and perseverance characteristic to that nationality, and in a great majority of cases have attained success in the management of varied business affairs. To this class belongs Charles Jasper, who is now engaged in the general contracting business and has offices in the Peyton building. He came to America in 1882 when a young man of but seventeen years, his birth having occurred in Denmark in 1865. His parents were Peter and Maren (Jensen) Jesperson.
On the home farm in Denmark Charles Jasper spent the days of his boyhood and youth and attended the common schools. From time to time he heard interesting reports concerning America, its business conditions and its opportunities, and at length these proved to him an irresistible attraction, and leaving behind him his parents, brothers and sisters he departed for Hamilton, Ontario. For three years he resided in that city and worked as a cabinet-maker, but in 1885 removed to the United States, settling first at Grand Forks, North Dakota and engaging in the carpenter's and builder's business. He was thus engaged for three years before coming to Spokane in 1888 and started at once in the general contracting business. He had previously learned the rudiments of the building science, and having ambition and courage, after arriving in this city he directed his attention almost entirely to the erection of large buildings in Spokane and adjoining cities. The first building he erected was the Concordia Hall, which was located at the corner of Second and Jefferson streets but which has since been destroyed by fire. This of work showed his ability to the prospective builders of Spokane, and from that time he has always enjoyed a large patronage. He has since erected many prominent buildings, the most recent of which is the Eiler building at the corner of Sprague avenue and Post street. In Lewiston he built the Weisgerber building and Weisgerber brewery, and at Tekoa he erected the Sisters Academy. Among the forty or fifty buildings which he has erected in Spokane the Western Union Life building stands out prominently as one of his best pieces of work, while others are the White Hotel, the Jones & Pettit building, the John W. Graham building, the Spokane & Eastern Trust Company's building and the Pantages Theater building.
In 1906 Mr. Jasper was married to Miss Emily F. Brown, a daughter of George W. and Mary (Knittle) Brown, of Port Carbon, Pennsylvania, and a granddaughter of Dr. G. W. Brown, a well known physician of Schuylkill county, Pennsylvania. Mrs. Jasper is an accomplished dramatic reader, and is well known in that respect to the public in Spokane, where she has frequently given recitals which attest her unusual ability. Mr. and Mrs. Jasper reside in an artistic home at South 919 Adams street, where, because of their hospitality and high social qualities, they receive many friends. Mr. Jasper has now been a citizen of the United States for thirty years and he never feels he has any reason to regret his determination to leave his father's valuable and well developed farm in Denmark to seek his fortune on this side of the Atlantic, for he has here met with remarkable success in his business and has made many friends whose regard and companionship make life pleasant for him.
Submitted by: Nancy Pratt Melton
* * * * Notice: These biographies were transcribed for the Washington Biographies Project. Unless otherwise stated, no further information is available on the individuals featured in the biographies.
---