Charles Ottmar Roedel
Lyman, W. D. "An Illustrated History of Walla Walla County, State of Washington." W. H. Lever, Publisher, 1901. p. 302.
CHARLES OTTMAR ROEDEL
cabinet-maker at 209 E. Alder street, a pioneer of 1882, was born in Bavaria December 26, 1856. He resided in his fatherland continuously until about twenty-six years of age, receiving a common and high-school education, also learning the trade of a cabinet-maker. In 1880 he emigrated to the United States. Locating at Louisville, Kentucky, he followed his trade there for a year, but he afterwards went to Denver, Colorado, and embarked in the furniture business. He sold out nine months later, and began an extensive tour in the search for a location, visiting Las Vegas, New Mexico, El Paso, Texas, Santa Fe, New Mexico, Tucson, Arizona, Fort Yuma and Los Angeles, California, and other points. In 1882 he ended his journeyings in Walla Walla, where for the ensuing three years he worked as a journey-man.
Mr. Roedel next tried the dairy business in Colville, Washington, for six months, then worked in a chair factory at Dayton for a year, then worked about seven months in San Francisco, finally returning to Walla Walla, where his home has since been. He has followed cabinet-making constantly, and has the skill which we would naturally expect to find in one who has devoted the assiduous efforts of many years to the pursuit of one calling. He is doing business at present in company with Mr. Keller, he being the senior partner of the firm.
Fraternally Mr. Roedel is identified with the Knights of Pythias, the Royal Highlanders and the German Maennerchor. In religious persuasion he is a Lutheran. He was married in Spokane, on November 4, 1890, to Miss Christina Leupold, a native of Bavaria, and they have five children, Elfrieda, Roselinda, Ottmar, Carl and Louis. Mr. Roedel is the owner of some valuable city property, and of a fine farm of one hundred and sixty acres, which he took as a homestead.
---
Submitted to the Washington Bios. Project in November 2007 by Diana Smith. Submitter has no additional information about the person(s) or family mentioned above.
---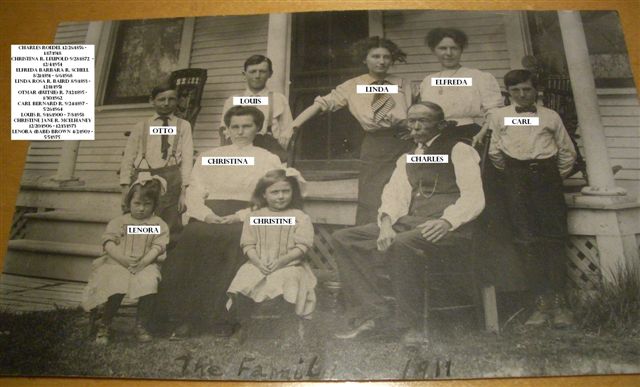 (This photo of the Roedel Family was submitted by Roger McElhaney, grandson of Charles and Christiana Roedel.
Please contact Roger at for more information on the Roedels.)
---