Edward Herbert Jamieson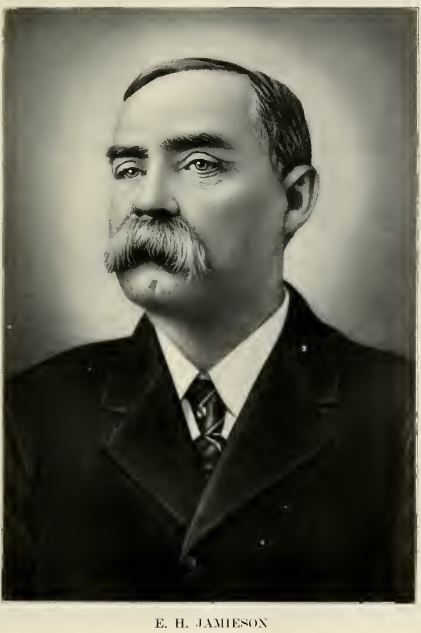 Durham, N. N. "Spokane and the Inland Empire; History of the City of Spokane and Spokane County Washington." Vol. 2. S. J. Clarke Publishing Co., 1912.
EDWARD HERBERT JAMIESON
The history and development of a city depends upon its progressive merchants, manufacturers and professional men - those who capably control important business interests and at the same time cooperate in the upbuilding and benefit of the city at large. Of this class Edward Herbert Jamieson was a representative. He ranked with the foremost business men of Spokane, was also classed with its publicspirited citizens and his investigation and research along various lines also won for him qualification with the scientists of the northwest. There was much of interest in his life record which began at Ambala, in the British East Indies, January 12, 1852, and closed at Spokane on the 21st of December, 1909. His parents were Jesse Mitchell and Elizabeth (McClary) Jamieson. On his father's side he was of Scotch and on his mother's of Scotch-Irish lineage. The former was sent as a Presbyterian missionary to India and after twenty-five years devoted to preaching the gospel to the people of that district he brought his family to the United States, establishing his home in Monmouth, Illinois, in 1863. There he accepted the pastorate of the First Presbyterian church and continued active in the ministry for a long period.
While the family were residents of Monmouth, Edward Herbert Jamieson pursued his education there in the public schools and in Monmouth College, from which he was graduated with the B. A. degree in 1871, while three years later he received from his alma mater the Master of Arts degree. After his college days were over he spent some time in teaching school and was for several years principal of the high school in Keithsburg, Illinois. His early identification with business interests on the Pacific coast was in the capacity of educator, his first position being that of principal of the high school at San Jose, California. In the meantime he took up the study of law which he pursued in a thorough and systematic manner until admitted to the bar upon examination before the supreme court at San Francisco. In 1882 he removed to Spokane, the town, then in its infancy, containing only a small population yet having in its situation and natural resources the elements of its future greatness. He remained a resident of Spokane until called to his final rest, and during the early years of his residence here engaged in the practice of law. However, business interests gradually claimed his time and attention. He recognized and utilized the opportunities for judicious investment in property and eventually putting aside his law practice entirely gave his attention to the supervision of his realty interests. At an early period of his residence in Spokane he erected several business blocks, two of which were destroyed by the fire of 1889. In 1890 he erected the fine Jamieson building, at the corner of Riverside avenue and Wall street, which is still one of the ornaments of this city. He also owned much land in the surrounding country and his residence and estate, "Five Pines,' near Piedmont, on the Spokane and Inland Railroad, ranks as one of the finest private places in the state.
Mr. Jamieson was first married to Miss Mattie A. Reid in 1876, who died in February, 1880, and they had one daughter, Mattie Mabel, who on September 7, 1901, married Norman Roscoe Totten, engaged in the real-estate business in Spokane. Two children were born to them, namely: Edward Jamieson Totten, born July 2, 1906; and Elizabeth M. Totten, born June 10, 1908. On July 4, 1881, Mr Jamieson was united in marriage at Boonville, California, to Mrs. Ida (Hoag) Haskins, a daughter of Dr. M. R. and Laura J. (Morgan) Hoag. They were both pioneers of Ohio, having come from Connecticut at an early age with their parents. Dr. Hoag was a noted physician of Ohio, and practiced surgery and medicine for over forty years at Lodi, Medina county, Ohio. Five children were born to Mr. and Mrs. Jamieson: Josephine Janette, living at home; Edward H., also at home; Arthur M., who died in infancy; Evelyn Elizabeth, attending Wellesley College; and Irene Kathryn, attending high school in Spokane. Mr. Jamieson was always regarded as a public-spirited citizen and his labors were an element for general progress and improvement although never in the path of office-seeking. He was especially interested in education and contributed liberally toward the establishment of Spokane College, serving as president of the college council at the time of his death. His own private library was one of the finest in the northwest and included many rare volumes, he being noted for his discriminating taste and appreciation as a collector. He was also a lover of nature and had comprehensive knowledge of botany. He was likewise fond of art, of music and of travel, and in fact was in close touch with all of those varied interests which are uplifting and beneficial forces in life. His friendship was ever deep and sincere and his hospitality cordial. His political allegiance was given to the republican party save at local elections, where he cast an independent ballot. He was one of the organizers of the Presbyterian church of Spokane and contributed liberally to its support. He was numbered among the few prominent business men who survived the financial panic of 1893, retaining an untarnished name. His contribution to the world's work and progress was a valuable one. While he won success it was never gained at the sacrifice of others' interests and never to the exclusion of activity along those lines which take men from the more sordid field of business into those paths of life which mean advancement and improvement. He knew the joy of life because he chose the things which count for most in intellectual advancement and character development.
---
Submitted to the Washington Biographies Project in February 2015 by Diane Wright. Submitter has no additional information about the person(s) or family mentioned above.
---