Edward Joseph Byrne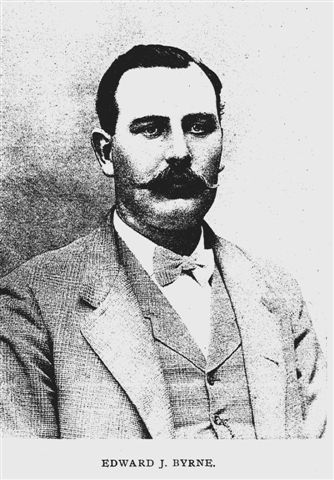 "An Illustrated History of Whitman County, state of Washington." San Francisco: W. H. Lever, 1901. p. 337.
EDWARD JOSEPH BYRNE
Among the enterprising young men who are prominent in the agricultural enterprise of the famed Palouse country, the man whose name forms the caption of this review is certainly quite a leader. He is no less active and prominent in the political affairs of the county, attending the local conventions and taking a leading part in the councils of the party to which he belongs. Undoubtedly he is to be numbered among the young men who will occupy representative places in carrying forward the work of development which their fathers have so well begun.
Mr. Byrne is a native of Sonoma county, California, born May 27, 1872, his parents being Michael and Catherine (Devine) Byrne, both natives of Ireland, who came to America, the father in 1865, the mother about three years later. In 1880 our subject accompanied them to Whitman county, where he completed his education in the common schools of his neighborhood. As soon as he became old enough he engaged in farming, and to that business he has given himself with assiduity and zeal ever since. At the present writing he is the owner of a fine farm of one hundred and sixty acres three and a half miles southeast of Garfield, upon which is a good two-story house, and good barn and outbuildings, as well as numerous other improvements. An air of thrift and comfort everywhere pervades the atmosphere of the place, bearing testimony to the skill, careful management and enterprise of the man who owns the premises.
As before intimated our subject is quite an active politician. He has been a leading participant in the debates and deliberations of the last two Democratic conventions, and during the last campaign was the candidate of his party for the office of county treasurer, receiving a very flattering vote, though not a majority. In fraternal affiliations he is identified with the Woodmen of the World and its auxiliary society the Women of Woodcraft.
In Marion county, California, on November 13, 1895, our subject married Miss Eelen Elizabeth, daughter of William and Mary (Callan) Hamm, and to their union four children have been born: William Joseph, James Clement, John Michael and Mary Catheren.
****************
Submitted to the Washington Bios. Project in January 2009 by Diana Smith. Submitter has no additional information about the person(s) or family mentioned above.
---