Eugene P. Erckenbrack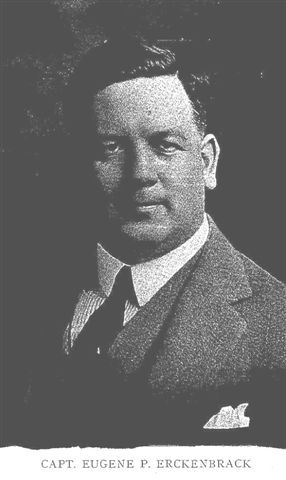 "Seattle and Environs, 1852-1924." Vol. 3. Hon. C. H. Hanford, Editor. Pioneer Historical Pub. Co., 1924. p. 562.
CAPTAIN EUGENE P. ERCKENBRACK
Captain Eugene P. Erckenbrack, a native son of Washington who grew up in the shipping business in Seattle and Tacoma, how holds the responsible position of North Pacific Coast director of the United States Shipping Board. He is still a comparatively young man, his birth having occurred May 27, 1888, in Martin, this state, near the entrance to the Northern Pacific Railroad's Cascade tunnel, his father being connected with the completion of that important project. In both the paternal and maternal lines he comes from pioneering American stock. The Erckenbracks were among the first settlers of Illinois, Wisconsin and Minnesota, whence P. J. Erckenbrack, father of E. P. Erckenbrack; made his way westward to Washington territory, settling in Winlock. There J. P. Erckenbrack, the paternal grandfather of Captain Erckenbrack of this review, engaged in farming and stock raising. On the maternal side Captain Erckenbrack belongs to the Rhoades family, which came to Washington in 1858, journeying by ox team over the old Oregon trail. His grandfather, A. J. Rhoades, owned the first sawmill established in Washington, the mill being located near Tumwater. Subsequently he built and operated a sawmill at Winlock in connection with extensive logging operations. The Rhoades family were New York pioneers in Revolutionary days and all through the early days of the middle west and west, kept pressing toward the Pacific. P. J. Erckenbrack, the father of Captain Erckenbrack, still resides in Winlock, Washington.
Eugene P. Erckenbrack received his primary and high school education in Winlock and Tacoma. In Winlock, in those days, there were four months of school and eight months of vacation each year. During the four months. Captain Erckenbrack worked hard in school and during the eight months he worked even harder in the lumber mills and logging camps, getting a splendid practical knowledge of affairs, including donkey engines and locomotives. In 1903 he left Winlock for Tacoma to seek employment on the docks. He spent two years on that city's water front, working for Kerr, Gifford & Company and Balfour, Guthrie & Company. His duties included weighing and handling grain. He devoted his spare time to a commercial course in a night school and at the end of the two years entered the general offices of the Northern Pacific Railway Company in Tacoma as a stenographer. When he was eighteen years of age, he returned to Winlock as station agent, with five men under him. For the next half year he was one of the leading citizens of Winlock despite his youth, and then he returned to the railroad company's general offices in Tacoma. Later he left the Northern Pacific to join the Great Northern's traffic department. In 1909 he was appointed Tacoma agent of the railroad and subsequently was promoted to the position of traveling freight agent.
In 1911 Captain Erckenbrack left the railroad business and joined Frank Waterhouse & Company of Seattle as manager of local operations and of the Waterhouse subsidiary, the Tacoma-Vancouver Steamship Company. After valuable experience in that capacity, he became identified with Dodwell & Company, agents for Alfred Holt & Company of Liverpool, England, owners and operators of the Blue Funnel Line. He joined Dodwell & Company as superintendent. In 1914 the Dodwell corporation formed its well known subsidiary, the Border Line Transportation Company, with A. F. Haines, now vice president of the Admiral Oriental Line, as manager. Captain Erckenbrack was appointed assistant manager. The Border Line operated on a large scale in the Puget Sound-Alaska-British Columbia routes during its early years. In 1916 Mr. Haines left the Dodwell company for the Admiral Line and Captain Erckenbrack succeeded him as manager. At the beginning of 1917 Captain Erckenbrack left the Border Line to become manager of G. W. Hume & Company, large salmon packers of Southeastern Alaska and Puget Sound. The company owned and operated seven canneries. Captain Erckenbrack had charge of operations and finance.
In the latter part of 1917 Captain Erckenbrack resigned from the Hume company to accept a commission as captain in the Engineer Corps of the United States army and was immediately sent to France, where he remained on continuous duty until the fall of 1919. During the first part of that period he had full charge of terminal operations in Nantes. Then he was transferred to Saint Nazaire and Antwerp. In the three ports mentioned he directed and controlled all stevedore, warehouse and terminal operations. His whole career had fitted him for the work. Dock, rail and steamship experience, all learned from the ground up to the high executive positions, combined to make him one of the most efficient officers assigned to the French ports used by the American army. In connection with his other duties he served as commanding officer of the enlisted personnel of the Eleventh Grand Division of the Transportation Corps of the American army. While at Saint Nazaire he also served as labor officer for Base Section, No. 1.
Returning from France in November, 1919, Captain Erckenbrack resumed his civilian status and at the beginning of 1920 joined the United States Shipping Board organization. He was assigned to Rio de Janeiro as general agent for the board in Brazil, proceeding to the great South American seaport at once. With the advent of the Laker regime in the shipping board, Captain Erckenbrack was made the board's director for Brazil. His work in that country won him wide commendation in shipping, industrial and diplomatic circles. He is an enthusiastic friend of Rio and Brazil and the other great South American countries. During his residence in Brazil he made a splendid record in helping draw that country and the United States closer together. When he left Brazil late in the spring of 1923, he ranked as the senior foreign director of the shipping board. He was transferred from the Brazilian directorship direct to the North Pacific Coast directorship, assuming his duties here in June, 1923. As indicated Captain Erckenbrack has had a valuable and thorough training in shipping and foreign trade problems, first with the important firms in Tacoma and Seattle, then with the American army in France and then with the shipping board in Brazil. He is a practical shipping man in every sense of the word, which probably explains the high recognition he has received from the shipping board, first in connection with Brazil and then in connection with the North Pacific Coast district.
The following article appeared in The Marine Digest under date of July 14, 1923; "Three major points were made by Captain E. P. Erckenbrack, new North Pacific Coast director of the United States Shipping Board, in an address before the membership luncheon meeting of the Seattle Chamber of Commerce's foreign trade department last Tuesday. First, he said, American shipping is forging ahead in the foreign trade routes; Second, American shipping and foreign trade can be developed with the goodwill of other maritime nations; Third, there is need for old-fashioned patriotism in behalf of the American merchant marine. He pointed out that during the first year of the shipping board service between New York and Rio de Janeiro, operated by the Munson Steamship Company, the vessels carried scarcely twenty per cent of the freight and passengers in that route, on the basis of tonnage employed. The service was established nearly four years ago. Now, he said, the shipping board carriers are handling eighty per cent of the traffic. Mr. Erckenbrack, who recently arrived from Rio de Janeiro, where he was shipping board director, said; 'Comparing our situation today with that which existed fifteen years ago, no one can deny that steady and gradual progress has been made. If this progress were traced upon a graphic chart, it would depict very great irregularity and inconsistency of effort, but there is no disputing the fact that we are much further along today than we were then, and each month it can be noted that progress in all directions, though short of the expectations of many good enthusiasts, is nevertheless being made in a substantial manner. We are headed in the right direction and we are going to get there. In the past there has been some difference of opinion as to procedure, but we are all agreed that our ships must continue to run, irrespective of how we eventually work out the minor and secondary problems of accomplishing that end. I know you have heard every reason in existence for the establishment, at any cost, of an American merchant marine, with a better training in the foreign field of our business people in that phase of our development, relationship and intercourse with other nations. We have a lot to learn and we are learning it. The advantages to our nation of a well equipped and going merchant marine are so great that in certain emergencies they might become of equal, or even greater; importance to the nation than our army or navy. You know, much better than I do, what control of the buying power of crews employed upon American ships, and the buying power of. the ships themselves, mean to our own industry and business at home not to mention the advantage we have gained in handling our goods in our own ships. Furthermore, intimate personal touch, friendship and understanding are gained with other nationalities through the operation of our passenger ships. I have come into daily contact right on the front line with the activities of the ships of other nations and learned to keenly appreciate, by actual contact, that these other nations regard their merchant marine activities as the lifeblood of their nation. It appears to me there is considerably more than a mere business interest involved. I believe that effort resembles very much the patriotism of our own people, when patriotism has manifested itself. Engaged in the South American trade. I observed that since the war there has been practically no withdrawal of tonnage by any of our principal competitors. On the contrary, as a general thing, they have put on additional tonnage and steamers month by month, even though an inevitable loss was staring them in the face. There has been no backward movement in their operations. They have gone steadily ahead developing, building and entrenching themselves. They have taken a broad viewpoint that cost what it might, and regardless of any other consideration, they were going to keep their ships running. We all know they have had a very good reason, as we had a very good reason, for doing so. Their development in this respect has been closely seconded and aided by their banks, insurance companies, foreign steamship agencies of their own nationality, and by investment in railways, public utility corporations, mines, shipbuilding, and in fact all other industry and activities in foreign countries. It is true they have been engaged in some phases of this work longer than we have, and I am one who is quite willing to admit that, at this stage, they are able in many lines to excel, to run circles around our effort, as it were. They know most of the businesses, through longer experience, much better than we do, as a general thing, but, if I am not very greatly mistaken, there are many good Americans today who are willing to admit that fact, learn lessons, improve upon the experience and, to the extent necessary, copy their system. We can well afford to take lessons from those who are successful. In these activities they have been able to teach us a great deal, and I believe we should not be ashamed to learn our lessons, acquire our experience and, once we have our feet squarely on the ground, I am one who is absolutely confident of our gaining the position in world trade and shipping which is our due. I believe it is not going to be so very, very long until we will give them some records to shoot at. We have already done so in most every other line of endeavor. The United States government, represented by the United States Shipping Board, has had the very great advantage of the guidance and advice of the best American brains in the shipping world. The Admiral Oriental Line of your own city, the Munson Steamship Line of New York city, the United States Lines of New York city, the Pacific Mail Steamship Company and the Pacific Argentine Brazil Line of San Francisco, in each instance are managed by men possessed of the highest degree of experience and capacity, and are actuated by a patriotic desire to build permanently. The time is not far distant when we will want more steamers, better steamers. Many people at the moment speak of the employment only of the ships which we have already on hand. Some of these are not suitable for the purpose. The old law of depreciation is inevitable. We must look ahead to the time when we will replace our present fine steamers by much higher class vessels. We will soon need more steamers and very much better ones, and that is one of our most important problems. The way we are progressing at the moment, a very great amount of time is not going to be required before investors will be attracted to our American merchant marine. It requires vision to see this thing, but the indications are certain and unmistakable. A few more years will place us in a position, based on sound knowledge and experience, where the needed capital will be attracted to a further development of our merchant marine and foreign trade. This objective is attainable within the immediate future. We can do it, we have everything to do it with, and we will do it. Some day, somehow, someone is going to arouse a patriotism, a love of country and worth-while accomplishment among us to the point that every good American citizen and every child will conceive how we may actually perform our greatest duty toward humanity in advancing and concentrating upon this very important objective. No person, or combination of persons or circumstances, could ever convince me, after what I have seen, that things are all wrong. On the contrary, everything is all right, our difficulties are only transitory, and we were never in our history nearer our goal than at the moment. As for myself, I might say that the basis of what I know about the shipping business was formed in Seattle, on Puget Sound and the Pacific coast. I served a fairly hard and thorough apprenticeship in the fundamentals of that business with some of the very good old British firms doing business here. Men engaged in the shipping business all over the world consider themselves, in a way, part of a sort or fraternal organization. While we are keen competitors during the business working day, we generally have the advantage and pleasure of close and intimate personal friendship. It is not our desire at all to attempt to destroy or compete unfairly with any of these firms. On the contrary, we hope, as time goes by, to become even closer in our relationships, which should be of mutual benefit. We want only our fair and just proportion of our own business, and we expect to get it in the nicest, most pleasant and most delicate manner possible. There is one lesson I have learned well during a residence of two years in Europe and close to four years in South America, and that is to have the very greatest respect for our Japanese, Italian, French, German, English, Dutch and Scandinavian friends, with whom I have come into direct contact in these fields. I have never had more dependable or more reliable personal friends in my life than among them. I have the greatest respect for them. My association with the shipping people of other than American nationality in these foreign fields has been the finest I have ever enjoyed. The development of our merchant marine and foreign trade policy, I am convinced, may take place simultaneously with mutual friendship, confidence and respect, and with benefit to all. Finally, let me say that there is no one on earth who could convince me that things are all wrong. On the contrary, everything is all right and we are progressing at an astounding pace.The only regrettable thing is that more good Americans do not have the facts and truth of actual accomplishment to date.
On the 23d of June, 1909, in Seattle, Mr. Erckenbrack was united in marriage to Miss Grace Mary Costello, daughter of Martin J. and Elizabeth Costello. More extended mention of her father, now western traffic manager of the Great Northern Railway Company, is made on another page of this work. Three children, the pride and pleasure of their parents and grandparents have born to Mr. and Mrs. Erckenbrack: Mary Elizabeth, whose birth occurred in 1910 and who is attending school; E. P., Jr., whose natal year was 1912 and who is also in school; and Elizabeth Jane, who was born in 1917. All are natives of Seattle. Mr. Erckenbrack has membership connection with the Arctic Club of Seattle, the Jockey Club of South America at Rio de Janeiro, the Seattle Chamber of Commerce, the Sons of the American Revolution, the American Legion, the Veterans of Foreign Wars and the Society of American Military Engineers.
---
Submitted to the WA. Bios Project in February 2011 by Diana Smith. Unless otherwise stated, no further information is available on the individual featured in the biographies.