Edward S. Ross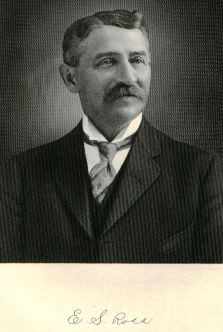 (Click on picture to view larger image)
"Spokane and The Spokane Country - Pictorial and Biographical - Deluxe Supplement." Vol. II. The S.J. Clarke Publishing Company, 1912. (No author listed.) pgs. 138-140.
EDWARD S. ROSS, of the Ross Investment Company, has contributed to the development and improvement of the city through well conducted business interests that add not only to individual success but also to the public prosperity. His birth occurred at Penfield, New York, October 26, 1853, and of that state his parents, Oliver C. and Betsey (Sherman) Ross, were early settlers. The father devoted his attention to farming while in the east and in the year 1884 he came to Spokane with his family, which then consisted of himself, wife and two sons, Edward S. and George L., both now of this city and a daughter. The parents have traveled life's journey happily together for sixty-two years and now at the advanced ages of eighty-eight and eighty-seven years respectively are living with their daughter, Mrs. Frances Linfield, the widow of George Linfield.
After acquiring his early education in the public schools of Rochester, New York, and pursuing a more advanced course in Rochester Collegiate Institute, Edward S. Ross became his father's assistant in farming operations in the Empire state and was thus engaged until the family came to Spokane in 1884. For three years thereafter he did general work in and around the city and then secured a quarter section of land in the valley, upon which he began market gardening and fruit growing. He was the first in this section to cultivate asparagus and tomatoes for the market and such was the excellence of his products that he was soon accorded a good market for all that he raised. He later acquired other property adjoining his original tract and while at first this was a long way from the city, the boundaries of Spokane have since been extended until his property has been included within the corporation limits and is now known as the Rossvale addition. For a considerable period Mr. Ross continued the raising of vegetables and fruit, and the success of the business enabled him to make investments along other lines. Thus from time to time he extended his interests and is now president of the Ross Coal Company, which he organized for the conduct of a wholesale coal business in Spokane. He was likewise the organizer of the Ross Investment Company and remained as its general manager until 1908 since which time he has been its president. He is still interested in the project and the company today has a large clientage. He is also a heavy property owner not only in this city but throughout the Spokane country and also has large landed possessions in the Kootenai valley.
On the 4th of September, 1879, Mr. Ross was married to Miss Mary Clark, a daughter of Orrin and Jeannette (Millard) Clark, of Penfield, New York. They have become parents of five children: Linfield S., who is acting as secretary and treasurer of the Ross Investment Company; Elwyn G., vice president of the same company; Orrin Clark, who is an artist, employed by the McDermid Engraving Company, of Spokane; Edward Wayland, who is an apprentice in the latter company; and Edna, the wife of Laurence M. Parker, of Bonners Ferry, Idaho.
Mr. Ross is a charter member of Grace Baptist church, which his family attend. He has never sought to figure prominently in club circles or in public connections outside of his business interests. He has closely applied himself to the tasks that have been his, and since he has successfully accomplished the work in hand he has turned his attention to other projects. He has never regarded any position as final but rather as the starting point for successful accomplishment in other directions and through his individual merit, ability, close application and unremitting industry, he has gained a creditable position as one of the leading business men of Spokane.
Submitted by: Nancy Pratt Melton
* * * * Notice: These biographies were transcribed for the Washington Biographies Project. Unless otherwise stated, no further information is available on the individuals featured in the biographies.
---