Frank D. Garrett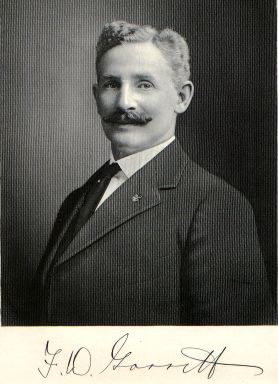 (Click on picture to view larger image)
"Spokane and The Spokane Country - Pictorial and Biographical - Deluxe Supplement." Vol. II. The S.J. Clarke Publishing Company, 1912. (No author listed.) pgs. 94-96.
FRANK D. GARRETT, engaged in the real-estate business with offices in the Hyde block, is one of the extensive landowners of Washington. He was born in Hardin county, Iowa, on the 12th of October, 1864, his parents being Frank and Mary J. (Strahorn) Garrett, both of whom are prominent among the pioneers of Iowa and are still living.
Mr. Garrett of this review received his education in the public schools of Iowa until he was fifteen years of age. At that time he left his native state and removed west to Pendleton, Oregon, where he accepted employment on a large ranch for seven years, during the greater part of which period he acted as foreman. He thus became acquainted with many of the essential features of the cattle business and subsequently he engaged in that enterprise near Sprague, Washington, for three years. The winter of the last of these three years was a particularly severe one and he had the misfortune to lose the greater part of his stock, when in two nights ten thousand sheep disappeared. But his determination and grit were undaunted and he immediately engaged in agricultural pursuits and for seven years successfully cultivated his farm near Sprague. Again he exercised the same diligence and careful application to the duties at hand which he had displayed in his previous undertakings and the success with which he met was more than compensatory. He disposed of this property and since 1904 has engaged in the real-estate business in Spokane. His various undertakings have proved so lucrative that he has been able from time to time to purchase considerable land in Washington. At present he is the owner of four thousand acres in the Palouse country and of several valuable holdings in Spokane. He has further extended his activities by associating himself with the Coeur d'Alene Empire Mining Company, of which he is at present serving as president. Since becoming a resident of Spokane eight years ago, he has well proven his worth as a business man, as a judge of real-estate values and as a trusted adviser in business circles.
In Medical Lake, Washington, on the 3d of July, 1889, Mr. Garrett was married to Miss Anna Teal, a daughter of David H. and Rachel Teal. To them two children have been born: Forest, who is attending college at Pullman, Washington; and Hazel, who is a student at the Lewiston Normal School at Lewiston, Idaho. Mr. Garrett exercises his right of franchise in support of the men and measures of the republican party. He holds membership in Spokane Lodge, No. 228, Benevolent Protective Order of Elks. He has attained notable success and this has followed as the logical sequence of his labors, his careful study of the development of a rapidly growing country and his integrity. His record may well serve as a source of inspiration and courage to others, showing what may be accomplished by one who has determination and energy. He has proven his worth as a factor in the business world and the position which he occupies is a creditable one and one involving much responsibility.
Submitted by: Nancy Pratt Melton
* * * * Notice: These biographies were transcribed for the Washington Biographies Project. Unless otherwise stated, no further information is available on the individuals featured in the biographies.
---