---
Frank M. Muldoon
"A Volume of Memoirs and Genealogy of Representative Citizens of the City of Seattle and County of King, Washington." New York and Chicago: Lewis Publishing Co., 1903. p. 15.
FRANK M. MULDOON
Frank M. Muldoon, an ex-member of the city council of Seattle, is a progressive and well known business man of the city, where he has made his home for the past fourteen years, and during all this time he has been prominently identified with the real-estate interests, both on his own account and for eastern capitalists. He was born in Montpelier, Vermont, on the 6th of December, 1848. His great-grandfather in the paternal line came to this country from Ireland, and was the progenitor of the family on American soil. He took up his abode on a farm in Keysville, New York, there spending the remainder of his life. His son, John Muldoon, was born in that city, and he, too, became an industrious and respected agriculturist, spending his entire life in the town in which he was born, his death occurring at the age of eighty-four years. His son, Thomas B. Muldoon, became the father of our subject, and he also claimed Keysville as the place of his nativity, being there born in 1820. He subsequently removed to Montpelier, Vermont, where he learned the carriage manufacturer's trade, and was there married to Miss Maria Daggett, a native of that city. She was of Scotch and English ancestry, and for many generations her ancestors had resided in the Green Mountain state. In 1854 Mr. and Mrs. Muldoon took up their abode in Madison, Wisconsin, where he engaged in the manufacture of carriages and farm implements, in partnership with Daniel M. Thurston, the father of United States Senator Thurston, where he remained ten years, afterward removing to Hammond, that state, there becoming one of the most extensive farmers and land owners in that section of the state. He gave close attention to his business interests, and the measure of his influence upon the best development of his locality was widely felt. For many years he held the office of alderman of his city. He was called to his final rest in 1870, at the age of fifty years, passing away in the faith of the Episcopal church, of which he was long a worthy and consistent member. His wife died in Minneapolis, Minnesota, in 1885, when she had reached the age of sixty-one years. Unto this worthy couple were born six children, of whom three still survive.
Frank M. Muldoon, the only representative of the above described family on the Pacific coast, received his education in the State University at Madison, Wisconsin, and after leaving that institution assisted his father in his extensive farming operations until 1870. ln that year, in Hammond, Wisconsin, he embarked in the hardware and machinery business, later continuing the same occupation in Minneapolis, Minnesota, and his business relations were carried on in partnership with his brother, James D. Muldoon. In the latter city our subject was also engaged in the real-estate business, and he was in St. Paul, Minnesota, before the advent of the railroads into that section. Owing to the ill health of his family he thought it advisable to seek a change of climate, and accordingly, in 1888, he came to Seattle, Washington, where he has ever since been actively and deeply interested in the growth and development of the city. Throughout his residence here he has been numbered among the leading real-estate dealers of the northwest, and in this line of business his services have been of incalculable value to Seattle and the surrounding country. After a residence here of only one year he was honored by his fellow citizens by being made a member of the city council, and he has since been the incumbent of that important position, which proves that his services therein have been trustworthy and capable. He was prominent in advocating the cutting down of the great Denny Hill and using the contents to fill in the water front and also in opening the streets through it to the north. As chairman of the street committee this proposition was his, and he is entitled to the full credit of this great improvement. At his own expense he has recently made a trip to the eastern cities, gathering valuable data in regard to the methods of street improvement, bridge building, sewer construction, the care of garbage and all such subjects, and this service has been of great value in improving the streets of Seattle. To him is accorded the honor of having platted and placed on sale the Market street addition to the city, which has been largely sold and improved, and he is now entrusted with the business of various eastern capitalists, making investments for them and caring for their real estate.
In 1874 was celebrated the marriage of Mr. Muldoon and Miss Sarah L. Ducolon, a native of the Empire state. Two children have come to brighten and bless their home, Jay F. and Allie B. The family reside in a beautiful home in Seattle and are members of the Baptist church. Mr. Muldoon is a member of both branches of the Independent Order of Odd Fellows, and has retained his membership in his lodge in the east, with which he has been identified for thirty years. He is also a member of the order of Ben Hur, and in politics is a life-long Republican. He has earned for himself an enviable reputation as a careful man of business, always known for his prompt and honorable methods of dealing, which have won him the deserved and unbounded confidence of his fellow men.
Transcriber's additional notes
CENSUS
1860; Dane Co, WI; Madison Wd 1, p 461
Thomas Muldoon, 39, NY, blacksmith
Maria, 39, VT
James, 14, VT
Frank, 12, VT
Clarra, 6, VT
Fred, 2, WI
Augusta Bartsch, m, 19, GER, blacksmith
Augusta Shink, f, 17, GER, servant
1870, St. Croix Co, WI; Hammond Pct, p 36
Maria Muldoon, 50, VT, keeping house, $12,000 real estate, $3500 pers prop
James, 23, VT, farmer
Frank, 21, VT, farmer
Clara, 17, VT, att. school
Frederick, 12, WI, att. school
Emma, 9, WI, att. school
Ellen Chapman, 25, VT, at home
Peter Anderson, 21, NOR, farm laborer
Lewis Oleson, 20, NOR, farm laborer
1880; St. Croix Co, WI; Hammond Pct, p 299
Frank Muldoon, 33, VT, NY, VT, farmer
Sarah, wife, 33, NY, CAN, NY, keeping house
Jay F., son, 1, WI, VT, NY
Mary Langdon, 20, niece, NY, CAN, NY
Nels Oleson, 23, servant, DEN, DEN, DEN
James Rasmussen, 23, servant, DEN, DEN, DEN
Thomas Mitchell, 25, servant, CAN, CAN, CAN
Kate Kanuteson, 21, servant, NOR, NOR, NOR
1900; King Co, WA; Seattle Wd 2, p 254
Frank Muldoon, 52, Dec 1847, VT, NY, Vt, mar 26 yrs, real estate
Sarah L, wife, 53, March 1847, NY, CAN, VT, mar 26 yrs, 2 children-2 living
Jay F, son, 21, Dec 1878, WI, VT, NY, telephone ---
Allie B, dau, 17, Sept 1882, WI, VT, NY
1910; King Co, WA; Seattle Wd 2, p 313
M. Frank Muldoon, 61, VT, NY, Vt, mar 36 yrs, real estate broker
L. Sarah, wife, 62, NY, NY, NY, mar 36 yrs, 2 children-1 living
MARRIAGE
St. Croix Co, WI; Marriages: htp://www.wisconsinhistory.org/vitalrecords/
Frank M. Muldoon and Sarah L. Ducolon; April 13, 1874
From WA STATE ARCHIVES: http://www.secstate.wa.gov/history/search_notice.aspx
Death Records:
Jay Frank Muldoon
Gender: Male
Age: 30
Place of Death: Clallam
County: Clallam
Date of Death: 9/14/1907
Page Number: 136
Certificate Number: 8
Marriage Records:
William A. McCall and Alice B. Muldoon -
Lincoln County (Historic) Historic Marriage Record
ReferenceNumber: ealinmr948
Marriage Date: 10/2/1903
Recording Date: 10/7/1903
County: Lincoln
*******************
Submitted to the Washington Biographies Project in October 2007 by Diana Smith. Submitter has no additional information about the person(s) or family mentioned above. For more information on this family, please contact .
---
shared the following photos of Frank M. Muldoon: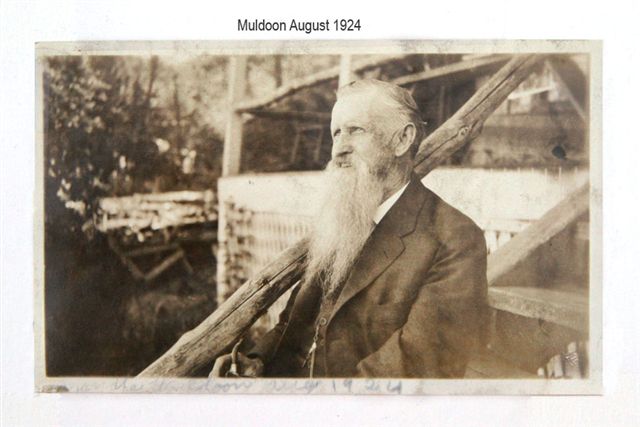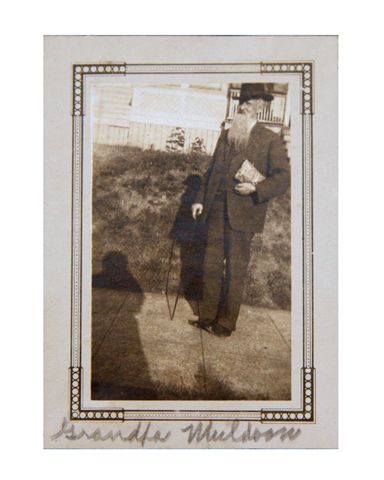 ---
Updated on 6 Oct 2007.