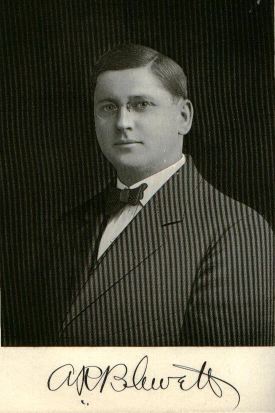 (Click on picture to view larger image)
"Spokane and The Spokane Country - Pictorial and Biographical - Deluxe Supplement." Vol. II. The S.J. Clarke Publishing Company, 1912. (No author listed.) pgs. 146-149.
"THERE'S a whole lot of us that are poorer since he's gone, for he was a man whose friendship was worth more than money," was a tribute paid to Harry Green when he was called from this life. It was but one of many such expressions that were heard on every hand and among all who knew him, for he was a whole-souled, generous man, possessed of a large fund of humor and a kindly disposition.
He was born at Prenn, in the province of Poland, August 10, 1863, and was therefore more than forty-seven years of age when he passed away at the Hotel Ridpath in Spokane on the 14th of December, 1910. His parental name was Harry Gurinsky, which by due process of law he had changed to Green after coming to Spokane. After coming to America, when fifteen years of age, he spent several years in Texas, where he was engaged in various pursuits, and in 1891 he arrived in this city. From that time forward he was particularly prominent in the sporting circles of the Pacific coast as the owner of fine racing stables, as a breeder of fine dogs, as a promoter of baseball and in other ways. The element of chance in anything always awakened in him interest and yet he had the qualities too, of a conservative business man of sound judgment, as was manifest in his investments in property and valuable stocks. In October, 1900, he acquired a one-half interest in the Club cafe, being an equal partner with Messrs. Scott and Sorg, this relation continuing for ten years or until the death of Mr. Green. He owned a racing stable for several years, entering his horses for the big stakes offered by the Oakland, Los Angeles, Portland, Seattle and Spokane racing associations. His horse Royalty was the winner of the Seattle and Spokane derbies of 1903. In California he was a conspicuous figure for the heavy stakes which he put upon his favorites and one of the San Francisco papers therefore called him "The Duke of Spokane", which sobriquet clung to him for years.
It was Mr. Green who took hold of the baseball team of Spokane when it was at the bottom of a long list of city teams and promoted its interests until the team became a recognized factor in baseball circles in the northwest. In 1902, long before baseball had been placed on its present businesslike basis, Mr. Green purchased an interest in the Spokane Northwestern League Club and as the result of his efforts he gave Spokane one of its best and most popular ball teams. He promoted Spokane's first aviation meet, largely financing the movement which brought Hamilton, the well known aviator, to this city. He likewise became interested in the theatrical world through his intimate friend, John Considine of Seattle, and was the owner of stock in the Orpheum and the Washington theaters of Spokane and also in Vancouver theaters. He was a promoter of boxing contests and the owner of one of the finest kennels of the northwest.
On the 18th of June, 1892, Mr. Green was united in marriage to Miss Emma Thatcher, of Spokane, who survived him together with three brothers, an uncle, a cousin and an adopted child, Helene J. He left his widow most comfortably provided for by reason of his well directed investments in business. He at times met heavy losses in his sporting interests but no one ever heard him complain of this.
When he passed away words of regret were heard on every hand and such tributes were paid to him as: "I knew him for twenty years and I never knew him to do a mean trick." Another said: "Harry Green was the most popular man Spokane ever had. He had a personal speaking acquaintance with thousands and always a good word for all of them." Another said: "When you say that Green was a lover of fine horses and fine dogs, you can pay him no higher compliment, for there's always a lot of good in such a man. With animals he was gentle just as he was with his friends." Death came to him after a twelve days' illness with pneumonia and impressive funeral services were held in the Eagles Hall, which proved entirely too small to accommodate his many friends who gathered to pay their last tribute of friendship and respect to him. One of the local papers said: "Scarcely less impressive than the outpouring of friends at the funeral exercises were the floral tributes. The entire south end of the hall, the rostrum and the casket in front of it were literally buried in flowers. There were roses, carnations, chrysanthemums, lilies and smilax worked into the most elaborate designs." Judge J. Stanley Webster, president of the order, paid high tribute to him in a brief address, saying: "He was both a friend and a brother. He valued liberty, love and the truth and was just in his dealings with all men. He believed in the hereafter and in God. He did what he thought was right at all times and he has gone to his reward." His friends were found in every rank and walk of life, a fact which indicated his intellectual hospitality. He had the faculty of putting all at ease in his presence and his whole life seemed to radiate good nature and kindliness. It is said that he was particularly the friend of the man who is "down and out"-a characteristic that is found in few and indicates a nature that is indeed commendable. He was indeed always held in high esteem for his personal integrity, his thorough manliness, his whole-hearted spirit and his generosity.
Submitted by: Nancy Pratt Melton
* * * * Notice: These biographies were transcribed for the Washington Biographies Project. Unless otherwise stated, no further information is available on the individuals featured in the biographies.
---