James D. Buchanan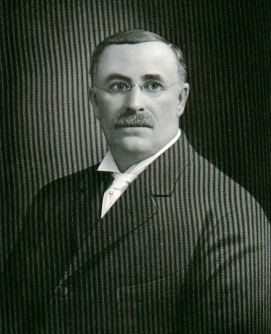 (Click on picture to view larger image)
"Spokane and The Spokane Country - Pictorial and Biographical - Deluxe Supplement." Vol. II. The S.J. Clarke Publishing Company, 1912. (No author listed.) pgs. 208-210.
JAMES D. BUCHANAN has been well known for many years in the business circles of Spokane, where he conducts a large undertaking establishment at Nos. 28 and 30 Third avenue. His birth occurred in Clark county, Indiana, on the 14th of April, 1858, and he is a son of George and Jane (Montgomery) Buchanan, the former of whom passed away in 1891. His ancestors were among the early settlers of America, and Buchanan county, Virginia, received its name from some of the earliest members of the family who settled in Virginia. His boyhood days were spent in Illinois, and there he received his education from the time he was seven years of age until he left school at the age of fourteen. At that time he entered upon agricultural pursuits and continued in that line of work until 1879 when he went to Walla Walla, Washington, where he remained until March, 1880. He then went to Spokane and took up a homestead in the northeastern part of the town which he farmed until 1889, but as the city grew and opportunities for engaging in business presented themselves, he gave up his farming and engaged in the cigar and tobacco business for some time before entering upon the undertaking business, which he has since followed. On December 1, 1911, Mr. Buchanan removed from Riverside avenue to his new establishment at Nos. 28 and 30 Third avenue, where he has one of the finest undertaking establishments in the Inland Empire. The building, which was exclusively designed for him, contains a chapel and all other rooms and conveniences desirable and its cost was over twenty-five thousand dollars. The structure is devoted entirely to this business.
On the 1st of June, 1897, Mr. Buchanan was married to Miss Ella M. Ryan, a daughter of Daniel and Elizabeth Ryan, at Coeur d'Alene, Idaho. Two children were born to this union, Mary and Catherine, both of whom are attending school. In politics Mr. Buchanan is fully aware of the corrupt methods frequently instituted by the parties, who are largely under the control of the machine rule, and consequently has ever maintained an independent attitude. He is a member of Spo-kane Lodge No. 228, B. P. 0. E., the Knights of Columbus, Eagles, Red Men, Foresters of America, Moose, Knights and Ladies of Security, Catholic Order of Foresters, Young Men's Institution, and the Ancient Order of Hibernians, of which he is state president. In his business and fraternal relations he is both faithful and honorable, and his sterling personal worth has gained him warm friends, and he is well established in the respect and esteem of his fellow-citizens and business associates.
Submitted by: Nancy Pratt Melton
* * * * Notice: These biographies were transcribed for the Washington Biographies Project. Unless otherwise stated, no further information is available on the individuals featured in the biographies.
---